Established in 1998, Acorn Transport and Plant Hire Limited is a leading supplier of tipper, plant, low-loader and skip hire in Bedfordshire, Cambridgeshire and Hertfordshire. As well as offering the moving of bulk earth, muck, hardcore, concrete and tarmac, Acorn performs groundworks for the domestic, commercial, and farming communities.
Acorn Transport and Plant Hire have approval from Cambridgeshire and Bedfordshire Councils for their recycled materials, and have invested heavily in shredders, crushers, and screeners to ensure that they efficiently process all waste brought in for recycling.
Acorn Transport & Plant Hire serves a diverse range of customers from private individuals to large PLCs.
Acorn Transport & Plant Hire Ltd is committed to health, safety, quality and the environment and has gained the following accreditations;
FORs Silver – Working towards FORs Gold
Accredited to Alcumus and Avetta as Safe Contractors
Members of The Road Haulage Association
Members of the Construction Plant Hire Association
CLOCS Champion
Gold Sponsors of The Kids-Safe Initiative
Kids-Safe's objective is to provide games and activity projects to local schools promoting mainly road safety but also building site danger, stranger danger, vandalism and crime prevention.
Acorn is a registered waste carrier and permit holder with the Environment Agency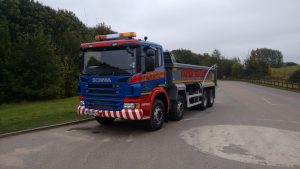 Acorn Transport and Plant Hire's ethos has always been to give the best possible service they can at the keenest possible prices, whilst retaining the friendly and reliable approach you would hope to expect from a growing business in a highly competitive industry.
Alongside their other services, Acorn are able to offer a waste management facility (separating collected waste into different materials such as top soil, rubble, concrete, metals, plastics etc. thus ensuring that the maximum amount of material is reused and does not add to landfill) and can supply recycled aggregates, topsoil, sands, stones and road planings.  Acorn currently aim to recycle 95% of all the waste material they receive.
Acorn Transport and Plant Hire covers all of Bedfordshire, Cambridgeshire, Huntingdon, Rushden and surrounding areas.
The FORs has helped Acorn to put in place policies and procedures that have ensured that they can comply with all aspects of Transport Law.
The FORs has become an integral part of their business and dovetails their principles and ethics.
Acorn saw the gaining of the FORs accreditation as a chance to get a competitive edge. The benefits of joining the scheme have been major for the company in relation to safety and attitude towards the improvement of fuel efficiency and the environmental impact of their activities.
Acorn are working towards the FORs Gold and aim to ensure they maintain the standard and grow with the FORs as the standard continues to develop.
The FORs website has become a great tool for our FORs champion – Julia Edgeley in relation to training aids and data collecting software and keeping current. The performance management tools-kit has been in operation since 2018 and has helped them set their targets for improving their impact on the environment and improving the MPG of their vehicles.
Fors has enabled Acorn to improve the way they collect and store the data associated with the fleet. The fleet is maintained to a very high standard and incorporating the R2C servicing system into their maintenance has enabled further efficiency.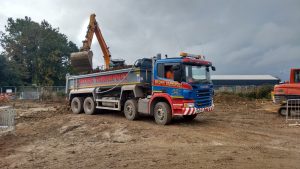 All their HGV and van drivers have completed the FORs 'Toolbox Talks' and their company transport induction has been tailored to work alongside the FORs standard. All their drivers are working through the FORs e-Learning modules and there is a training plan in place to include the LoCity module that compliments personal development plans.
Acorn have invested a lot of money in their fleet and have ensured all the vehicles have the safety systems required by the FORs – cameras, nearside proximity aids and audible alarms are standard throughout.
Acorn have worked hard on improving the number of accidents/incidents that their vehicles have been involved in. The company has achieved this by ensuring they plan the best routes possible to all delivery sites and plan ahead to ensure safe routes are taken and that they keep away as far as possible from noise sensitive areas. An industry recognised tracker system is fitted to all vehicles to aid with routing, driver monitoring and fuel usage.
Acorn ensure that the following are undertaken:
Transport Induction
Toolbox Talks refreshers
Medical declaration (to ensure their drivers are fit and able to drive legally)
Driver eyesight checks (Specsavers Sight testing vouchers issued and routine testing carried out)
Driver licence checks (6 monthly, but also undertaken on a risk basis – 6 points and above every three months, 9 points and above every month)
The company actively encourages young drivers to join the transport industry; this is achieved through their recruitment and retention policy.
Acorn have one operating centre at Ducks Cross near Wilden, Beds, which is in a rural location. The company carries out most of their servicing at their state-of-the- art workshop at Wilden and some servicing through local Scania and DAF dealerships. All servicing and maintenance records are kept at their Wilden office. All vehicles are fitted with the latest environmentally friendly devices as a consideration to their neighbours and the public in general and they have a purchasing procedure and renewal programme in place to ensure that any equipment they purchase meets the latest environmental and safety requirements. 70% of vehicles are fitted with the latest Euro 6 engines.
Transport managers at Acorn monitor and review fuel usage, recently adopting the Fuel Mii system, this reduces lorry idling time and noise.
Acorn has also ensured that they keep their PCNs and fines to a minimum; this has been done by driver education and ensuring they take into consideration any issues when planning routes.
Gaining the FORs Gold accreditation would reflect the dedication the company has to the road safety of those affected by their transport activities. Whilst this would be a significant achievement Acorn will continue to work with the FORs to further improve the standard in order to give the haulage industry a safe and environmentally friendly image.
END
*Please note: All published FORS Gold case studies have been submitted by the accredited company named above and transcribed verbatim