AFI Uplift Ltd are one of the largest powered access machinery rental companies in the UK, with 21 locations giving national coverage and a fleet of 59 delivery vehicles ranging from 44t articulated low loaders to 7.5t rigids, delivering and collecting a hire fleet of over 5,000 mobile elevated work platforms. Maddie Wallace, Group Transport Supervisor & Claire Stevenson, Group Operational Office Manager, based in Castle Donington explain how being a member of FORS has improved the safety standard across their fleet of vehicles and had an impact on reducing accidents on the road.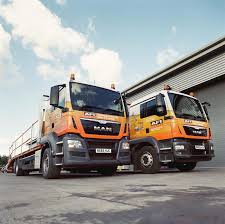 When we first applied for Bronze in 2013, it was initially when it was a London centric scheme and many sites and companies had started to insist that we become FORS certified for us to be used. We soon realised that by being an accredited FORS member would help us to achieve best practice across all our fleet.
The initial Bronze audit was hugely beneficial as it highlighted all of the management systems already in place that's FORS required. However it prompted us to do a review of these systems and make a few minor improvements and add in additional controls which ultimately helped us become more efficient and ensure we were operating safely. Your auditor who came to site was largely impressed with the processes already in place and was greatly supportive in helping us achieve the Bronze accreditation.
Once we had achieved Bronze and saw the advantages it gave us over non accredited companies, we quickly made the decision to go for Silver and ultimately Gold, AFI as a market leader in access hire, always want to lead the way and be the best we can in everything we do whilst operating safely.
Being a member of FORS has opened up a lot of opportunities for all operational staff to have a greater understanding of their individual responsibilities in order to contribute to the organisations overall safety culture. Personally, I have taken full advantage of the Practitioner courses available as they have expanded my knowledge in key areas such as maintaining a safe and efficient fleet and measuring road performance in a far more detailed manner.
Maintaining the Gold standard has had it's challenges, but ultimately it has ensured we are always striving to be the best we can be. Focusing on driver training has been key this year and is really emphasised by the courses FORS provide and insist are completed to form part of the accreditation. AFI have greatly benefitted and seen improvements in certain areas such as overall number of reported accidents, and hope to see this further reduce in 2018 as a direct result of drivers attending SAFED training.
Maddie Wallace says,
"I really benefitted from Workshops 3 & 4 as I didn't have a wide knowledge on driver fitness and training as this is usually handled by a dedicated Training department. Prior to my course my involvement was minimal however I now have a greater contribution with regards to planning training and ensuring drivers are fit and healthy."
| | | | |
| --- | --- | --- | --- |
| | MPG | Incidents per 100,000 miles | Number of PCNs |
| Jan-Dec 2016 | 8.7 | 2.08 | 50 |
| Jan-Dec 2017 | 8.6 | 1.7 | 68 |
| Percentage improvement | -1.1% | 18.2% | -36% |
The above data shows a strong improvement on the amount of incidents per 100,000 miles driven in 2017 compared to 2016. PCN's is an area which will have a lot more focus throughout 2018 to reduce the number received. One measure in place is to charge any PCN back to the driver and have it deducted from their monthly wage, this is to discourage them from carrying out a prohibition.
Driver health and fitness review – Every driver has an annual medical carried out by a professional 3rd party company arranged by AFI. This will look at all aspects of the drivers health and wellbeing and highlight any areas of concern which are then communicated to our Health & Safety Director.
Strategy for recruiting drivers – AFI actively recruit by advertising on a system called Vacancy filler, which takes applications from Total jobs, Indeed and our own website. We have recruited a number of ex-armed forces civilians in the past, we have seen great results from doing this.
Noise assessment – We have taken several measures to reduce noise pollution when operating out of hours. These include having an option to switch off the vehicles external noise warning alarms in residential areas so we are not deemed a nuisance. In addition when loading/unloading our drivers must use the battery pack option rather than the PTO's so the engine is not left running unnecessarily whilst the ramps are in use.
Modal shift and alternative vehicles – We have explored all alternative vehicles available to see if they are workable with AFI's core business, however the conclusion was reached that at this present time we cannot transport goods in any other way. A case study was completed on Modal Shift & Alternative vehicles in our 2017 Gold renewal which goes into great detail as to why this is not a possible option at this time.
There are a number of exciting developments in place for the future to continually improve the AFI fleet. These include specifying the Euro VI rated engines on all future orders dependant on manufacturer; this will help fuel savings which will have a direct impact on reducing our emissions. We will also have 2 qualified FORS Practitioners within the next 12 months which will broaden the knowledge overall of the Transport team.
We are very proud to be a Gold FORS member as it is a credit to the exceptional standards that AFI operate to. As this is recognised within the industry it shows our commitment and dedication to operating a safe and efficient fleet and encourages other companies to strive to achieve this high standard. The benefits from FORS are endless, from being able to speak to an advisor over the phone for a quick answer to obtaining discounts for services.
Visit our Face book, LinkedIn and Twitter