Located in Kent, ALCO are strategically situated to supply the UK with low loader and heavy haulage services and vehicles.  I am John Darvell, Quality Manager at ALCO.  We have achieved huge reductions in fuel usage, reduced our CO2 emissions and lowered our NOx and Particulate Matter output through the implementation of the FORS Standard requirements.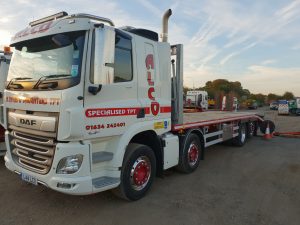 Originally FORS came to our attention via a contractual requirement for Crossrail. We soon realised that we wanted to be the best we could be and progressed through to Silver and then to Gold. This will be our third year as a Gold Standard Operator.
Although the audit process is the same, the quality of the audit has changed since 2014 and is almost unrecognisable. At Bronze level we now undergo a thorough inspection of documents and processes and are required to evidence how we implement these.
After we achieved our Bronze accreditation, we put to use the toolkits on offer to enhance our own policies and procedures. Essentially this made our drivers and fleet safer and more productive.
"Becoming GOLD Members was a no brainer for us. Who wouldn't want to be the best?" – John Darvell Quality Manager
Our drivers at ALCO feel that the additional views provided by the camera systems, have improved both their safety and that of Vulnerable road users. The camera recording function also affords them the security of an impartial witness to any incident. Operating Heavy plant used to make us an easy target to blame in any incident.
"The safety of our Drivers and other road users is paramount to us. The additional safety equipment required by FORS has been instrumental in improving the safety culture in the organisation." – John Darvell Quality Manager
Here at ALCO we aim to be the best in the industry. Gold accreditation is an extension to our commitment.

| | | | |
| --- | --- | --- | --- |
| | MPG | Incidents per 100,000 Kms | Number of PCNs |
| Apr 2016-Mar 2017 | 7.98 | 3.11 | 6 |
| Dec 2017-Nov 2018 | 7.60 | 1.42 | 5 |
| Percentage improvement | -7.76% | 54.3% | 16.6% |
*Annual improvement in MPG and Incidents per 100,000 Kms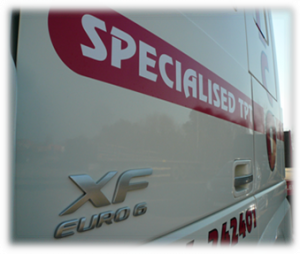 Driver health and fitness review – Our in-depth driver health and fitness programme is designed to support drivers before an accident or incident occurs.
Strategy for recruiting drivers – Due to the size of our vehicles we can only accept exceptionally experienced drivers into our training programme.
Noise assessment – We use Euro 6 vehicles only and implement the DAF silent vehicle function were possible.
Modal shift and alternative vehicles – We operate specialised low loaders and heavy haulage tractors pulling up to 200 tonnes, neither alternative vehicles nor modal shift are currently available to us.
Our future plans start with maintaining our Gold accreditation and absorbing the upcoming FORS version 5 changes. Making sure we implement all new changes and remain one of the 300 Gold Members.
Being a Gold operator means a lot to us both as a company and to our workers. It is a sense of pride to be one of the top 10% of FORS members.