Allen Haulage Ltd is a sub-contractor for Tarmac Industries, first established in 2013. Allen Haulage Ltd transports asphalt and aggregate materials to customers using the most efficient practices and procedures. Since joining the FORS scheme, the company has significantly increased their overall efficiency with the help and guidance provided by FORS. Kenneth Allen, the director of Allen Haulage Ltd explains how FORS has been beneficial to their company.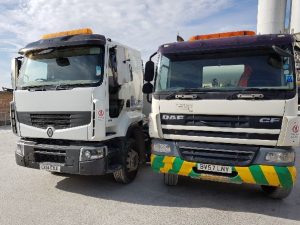 When tendering for work in London, we first heard about FORS through word of mouth. After conducting further research into the scheme by reading up on the case studies by companies similar to ours that have joined the scheme; we decided to implement the scheme into our business as we felt it would help improve our fuel efficiency and expenditure.
When we first began working towards our bronze accreditation, we were surprised at how quickly the FORS procedures and recommended practices made an improvement in our business' efficiency. After achieving our bronze accreditation, we were encouraged to rapidly start working towards a silver accreditation, as we were enthusiastic to see what the outcome of a silver accreditation would be.
As suspected, our company processes became even more efficient once we began working towards a silver accreditation. Once we officially became a FORS silver accredited company, we decided to make further use of the FORS toolkits to begin working towards the next gold accreditation. In particular, the FORS performance management toolkit was very useful when keeping track of fuel usage and emission output.
'Having the performance management toolkit helped us keep track of all of our fleet's data.' – Kenneth Allen
Furthermore, another benefit we acquired once we joined FORS was the wide range of e-learning resources available for our drivers at Allen Haulage Ltd. Having these informative modules available to our drivers from home encouraged them to keep their road safety skills and knowledge up to date.
'Our drivers are much more confident on the road as the FORS modules have increased their road safety knowledge.' – Kenneth Allen
We are now aiming for another gold accreditation with FORS, as we believe after implementing the procedures required for our initial gold accreditation, it has helped our business run at our most efficient standard since establishing in 2013. Remaining a gold accredited business would show future and current clients that we are continuously working and improving by using the most efficient practices.
From when we first submitted with FORS Gold, to the last recent quarter we have increased our KMPL by 19.55% thanks to FORS.
| | | | |
| --- | --- | --- | --- |
| | KMPL | Incidents per 100,000 Kms | Number of PCNs |
| May 16 – July 16 | 1.79 | 0 | 0 |
| May 18 – July 18 | 2.14 | 0 | 0 |
| Percentage improvement | 19.55% | 0% | 0% |
At Allen Haulage Ltd, we ask that our drivers fill out a health questionnaire prior to employment, to ensure their health is suitable for our field of work. Any concerns will be referred to a GP, for further consultation. Moreover, we also ask our drivers to carry out regular eye checks to ensure their eyesight is suitable for driving.
At Allen Haulage Ltd, when looking for new recruits we like to advertise through online platforms such as Indeed. When advertising, we welcome drivers with no previous experience into the business by offering a paid two week buddy plan. The duration of this training period consists of the new driver being supervised and assessed by an experienced tipper driver. Once the training period has been completed and the new recruit has shown they have the ability to drive independently, they can then start their official employment within the company as an independent tipper driver.
By introducing the FORS anti-idling method into our drivers training, it has helped reduce our fleet noise pollution levels. This method has also helped us save on fuel usage. Furthermore, with the information gathered from the quiet equipment guide, we are now more informed of the types of different equipment we can use in our vehicles to reduce our noise pollution.
Due to our mode of work there are no other forms of transport we can use other than road transport to deliver our materials. The most efficient vehicles available for our work have a euro six engine built in, which is known for producing low amounts of NOx.
At Allen Haulage Ltd, we plan to keep up to date with any improvements made in the tipper vehicle industry for more environmentally friendly vehicles. We also plan to continue working on our business' overall professional development, by encouraging our drivers to complete FORS educational driving modules regularly.
By having Allen Haulage Ltd remain FORS gold accredited, it would help us acquire more cliental and show our current clients that we are continuously improving as a business. It would also reassure our drivers that their dedication to ensuring road safety and reducing fuel usage has not gone unnoticed. We look forward to continuing to work at the highest possible standard with the help of the FORS scheme!