Alphatrans' commitment to exceptional customer service, operational innovation, and investment in specialist personnel and equipment has made it a leading force in international abnormal load and flatbed transport throughout Europe.
The Alphatrans group serves a loyal and varied customer base and maintains excellent multimodal transport connections from locations in The Netherlands, United Kingdom, Ireland, Belgium, Germany, Hungary and Romania.
The group operate 1,000 trucks trailers and support vehicles throughout mainland Europe, the UK and Ireland.  The extensive fleet includes 13.6-metre mega and standard flatbed trailers, impressive 36-metre extendable trailers, low loaders, extendable semi low loaders and specialist concrete carriers.
Alphatrans Humber Ltd. provide traction, abnormal load notification and attendant services throughout the UK for the group.
General Manager and FORS Practitioner, Dave Millard, explains how the FORS standard has supported the operation to maintain the high standards expected within the industry.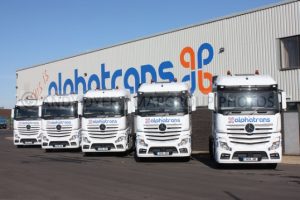 'The foundations of excellent service are strict safety standards.  At Alphatrans we recognise that a positive health and safety culture does not happen by accident, and persistent focus and commitment at all levels is required to manage work related road risk.  Once we became an accredited FORS bronze member in 2012, we took full advantage of the guidance and training offered by FORS to enhance and develop our compliance systems, training and engagement programs and Vulnerable Road User protection technology.'
Alphatrans are proud members of the FORS family and have benefited greatly from all the training and development resources on offer, from funded Safe Urban Driving DCPC course to toolbox talks and eLearning modules for drivers, office staff and managers.
'Alphatrans association with FORS drives us towards our ultimate aim, which is absolutely compliance, total control and customer peace of mind' Dave Millard – General Manager
The over-size nature of much of the cargo we carry, our continued growth in construction logistics and our legal and moral obligations towards compliance and health & safety; coupled with our ongoing drive for operational excellence, made it imperative for us implement continual improvements in both driver training and vehicle safety systems.  The relationship with FORS (and the many resources available to members) helped Alphatrans to develop and enhance existing policies, procedures and in-cab technology to engage further with our driving staff and do everything possible to protect vulnerable road users.
All drivers have completed eLearning modules in cycle safety and have attended Safe Urban Driving DCPC courses.  All vehicles are fitted with close proximity sensors, left turn warning alarms, forward-facing cameras, warning lights, VRU signage and externally audible handbrake warning and reversing alarms. All new vehicles in the fleet are also fitted with rear-facing side cameras.  A key strategic decision was made to replace all EURO 5 vehicles with EURO 6 vehicles by the end of 2017 as part of our ongoing commitment to provide cleaner and more efficient equipment.
'We found that the content of the FORS eLearning and toolbox talks contained very relevant information and were extremely informative.  FORS has helped us to progress and improve our overall fleet operation.' Kevin Morris – Quality and Compliance Controller
Our FORS membership has encouraged us to develop all aspects of our business.  Our commitment to absolute compliance, best practice, health and safety and reducing environmental impact has inspired us to progress to the FORS Gold accreditation.
Performance data:
| | | | |
| --- | --- | --- | --- |
| | MPG | Incidents per 100,000 Kms | Number of PCNs |
| Jan-Dec 2015 | 8.93 | 12 | 2 |
| Jan-Dec 2016 | 9.46 | 5 | 7 |
| Percentage improvement | 5.93% | 58.3% | – |
*Annual improvement in MPG and Incidents per 100,000 Kms
The health and fitness of our drivers is paramount to the business, as is the safety of the both the driver and other road users. We perform regular eyesight tests at six monthly intervals and all drivers are required to complete a comprehensive annual health check.  We are working closely with occupational health to introduce a greater and more in depth health check in the near future.
In an effort to combat the national commercial driver shortage and encourage new drivers within the transport industry, Alphatrans have introduced a Driver Academy program. Alphatrans fund all aspects of training, including driving and CPC courses and test fees.  Since the introduction of the academy, we have successfully trained and employed over a dozen new C1+E commercial drivers.
In an effort to reduce the impact of noise pollution, we encourage all drivers to switch off audible warning equipment during unsociable hours (where safe to do so). All driving staff have also committed to the company anti-idling policy, requiring drivers to turn off engines wherever practicably possible.  All our drivers and operational staff have also completed Lo-City eLearning to enhance their knowledge of the impact of HGV's on the environment.
As part of our ongoing commitment to provide cleaner and more efficient equipment, all our vehicles are EURO 6 compliant. We carefully consider modal shift, but due to the nature of the work we carry out, rail, river and pallet networks are rarely an option. We regularly review the possibility of alternative vehicle and fuel solutions as technology progresses and becomes more practical and affordable, and now include the Direct Vision Standard for London (DVS) within our strategy. Going forward we plan to use DVS as a template for our urban fleet evolution plans.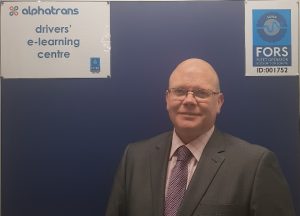 In order to make continual improvements, we regularly monitor change within the transport industry, keeping up to date with new policies and taking on board improvements that can benefit the business and the environment.  Going forward we will train more FORS Practitioners and continue to learn from FORS to broaden our knowledge, improve vehicle MPG and reduce harmful emissions.  In addition to this, we will continue to educate our staff to increase their knowledge and awareness of road safety and the environment using FORS toolbox talks, eLearning and training workshops.
We are extremely proud to be a member of the FORS family and we will continue to promote the standard and move forward with our fleet operations.  Achieving the Gold standard will not only promote our reputation within the industry, it will also further demonstrate our dedication to operational excellence and improving road safety, the safety of vulnerable road users and a continual reduction of our carbon footprint.
By dovetailing the fundamentals of FORS with Alphatrans' own training programme and telematic driver performance data, we are able to tailor training and development to the individual. This positive approach to driver engagement ensures that our staff are trained to the highest possible standard, which in turn helps to maintain a golden culture of safety and compliance.
Alphatrans' association with FORS drives us towards our ultimate aim, which is absolute compliance, total control and customer peace of mind.
For Alphatrans, Exceptional is Normal.
Alphatrans: Website
Alphatrans: Youtube 
Please note: All published FORS Gold case studies have been submitted by the accredited company named above and transcribed verbatim.