My name is Chris Dale, I am Managing Director and Transport Manager for AQ Logistics Ltd. Based in Ainderby Quernhow, Thirsk, North Yorkshire, AQ Logistics operates a fleet of vehicles dedicated to the specialist haulage industry throughout the UK and Europe. We have 31 vehicles ranging from small vans up to STG1. A large part of our fleet are lorry mounted cranes and we can reach up to 34m with our latest Euro VI additions. Being a FORS member has enabled us to improve all aspects of our road safety and fleet performance.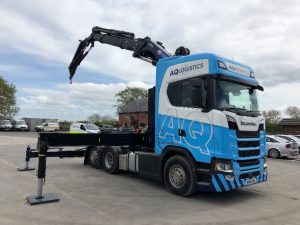 We first heard about FORS when we were asked to supply specialist vehicles for the Crossrail project, so we worked towards becoming FORS Bronze accredited in 2011.
We passed our Bronze audit the first time and the preparation for the audit highlighted what we were doing right and what we needed to improve. It was a hugely rewarding time and every employee has seen the benefit of what we have achieved in improved safety and performance.
Following our Bronze accreditation, our Health & Safety and Compliance Manager, Sophie Stephenson, completed the FORS workshops and gained the FORS Practitioner qualification. Through our time with FORS we've actively promoted the FORS scheme with other hauliers and have helped some gain their accreditations.
'Our FORS membership has been the turning point for our business. FORS has helped our business development and the FORS training has assisted our commitment to increase driver and vehicle safety and safely share the roads with others' – Chris Dale – Managing Director
As part of our commitment to continual improvement we used the structure of the audit to base our internal quality system. This ensures we always operate at the FORS standards.
'During our time with FORS we've seen an increase in operational efficiencies and a reduction in work related safety issues. Our aim is to ensure that this compliance remains at its high level and improvements are made wherever possible' – Rob Macaulay – Operations Director
AQ Logistics became Silver accredited in 2013. Following the Silver accreditation, we saw an increase in workload and an increase in confidence from our customers, knowing we were operating at the FORS standard. Most of our customers now insist on a minimum standard of FORS Silver however we have decided we would like to achieve our Gold member status for both company satisfaction and to pre-empt customer requests.
We introduced Mandata TMS in 2007, later we added their telematics software to the business along with remote tachograph monitoring. The real-time information highlights our operational efficiencies and is an excellent tool for informing our employees of their individual performance. Over the years we have commissioned additional features which have been used to continually improve our driver's compliance and maintaining our improvements remains our ultimate goal.
Some of our improvements from 2016 – 2017 include
| | | | |
| --- | --- | --- | --- |
| Year | MPG | Percentage of Euro VI vehicles in fleet | Number of PCNs |
| Aug 2016-July 2017 | 8.44 | 50% | 5 |
| Aug 2017 – July 2018 | 8.57 | 65% | 4 |
| Percentage improvement | 1.5% | 15% | 20% |
*Annual improvement in MPG, Euro VI vehicles and PCNs
We have introduced annual employee health questionnaires which ask specific questions about any health issues they may have so we can determine if we need to refer the individual to Occupational Health. Our employees are obliged to inform us immediately if they are prescribed any medication or taking any over the counter medication, so we can ensure they are safe to drive. We also operate a zero-tolerance policy on drugs and alcohol. New employees are tested during their induction and we also carry out random drug and alcohol testing throughout a rolling 12-month period.
In February 2018 we took on our first apprentice. Initially he has started in our workshop to gain knowledge and experience of the equipment we operate, before enrolling in the driver apprentice training programme. He has been included in all our company training, including FORS specific training, so he is fully aware of our expectations and how important it is for us to operate at the FORS standards.
We have undertaken noise assessments on our operations and ensure we are well under the legal daily exposure limits. We issue our drivers with the correct ear defenders for specific sites and through our risk assessments and method statements we have reduced their exposure to noise significantly.
Unfortunately, due to the last minute, spot hire and out of gauge nature of the industry we operate in; it leaves us little to no alternative but keep to the roads rather than move all, or part of our work, on to an alternative transport mode. However, we have actively looked at alternative options for our vehicles including hybrid and fully electric motors. I recently attended the Road Efficiency Live Event at the Millbrook Proving Ground. The event demonstrated our suppliers constant drive and commitment to innovate through technology and the ability to offer us the solutions we are looking for.  The event included driving around the track in an all-electric 7.5t rigid, a road safety session showing new innovations and finished off with a classroom-based training session.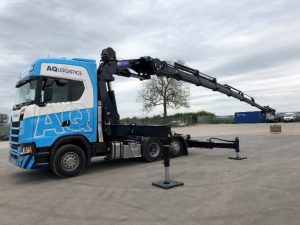 AQ Logistics are acutely aware of the impact our vehicles have on the public and the environment. Our vehicle choices are driven by our wish to decrease our impact on both. Most of our fleet is already Euro VI and we are continually refreshing the fleet with newer models. By January 2019 we will have replaced a further 5 vehicles with the Euro VI models and our aim is to have only Euro VI by the end of 2020. This helps reduce our impact by lowering fleet emissions and provides us with long term savings. We're committed to ensuring we supply the highest spec vehicles for driver ease of use and all-day comfort. The wellbeing of our drivers is key to working towards reducing our road risk and ensuring the safety of vulnerable road users.
AQ Logistics is working towards Gold to show our commitment to the FORS structure. Our FORS Silver re-accreditations over the years demonstrates our commitment to FORS, our employees, our customers and other road users. We believe our FORS Gold accreditation will maintain the standards expected of us and ensure continuous improvements in safety and performance.