Aztek Logistics has been established since April 2003 and from small beginnings has grown into a major player in the warehousing and distribution industry. Having built the business on quality and the ability to deal with single pallet deliveries through to full load distribution throughout the UK and Europe. In 2009, we acquired our 7 acre site in Letchworth Garden City, complete with 70,000 sq ft of secure, bulk and racked warehousing. Within this impressive facility we were able to offer a number of value added services, such as pick and pack, to complement our client's many needs. Becoming a member of Pallet Track network in 2010, enabled us to continue our constant push for improvement in technology, which has helped us to provide cutting edge services such as online proof of delivery with track and trace, online job entry, and signature capture. Duncan Pannell, our Operations Manager is our elected Fuel and Emissions Campion and he explains how important FORS is to our Company.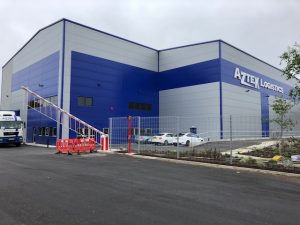 We came across FORS when tendering for work across London. When we looked at the requirements and benefits of joining the scheme we saw that they fitted in perfectly with our ethos of improving safety whilst complementing our drive to improve fuel efficiency and reduce our environmental impact.
We take compliance and safety very seriously so we achieved our Bronze and Silver Accreditation first time. FORS did help us by providing training and tools that improved the policies and procedures.
The performance management toolkit really helped us set our targets for reducing our carbon footprint and improving our MPG. FORS has helped us improve our filing systems and procedures.
'FORS has helped us achieve compliance and safety' – Duncan Pannell Operations Manager
All our drivers have completed their Safe Urban Driving course which was funded by the Transport for London. We have also invested heavily in vehicle safety systems cameras, nearside proximity sensors and audible alarms for all our vehicles. All our drivers have also completed FORS E-Learning modules.
'We have improved our MPG by 9.55% since our baseline year' – Duncan Pannell Operations Manager
We have managed to improve our MPG across the whole fleet by 9.55% compared to our baseline year. We achieved this by making sure we always selected the best route possible to all our sites and we plan ahead before leaving the yard.
| | | | |
| --- | --- | --- | --- |
| | MPG | Number of Parking fines and Charges | Number of Vehicles |
| Sept 14-Aug 2015 | 11.20 | 4 | 28 |
| Sept 17-Aug 2018 | 12.27 | 6 | 28 |
| Percentage improvement | 9.55% | -50% | 0% |
All our drivers are asked to complete a medical declaration on induction to the company, and thereafter annually, even though the FORS standard only requires this being carried out every 5 years. Within the driver's handbook we also ask that should they suffer from a new medical condition requiring prescribed or over the counter drugs, we are notified immediately. Depending on the seriousness of the condition, we may ask for a GP's written confirmation of their being "fit" to drive a commercial vehicle.
In an attempt to assist us in recruiting younger drivers, we have adopted a recruitment policy and have also investigated the possibility of re-training some of our current drivers to larger classes of vehicle, where we have specific vacancies.
We have just completed the on-site development of a Hi-Bay warehouse facility, which will give us a further 4,500 pallet locations to the 5,000 we already have. All lighting fitted (external and internal) was specified to be LED so as to reduce our electricity usage and hence carbon footprint. We have also fitted a 50,000 litre bulk diesel and Adblue tank on site, again so that bulk purchasing helps reduce costs and prevents off-route running to the nearest petrol pumps. Although all drivers have fuel cards, the usage of these has been reduced to about 5% of our total fuel consumption. The warehouse demands we operate fork trucks, so for the external yard use we have gas powered trucks – these are re-fuelled from a bulk LPG tank again to reduce costs and stop the many deliveries of bottled gas.
To make cost efficient single pallet deliveries across the UK, we have become members of a pallet network – Pallet Track. Through working within this system we can condense vehicle movements by utilising double deck trailers, which offers a far more cost and fuel efficient way of moving pallets via a hub and spoke network system. Sortation is carried out at the hub which consolidates loads and reduces traffic movements. With low emissions zones becoming evermore the norm, we are very conscious of the need to run the most cost and fuel efficient vehicles. To this end we have already replaced the majority of our fleet with Euro 6 vehicles, the remaining 20% Euro 5 vehicles only be used locally to our main depot in Letchworth (low mileage running), with a planned replacement within the next eighteen to twenty-four months. With a vast reduction in spurious insurance claims being seen due to the fitting of 360 degree camera systems to our vehicles, these replacement vehicles will be fitted with them and the left turn bleepers and side sensors, as a matter of course, for the future.
We will continue using what FORS has taught us to improve our MPG and reduce any wasted idling we might have.
Maintaining our FORS Gold Accreditation shows how dedicated we are as a company to improving road safety and the safety of all vulnerable road users in London as well as nationally. We will continuously use what FORS has taught us to help reduce our carbon footprint and make the roads so safer for everyone that uses them. We have also managed to make a significant saving by reducing our fuel usage and improving our MPG.