B C Wiles are based in Yaxley, nr Peterborough.  Established in 1971 as a family owned business which supply transport for general haulage all over the UK.  Our main customer is Kone who provide lifts nationwide.  Trisha Macphee who is the Office Manager maintains the importance of being a FORS member and also responsible for monitoring our Fuel Efficiency, accidents, Health & Safety and compliance.  Due to running crane lorries which unfortunately counter act the anti-idling we have taken measure in other ways by choosing the most economical routes for our drivers to save on fuel & CO2. With having front and side cameras fitted on all our vehicles this has also made an impact on accidents as it has given us the evidence to prove where we were not at fault, unfortunately there is nothing we can do regarding 3rd pty accidents.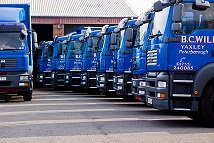 It was through contractual reasons we were introduced to FORS of which we achieved our Bronze accreditation in April 2011 and after successfully maintaining this we decided to go for Silver in 2013. On becoming a member we quickly became aware of how beneficial this was for us as a company and not only did it provide evidence to our customers of our commitment to them but also to our commitment to improving the environment.
I was not with B C Wiles for our first Bronze audit but have been advised that this was a bit of an eye-opener; we passed our Bronze accreditation first time which made it clear to us that the industry was progressing. To stay compliant FORS provided us with all the tools and information we needed to achieve this which helped us to develop policies and procedures to be placed within our business.
.Although we first became a member of FORS for contractual reasons it has now become important for us to demonstrate our commitment, focusing on ways to provide a better service i.e:- on delivering our customers products, reduce fuel consumption where possible and also our environmental impact, FORS provided us with the Performance Management tools and e-learning we needed to maintain this and also contacts of companies who provided discounts for FORS members.
With using the FORS Performance Management Tools this has helped us keep check on our fuel efficiency, carbon footprints, PCN's and accidents. It has given us the information on where improvements can be made. The E-learning has also given our drivers a further knowledge while being out on the road and also while delivering to the customer.  All our trucks are CLOCS and Crossrail compliant, we have nearside proximity sensors and audible turn left alarms fitted on all our 20 vehicles.  This has benefitted us when doing our deliveries especially in London which has helped to reduce accidents & near misses. As the FORS Practioner I found the workshops very knowledgeable and not only for the information provided but also hearing about other company experiences.
'As a company we strive to improve in every aspect.' – Martin Wiles MD

'As we have progressed from Bronze to Silver and now aiming for Gold it has helped us educate our drivers and helped them to understand the reasoning for all the training required and the high standards we are aiming to set for B C Wiles.' – Martin Wiles – MD
| | | | | | |
| --- | --- | --- | --- | --- | --- |
| | Vehicles | Fuel Used | CO2 | Accidents | Number of PCNs |
| 01.06.16 – 31.05.17 | 20 | 371498 | 966.043 | 7 | 5 |
| 01.06.17 – 31.05.18 | 20 | 400513 | 1041.494 | 13 | 4 |
| Percentage improvement | 0% | 7.8% | 7.8% | -46.1% | 20% |
Our drivers have completed a medical declaration of which we will review this again every 2 years adding any changes needed during this period. This is to give us an understanding of any medical issues they might have. It is stated in the driver's handbook that all drivers are responsible to advise ourselves and also DVLA of any medical issues that arise which might affect their ability to drive either through the illness or the medication prescribed. Once we have been advised of any conditions that arise we will then determine if we require a written confirmation from a medical source to prove that the driver is safe to be on the road.
We have recently implemented a Recruitment Policy that outlines that we, as a company, would look at employing young drivers/ employees where possible and training them up to do what is required in the required role.
We are currently assessing our noise pollution by taking readings of our day to day operations i.e. site visits, in yard operations, vehicle wash & garage operations and collating this information from our decibel meter to find out where we can improve on our noise pollution wherever necessary.
Due to the work we do we are unable to replace any of our vehicles with Electric or Hybrid vehicles but we are we are currently updating our fleet with Euro 6 engines which has already had an impact on our carbon footprint reduction and also increased our MPG and lowering our Co2 in the environment.
We feel that as of the moment there are no suitable alternative vehicles to the Euro 6 engine vehicles which we are operating. These are a very clean engine and with our vehicles having power take offs for the cranes we find these most suitable at the moment.  We have at present 8 euro 6 vehicles and will have a further 6 more by next March.
We promote FORS by showing our accreditation on all our vehicles, emails, letter heads, and invoices website and also by requiring a FORS silver standard for any sub-contractors we use although this is very few we still make this a requirement.
We strive to become Gold accredited as this will demonstrate to our customer the high standards we have achieved not only to the service we provide to them but also on the safety front for our drivers and also the vulnerable road users they come into contact with. While doing this we are also doing our part to helping the environment of which we will strive to continue to looking into ways we can help to keep improving this.
We are currently creating a business page on LinkedIn