B Keville Haulage Ltd has been a limited company for the last 3 years and prior to that was a sole trader for 15 years. The company has always worked for Tarmac Ltd in their southern region. We have 2 32,000kg tipper trucks and 1 44,000kg walking floor truck. We are based in Radlett and employ 5 drivers. We are engaged in delivering asphalt and aggregates, we operate on a 24hr basis exclusively for Tarmac.
We first heard about FORS when as a core fleet sub-contractor for Tarmac, we were required to become FORS Bronze accredited.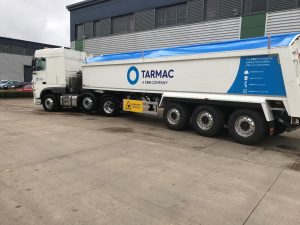 Our first audit for Bronze was challenging but rewarding, we soon realized that our company worked better as a result of passing our Bronze
After gaining our Bronze, we could see the benefits on offer, the performance management tool is especially useful as is the driver training programme, classroom based and E Learning, this has reduced our accident rate by 100% over the past 4 years by increasing awareness of road safety
"Our FORS membership has been invaluable to our company and has helped with our continued commitment to sharing the roads and improvements to driver and vehicle safety." – B Keville (Managing Director)
All our drivers have completed the FORS E Learning modules which has helped us in safety and emissions reduction. We are continuing to invest in safety systems on our vehicles with side under run bars, left turn audible alarms, side sensors and 360 degrees cameras
"Becoming FORS Silver and then Gold accredited has helped us become a more conscientious and productive company." – B Keville (Managing Director)
Once we were Bronze accredited, we could see how beneficial it was to our company so decided to go for silver and then on to gold, our reason for wanting to remain a gold accredited business is due to the noticeable improvements seen while working at Gold accredited standard. Having the Gold accreditation as evidence of our hard work increases our credibility and assures our clients that we are working using the best practices.
| | | | |
| --- | --- | --- | --- |
| | MPG | Incidents per 100,000 Kms | Number of PCNs |
| Mar16-Mar 17 | 8.74 | 0 | 0 |
| Mar 17-Mar18 | 8.74 | 0 | 0 |
| Percentage improvement | 0% | 0% | 0 |
*Annual improvement in MPG and Incidents per 100,000 Kms
All our drivers are required to fill out a in depth medical declaration on a yearly basis and a 6 monthly eye test, in addition to this we request that our drivers declare any new health conditions, if there are any health complications that may affect their driving, we will then refer them to a GP for further consultation. Also our drivers are requested to inform the manager if they are given any medication prescribed by their GP. This gives us the opportunity to check the details of the medication ourselves to ensure it has no adverse effects on their driving.
If recruitment is required, we take recommendations from colleagues at Tarmac, any new recruits are placed on a two week buddy plan with an experienced driver to ensure all aspects of training are covered and to ensure the new driver is confident to drive alone
As a sub- contractor for Tarmac, we undertake a robust noise assessment of the different depots and sites we deliver to, we are given full details of this and comply with the measure in place for the depot we work out of and any other depot or site which we are required to work out of. Internally, our company has our own policy on noise and operating procedures which informs our drivers of their responsibility to minimise noise pollution
Due to the nature of our business, delivering asphalt from our plant to sites and road works, we are limited to the type of transport we can use, however B Keville Haulage are aware of the impact our vehicles have on the environment and the public, with that in mind, our vehicle replacement policy is to upgrade our fleet when possible to lower emissions vehicles, we currently have upgraded 2 of our vehicles to Euro 6 and will continue to upgrade the fleet with more environmentally friendly vehicles.
At B Keville Haulage, we intend to continue investing in the latest technology and safety equipment regarding our fleet. Replacing older vehicles with Euro 6 versions and keeping up to date with industry initiatives will help us to reduce fuel consumption and reduce emissions and we will continue to maximise our driver training FORS has provided us with the tools to accomplish this.
Maintaining Gold accreditation will show our commitment to keeping up to date with the latest in safety and efficiency and will demonstrate to our clients that they can be confident they are dealing with a Gold standard haulier.