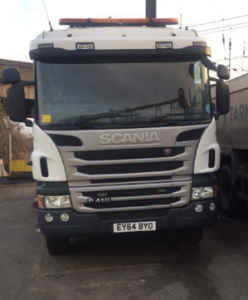 Bates Transport is a sub-contractor to Tarmac delivering asphalt in the south east region of the UK. Based in Colnbrook and established in 2005 Director M Bates continually observes the FORS standard when reviewing and making decisions for the business. FORS has helped the company continue as an organised and compliant operator which is safety conscientious.
We were introduced to FORS by Tarmac. We realised the benefits to our company that FORS had to offer were very beneficial in going forward. We immediately began to implement and review our procedures to enable us to apply for our Bronze. Bates Transport Ltd passed our initial audit first time round, this showed us that FORS was the way forward, from here it encouraged us to next achieve our Silver accreditation once this was achieved Gold was achieved and now to maintain the highest standard.
The information available to us has been very important in helping us achieve our Bronze, Silver and Gold accreditations. The information provided by FORS has enabled us to effectively produce documents for our annual audits.
After becoming Bronze and seeing the benefits FORS made available to us, especially the e-learning and fuel management, we decided to move forward and apply for Silver. Once we were awarded our Silver accreditation we applied for our first Gold and achieved the accreditation..
"Implementing the FORS standard within the company has continued to improve the business and driver training through the e-learning tools. " – Director M Bates
Being awarded our Silver made myself and drivers realise FORS was the way forward. The e-learning modules are a constant form of training along with the toolbox talks on the FORS website.
"Road safety is our first priority then through driver management we reduce our effect on the environment. " – Director M Bates
The main reason for progression was that we wanted to demonstrate to Tarmac and their customers that we are capable of meeting the challenges ahead. It is important that we continue to improve the operations of the business and by doing this we are in a better position to benefit from more contracts and continued expansion in the future.
| | | | |
| --- | --- | --- | --- |
| | MPG | Incidents per 100,000 Kms | Number of PCNs |
| Jan-Nov17 | 9.2 | 0 | 2 |
| Nov17-Oct18 | 9.6 | 0 | 2 |
| Percentage improvement | 0.04% | Nil | Nil |
All drivers complete a Medical Declaration on an annual basis. Also a driver fitness policy is issued which informs employees they have to inform the company immediately of any medical issues.
Recruiting is usually by word of mouth and recommendations from hauliers we work with.
We actively try to reduce any noise pollution we may make, we turn off vehicles if standing longer than 3 minutes in traffic, try to keep noise to a minimum when loading and unloading.
We have researched alternative transport modes to include Hybrid and Hydrogen powered vehicles, when vehicles are bought to the market that is a viable option for the business and enables us to use them for our workload, we will definitely look into the possibility, in the meantime we use a Euro 6 vehicle.
Our plan for the future is to continue monitoring and improving where possible fuel management through ongoing driver training. Our FORS accreditation has become ingrained on the operation of the business that will continue to show that our company is dedicated to continuing our standard of service to our customers.
To maintain our Gold accreditation for another successive year demonstrates that we are a progressive company, actively committed to road safety, watching out for vulnerable road users, caring for the environment by reducing harmful emissions and we will continue forward as a proud FORS Gold accredited member.