Becker Transport established in 1965, a specialised transport company operates as a 3rd generation family owned business run from one of five warehouses based in Stevenage Hertfordshire. Becker provides a dedicated door to door service without the need for transhipping or hub activities therefore providing a seamless distribution service tailored to our customer's needs. Becker has been a FORS member since September 2013 and since the implementation of FORS Becker has seen reductions in fuel usage.
We came across FORS as a contractual condition from MACE and Crossrail, as a SME with both ISO 9001 and 14001 accreditations we thought this would be the next step in our continual improvement as a company
We passed our initial Bronze assessment first time and immediately started making the most of the benefits available to us as a bronze accredited company. Following on from how the Bronze audit went and to comply with our larger customer requirements we opted to go for the silver accreditation in November 2013 this went seamlessly. The next logical step to demonstrate our dedication to improving road safety of all vulnerable road users was to go for gold; we successfully became a gold accredited company in February 2015.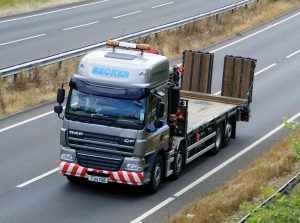 Since becoming FORS accredited Becker have continually worked to improve our fleet of vehicles adding proximity sensors, rear facing cameras, near side cameras to all our vehicles in line with the FORS objective of reducing the number accidents and improving the working environment of drivers.
We have fully utilised the FORS online training tools and have provided Tool box sessions to our drivers relating to the following matters Cycle safety, Bridges & Tunnels, Anti-idling, Driver Behaviour, Driver Fitness, Routing and planning, Safe loading and Unloading and Security.
All of our drivers and transport management have completed all four elements of the online FORS E-Learning. To increase our driver awareness of vulnerable road users all our drivers and managers completed the cycle confident Safe Urban Driving course back in March 2015.
'During our recent round of eLearning we received feedback from a number of drivers stating that the modules were a useful reminder of the importance of cyclist safety and the effect driving a HGV can have on the environment' Steven Harrison-White Health, Safety and Quality Administrator.
The training that comes with being a FORS registered operator, in particular driver CPC Safe Urban Driving course has enabled all of our drivers to be more aware of their responsibilities in terms of vulnerable road user safety when out on the road. Being a Stevenage based company a large proportion of our work takes us into both London and Cambridge and SUD's training was a practical way of ensuring that our drivers can protect themselves and other road users whilst driving in and around built up urban areas.
'Becker Transport has seen an increasing number of enquiries from customers requiring FORS accreditation.' John Stirrup Director  
In addition to an increased demand from our customers that hauliers achieve a minimum of FORS silver standard, we at Becker transport look to continually improve our operations. The logical progression from bronze was to go on to silver and finally make the transition for gold demonstrating our dedication to road safety and the high standard that the FORS accreditation carries.
Over the years of being FORS accredited we at Becker Transport have seen a number of improvements; a reduction of accidents per 100,000 miles of 12.96%, on top of a reductions of the amounts of harmful gases we are emitting such as CO2 (-18.19%), NOX (-4.76%) and particulate matter (-7.37%). It is through training, driver commitment and the Becker Transport's continual dedication in sourcing new and more efficient vehicles that we have been able to achieve such solid results.
| | | | | |
| --- | --- | --- | --- | --- |
| | Incidents per 100,000 miles | CO2 Output Tonnes | NOX Output (kg) | PM Output (kg) |
| Jan 2013 – Dec 2013 | 0.409 | 930.29 | 1913.21 | 37.27 |
| Dec 2016 -Nov 2017 | 0.356 | 886.02 | 1827.65 | 34.52 |
| Percentage improvement | -12.96% | -18.19% | -4.76% | -7.37% |
To manage driver health and fitness we have implemented an annual driver declaration, based on the medical conditions that are declarable to the DVLA. Although drivers are required to inform us of any relevant medical conditions, we ask them to sign the declaration every five years in addition to the bi-annual eyesight check process and a Driver Licence review
Becker Transport has been established for over 50 years and prides itself to promoting drivers internally.
Our newer drivers tend to enter the company driving our smaller vehicles under 3.5t, should the driver show the will and drive an option will be given for the driver to sit their category C1 licence.
We have progressed a number of our drivers and warehouse staff through the different classes, dependent on their personal motivation, aptitude for the job and requirements within our business.
Becker Transport's yard is located on an industrial estate, sufficiently far away from any residential areas negating the effect of any noise that can be emitted through Becker Transport operations.
We at Becker transport are London Lorry Control compliant, meaning we avoid residential areas within London during unsociable hours.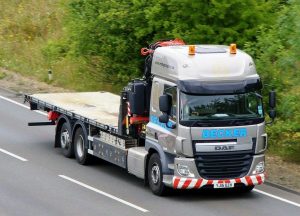 All retrofitted audible warnings can be switched off during night time hours, whenever possible white noise options are being fitted.
Due to the sector in which we work in delivering bespoke specialised equipment, plant and machinery there is unfortunately not much in terms of scope or movement of introducing a modal shift.
The technology in terms of alternative fuelled vehicles that are currently available aare satisfactory to our specialised requirements. However, all new vehicles entering our fleet are of the Euro VI category and use AdBlue to reduce the levels of harmful gasses being emitted by our vehicles.
We will continue to use the tools provided by FORS and associated partners to aid us in improving our compliance and operations. We will continue to monitor driver fitness and health and motivate our drivers through positive engagement and training.
The known weight that a FORS membership holds within our industry is immeasurable. We at Becker transport wish to play our part in a long list of companies that take their fleet management and safety seriously. To maintain our FORS Gold standard would be an achievement proving the continual professional service that Becker aim to provide and our dedication to the road safety of all vulnerable road users.
Website: http://www.mdbgroup.co.uk/
Twitter: https://twitter.com/BeckerTrans1965
Facebook: https://www.facebook.com/Becker-Transport-170104589764539/
Please note: All published FORS Gold case studies have been submitted by the accredited company named above and transcribed verbatim.