B&K Environmental Services Ltd have been trading for 12 years in the waste industry and are based in Ruislip and Greenford, Middlesex. Ruislip is our main site from which we operate skip loader lorries, roll on-roll offs and cage lorries removing commercial waste our site at Greenford produces biomass.
Transport Manager, Wojciech Woloszynek, explains the experiences from hearing about FORS, the journey so far and the benefits gained from being a member.
We first heard of FORS 4 years ago when it was suggested that one way to attain and maintain a good standard of transport operation was to become FORS accredited. We set about getting ready and are pleased to say that we passed the Bronze audit.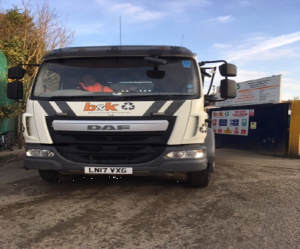 To be honest, the initial FORS audit was a bit of a wake up but it was a great opportunity to understand where we had gaps, needed to improve and put the pieces in place. What we found really helpful was the way the FORS standard is written, it tells you exactly what is required and what is needed to demonstrate the evidence.
Once at Bronze we were encouraged to make sure things were planned and carried out in time so that we didn't have gaps for the reapproval audit. We really made the most of the benefits on offer, in particular FORS training, such as Safe Urban Driving (SUD), the e- learning modules and toolbox talks. Also, we now use the tools that save time to collate information so that it is easy to recover when needed, such as the PCN Tracker and Performance Management Suite.
'As we are a restricted licence holder, my Transport Manager attended the Managing the Operator's Licence (Operator Awareness Training) course and has completed the FORS Practitioner Certificate'. – Krystof Pogwizd, Managing Director
One of the key benefits gained from FORS are the training opportunities and especially for us finding a FORS approved training provider from the FORS Associates. I attended the Managing the Operator's Licence (Operator Awareness Training) course and have completed the FORS Practitioner Certificate, this inspired me to take the next step and carried out the Transport Manager Certificate of Professional Competence (CPC) in Road Haulage.
'Attending the FORS Practitioner Course has benefited us in many ways, especially with improving knowledge on post collision procedures and analysis and reducing fuel efficiency and environmental impact. Working with our approved training provider we have created a programme of training that meets the requirements of the company and FORS'. – Wojciech Woloszynek, Transport Manager.
Initially we were content with being Bronze but had already identified that some of the requirements for FORS Silver were in place, especially vehicle safety equipment and Safe Urban Driver Training. However, during 2018 it became evident that the industry was requesting FORS Silver as the benchmark and so preparations were made to gain the accreditation. The company gained FORS Silver in October 2018.
| | | | |
| --- | --- | --- | --- |
| | KMPL | Incidents per 100,000 Kms | Number of PCNs |
| Feb 17 – Jan 18 | 3.30 | 1.24 | 59 |
| Feb 18 – Jan 19 | 3.47 | 0.67 | 42 |
| Percentage Improvement | 5.15% | 45.97% | 28.81% |
We continue to grow the business and in 2018, we replaced 4 Euro V with 6 new Euro VI vehicles, adding 2 more vehicles to the fleet. In Q1, 2019, we have an order in for 3 more Euro VI vehicles, 1 replacement, 2 new with more vehicles planned for the remainder of the year, therefore shortly there will be a need to add a further operating centre.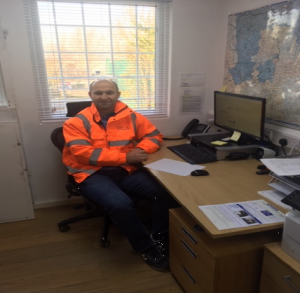 We've looked at alternatively fuelled vehicles but due to our operation, the market place isn't ready yet, but we will keep up to date and make sure we are best placed for when suitable vehicles are available.
To reduce noise created by skip loaders, we have covered the chains with webbing strapping and manufactured hooks for the drivers to use to stop the chains banging together when empty, this reduces the noise by approximately 7-10 dB(A).
We believe that the ability to grow the business comes from being a FORS member. This is due to the efficiencies we see but also without accreditation we wouldn't be allowed to work on the sites we service.
Becoming Gold accredited will mean we have come a long way since the first audit but through good staff management and monitoring we will continue using the tools that FORS provides to improve MPG and reduce idling times.
You can find us on facebook at B&K Environmental Services Ltd