Bywaters are London's premiere waste material and environmental management service provider. Established in 1952 and based in East London, with depots now in Bow and Leyton, we have been delivering first-class services to clients across the Capital for over 65 years – using our time and experience to refine our craft and drive sustainable improvements across our portfolio.
Mohamed Abdurahim (Logistics support manager) explains how Bywaters not only meets contractual requirements but also raises awareness of road safety and environmental matters on a routine basis. FORS has enabled the company to continued reduction in collision frequency, particularly in urban environments along with a reduction in PCN's issued largely as a result of the FORS e-learning and driver CPC training.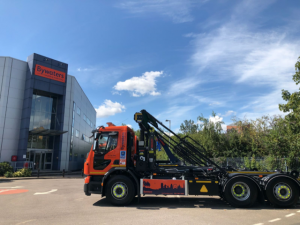 Bywaters have been with FORS since its inception (member #003); we are FORS Gold accredited and have maintained our status with FORS for over a decade – a testament to our environmental (and safety) commitments. It was great to be pleasantly surprised at the level of support and assistance provided through the FORS assessment. Throughout, we felt the process was targeted at helping us to get it right, and working with us to identify improvements to our existing systems. The assistance and guidance provided enabled us to be one of the first companies to meet the bronze standard.
One of the key improvements that we have seen from FORS is that of raised awareness for our industry standards. The training that our drivers have undertaken has resulted in a greater overall understanding of road safety and a highly collaborative approach towards other road users; particularly the co-existence of commercial vehicles and cyclists.
One of the key benefits that we have seen from FORS is the heightened awareness standards. Drivers have been given the specific safety training they need and created a safer culture for more vulnerable road users.
Luke Taylor (Senior Transport Manager) says, " I'm delighted to be joining a team and Company that embrace H&S as much as Bywater's do, the FORS guidance has enabled our organisation to embrace all aspects of Logistics management including Environmental excellence to ensure we remain at the forefront of Industry legislation ."
Bywaters have learnt that by equipping both our vehicles and drivers to the highest safety standards in line with FORS recommendations, our accident/incident rate has continued to reduce year on year along with insurance claims and applicable costs.
Looking ahead Bywaters have already began updating the current fleet to meet London emissions requirements for 2020 and anticipate the renewal of all current vehicles to Euro 6 standards by March 2019.
Maintaining our Gold Accreditation will help us to continue to strive towards the highest road safety standards and ensure that we are able to continue to maintain this safety record while protecting the environment.
Kevin Stephenson (Head of Fleet & Logistics) says ,"FORS has helped improved our compliance efficiency and road safety."
As a recognised standard across the industry Bywaters set out to achieve the FORS Gold and set a benchmark amongst our peers. The guarantee of best practice, which comes with the FORS accreditation, has enabled us to strengthen our business relationships and increase customer loyalty.
*Annual improvement in MPG and Incidents per 100,000 Kms
| | | | |
| --- | --- | --- | --- |
| | MPG | Incidents per 100,000 Kms | CO2 Output |
| Jan-Dec 2016 | 7.8 | 10 | 2073.32 |
| Jan-Dec 2017 | 7.8 | 9 | 1855.69 |
| Percentage improvement | 0% | -31% | 10% |
Bywaters policies and procedures state that during induction each staff member will undergo driver medical questionnaires and health declaration. This will allow us to have access to the individual medical history. All staff with a long term medical condition which could affect their driving/work ability can be referred to our occupational health consultant. Bywaters encourages open door policy with its staff to discuss any medical or mental health issues with management in the strictest confidence.
We have partnered with a specialist driver agency to ensure that drivers meet our strict requirements and criteria. This guarantees that each driver undergoes extensive training and has extensive experience. Going forward, we are reviewing the option of using a programme that specialises in relocating ex-army personnel into the civilian life. We currently have a number of drivers who have been recruited via this process.
At Bywaters we take our responsibility to the environment and our neighbours seriously, by regularly auditing the impacts of our operations. Following feedback we reviewed our jet wash procedure and have now relocated the equipment washing area, to a more enclosed area, where the noise is shielded by the building, thus reducing the possibility of noise pollution problems with our neighbours.
By monitoring the media and the market, recent press has shown that changes in fuel usage and allowable vehicles should be considered over the next decade. Bywaters is already investigating the use of alternative fuel to improve our environmental emissions and are looking at the potential use of electric and/or LPG powered vehicles. Bywaters encourages company car drivers to select alternate fuel vehicles, and has recently installed electric charging to encourage the use of alternate vehicles.
The Fleet Operator Recognition Scheme (FORS) is an accreditation that promotes best practice for commercial vehicle operators. With a membership comprising some of the biggest names in transport, FORS is rapidly gaining recognition as the transport industry's go-to accreditation scheme. To qualify; fleet operators have to exceed the requirements of the Safer Lorry Scheme (SLS), Construction Logistics & Cycling Safety (CLOCS) and TFL's own Work Related Road Risk requirements (WRRR). This allows us to be seen at the forefront of the industry, guaranteeing customer satisfaction while maintaining a safe workplace environment.