C Hollands Haulage has been in business for 28 years as a sole trader and 7 years as a limited company known as C Hollands Haulage Ltd. The Company have always worked with Tarmac and currently have four 32000 kg Tipper Lorries and one 44,000 kg articulated lorry. The company is based in Radlett and has eight full-time employees. We are engaged in taking away plainings on behalf of Tarmac as well as hauling aggregates on behalf of them too during the daytime. The company have both a daytime and a 24-hour operation in place and operate exclusively for Tarmac which includes working on contracts for TfL and CVU.
We first heard about FORS through Tarmac. We looked at the benefits of joining the scheme and we saw that these were standards and ethos that we wished to adopt of improving the safety for both our vehicles and drivers
We take safety very seriously, so we achieved FORS Bronze accreditation and then went onto applying for our Silver Accreditation which we achieved in July 2017.
FORS has helped benefit by us being able to achieve better standards through their driver training programme, both classroom based and through e-Learning modules, along with FORS toolbox talks. This has led to all our drivers having a better understanding of road safety and raised their awareness of the needs of other vulnerable road users. This has reduced our accident rate by 100% over the past four years by raising the awareness of our drivers and increasing our vehicle safety equipment.
"With the help of FORS we have been able to maintain our highest standards" Director Colin Holland
All our vehicles are fitted with 360 degree cameras, side cameras, near side proximity sensors and audible left turn alarms, Class IV,V, V1 Mirrors, flashing beacons on the cab of all vehicles, cyclist safety stickers to both the rear and sides of our vehicles.
All our drivers have completed Safe Urban Driver courses and have completed all the FORS E-Learning Modules.
We have recently implemented a new recruitment policy that outlines that we need to look at employing younger drivers/employees and provide training to that particular role.
"FORS has ensured we achieve to our highest standards" Colin Holland, Director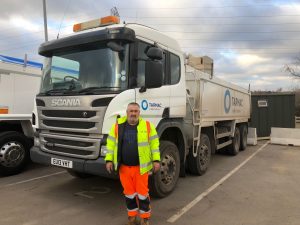 We have learnt that by equipping both our vehicles and drivers to the highest safety standards that our accident rate has reduced over the past four years and has saved both time and money in reduced claims to the company.
As a way forward we are looking to buy a new 44 Tonne vehicle, this will also be equipped to the highest safety standards and will be Euro 6 compliant, together with a walking floor.
One vehicle is already a Euro 6 spec and 3 vehicles are at euro 5 standard. All the fleet will be at euro 6 standard over the next 5 years so as to meet our commitment to the environment by reducing emissions output.
Achieving Gold Accreditation will help us to continue to strive towards the highest road safety standards and that we are able to continue to maintain this safety record while protecting the environment.
" We have reduced our accident rate in the last four years to zero" – Colin Hollands, Director
Once we had gained our Bronze accreditation we decided to go for the Silver Accreditation in 2017 as we were already doing everything required of us to gain Silver accreditation. Once we were at Silver we decided to show best practice and be able to stand out from our competitors.
We have reduced our accident rate in the past four years which has reduced our insurance premiums with or insurance company and insurance claims payouts
| | | | |
| --- | --- | --- | --- |
| | MPG | Incidents per 100,000 Kms | Number of PCNs |
| March 2015 – March 2016 | 7.3 | 1 | 0 |
| March 2016 – March 2017 | 8.3 | 0 | 0 |
| Percentage improvement | 10% | 100% | 0% |
*Annual improvement in MPG and Incidents per 100,000 Kms
All our drivers are required to fill in an in-depth medical declaration on an annual basis even though through the FORS Standards it is recommended every 5 years. It is mentioned in the driver's handbook, which requires the drivers to report any change to the company and forms part of their contract of employment. Once the driver informs the company, this would lead to an investigation and if we felt the driver was unfit to drive, we would require medical evidence form the drivers Doctor informing us that they were fit to drive. The company would only allow the driver to driver once we had received the letter. The driver would then be subject to recommended reviews, until we were satisfied that they we fully fit to drive.
We have recently implemented a recruitment policy to the company, that outlines that we as a company are committed to employing young drivers/employees where possible and training them into that role.
The future plans of the company are to ensure we that our safety record continues to be the highest standard, through driver training and fitment of vehicle safety equipment.
All our future vehicles will be equipped to the highest safety standards, while paying attention to the environment. All our drivers will continue to be trained to the highest standards possible.
Achieving Gold will help the company to work towards these goals and help to improve the industry's safety standards, whilst looking towards reducing our emissions through less polluting vehicles.
Please note: All published FORS Gold case studies have been submitted by the accredited company named above and transcribed verbatim.