CEMEX are a leading supplier of construction materials. With extensive experience in supplying material and construction solutions Cemex serves a diverse range of projects and schemes. Cemex operates both on large scale framework contracts and major projects whilst also providing a provision of smaller quantities for one off projects and maintenance. CEMEX UK operates out of over 400 locations and has an own fleet of over 300 bulk aggregate tippers and cement tankers, working alongside a large haulier supplier base.
Carl Milton, Regional Logistics manager, based in Cheshire, explains how CEMEX continues to continuously improve their work-related road risk by engaging local schools in increasing awareness of road safety.
CEMEX was one of the founder members and supporters of FORS. We realised it would help bring standardised best practice across the industry and benefit Cemex by becoming our adopted scheme for employing subcontractors.
We passed our bronze assessment first time round. This was encouraging acknowledgement that good company standards and processes were in place.                     Since then, the FORS standards have progressed to push operators to continually improve road safety. CEMEX were pleased to pass all re-assessments following enrolment onto the scheme. Cemex have continued to support and promote the FORS organisation and attended supporting events and training initiatives such as the Road Risk Champion and Collision investigation pilots and roll out.
Our progression straight to Gold highlights our passion for being leaders in work related road risk and road safety for vulnerable road users. We believe that for us to cascade best practice to our contractors and colleagues in other parts of our business and across the CEMEX operations outside of the UK we need to have exemplary standards of operation.
One of the next steps for CEMEX was to roll out FORS membership to its sub-contractor hauliers. This gives us confidence that FORS standards are being adopted company, industry and UK wide. Since January 2018 FORS, accreditation is now a mandatory requirement for all our registered haulier sub-contractors. The independent auditing process covers 100% of our contract haulage supplier base. This process is much more cost efficient than doing an inhouse audit and accreditation scheme and is industry recognised.
'FORS bronze has become a minimum requirement to become a CEMEX registered contract haulier.'- Ronnie Simpson – CEMEX Contract Haulage Manager

'We have been happy to adopt best practices gained from FORS and embed them into our business.' – Carl Milton – CEMEX Regional Logistics manager
Developed and deployed a school educational engagement programme. The exchanging places and education programme included local schools visits to engage drivers, teachers and pupils in sharing a road safety message. The programme placed emphasis on large goods vehicles, the risks these vehicles present and how to mitigate such risks. In 2018 we visited several schools and over 500 children have been engaged in the programme.
The aim of these events is to deliver simple presentations about the key points on road safety and provide a truck exchanging places experience – whereby the kids get to sit in the cab and learn about how key it is to be seen and be safe and to 'look out before you step out.
The vulnerable road user message on pedestrian and cyclist road safety is key amongst the younger age group
CEMEX have shared with CLOCS their approach to schools, their presentation and supporting materials so that all CLOCS Champions can put together their own events.
Link to CLOCS Website: https://www.clocs.org.uk/page/Schools_Engagement
EEP EMAIL ENGAGEMENT TEMPLATES 
EEP CHECKLIST FOR SCHOOL COMPLETION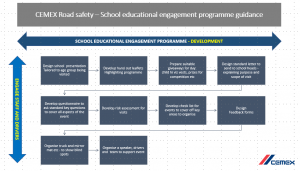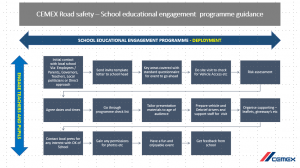 We have introduced several initiatives such as telematic reports for driver excellence in safe and efficient driving which resulted in a driver of the year competition and awards, Driver physical and mental health campaigns, Haulier safety days and launched a pedestrian safety campaign. We plan to continue to support these and further initiatives to continue to reduce of work-related road risk.
We have positively promoted FORS at haulier safety days and guided over 450 hauliers through the process of successful accreditation. Cemex consistently promotes FORS in our road safety campaign materials, industry awards and media activity.
As a FORS Gold operator, we have adopted FORS as our bench mark for all road movements of our products and the ethos of continual review and improvement in the goal of zero harm for our operations.
We have rolled out this ethos to the contractors in our business and promoted best practice not only in the UK but to our wider business across the globe.