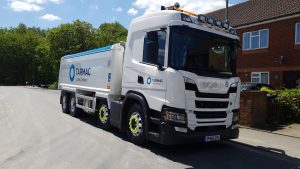 Coldman Haulage is still working as a franchised haulier with Tarmac Limited, as last year's submission the focus of our business is dealing with the provision of material for all aspects of road construction. I as the Managing Director am still committed to maintaining the FORS accreditation. During the last twelve months various activities have taken place within the business to improve our fuel efficiency and reduce the emissions on fuel by monitoring the behaviour of the driving (by my drivers and myself) however the main thing to note is the purchase of a new vehicle. The improvement of MPG is more than expectations.
FORS was brought to my attention in 2015/2016 via Tarmac Limited, initially FORS helped us to develop best practises in management of the business, training and best practise now a lot of the things that you had to initially think about are now seamless and an automatic reaction. The management of Drivers and responsibilities are clear which makes life easier for all the team.
I really enjoyed the initial audit it was great to get the feedback and have discussions with the examiner, but also other Franchise Hauliers, we all appeared to have taken different learnings and on discussion exchanged ideas and "our" individual best practices.
As a business our next steps are to maintain the FORS Gold and continue to promote within the Haulier Industry whilst also maintaining processes that work for my business, my staff and the community or areas I work in.
"I have been working with Coldman Haulage for two years and since the introduction of FORS have seen the change in the way the business operates in respect of their continued commitment to Driver Training and pedestrian safety". – Mandeep Singh.
Benefits of the FORS scheme for this year have been the ease of workloads and the organisation it has brought – Through timetabled checks for the driver's medicals, driver training programme etc., it has allowed me to be more proactive in the day to day running of the business.
"Running the business in harmony with the FORS programme has made the administration and management of staff a simpler and more consistent" – Mr Paul Coldman.
The reason for the progression from Bronze to Gold was to challenge my ability and to ensure that I as the Owner and Managing Director run my company as professional as possible and having the recognition of Gold on the fleet ensures that other hauliers and Road users are also aware of my professional competence and commitment.
Performance data
| | | | |
| --- | --- | --- | --- |
| | MPG | Incidents per 100,000 Kms | Number of PCNs |
| Jun-Dec 2017 | 9.1 | 0 | 0 |
| July-August 2018 | 9.5 | 1 | 0 |
| Percentage improvement | 4.39 | +100% | 0 |
*Annual improvement in MPG and Incidents per 100,000 Kms
All our employees complete an annual medical declaration even though FORS standards recommend once every 5 years it is also mentioned in the driver's handbook which requires the driver to report any changes in heath to the company and forms part of their contact. All matters regarding heath are investigated and if it was felt the driver was unfit to drive we would require medical confirmation from the drivers' doctor informing us that he /she were fit to drive.
Drivers employed are usually via recommendation from within the industry, once recruited the drivers go through an induction and full training programme.
Drivers are made aware of the need to limit Noise especially at night they are briefed and trained in this issue by means of noise policy and noise risk assessments there is also "a keys" out policy when vehicle is stationery and cabs are fitted with night heaters and auto engine shut off. All maintenance and washing is carried out off site.
Unfortunately, there is no alternative fuel vehicle on the market at present that would meet our needs. Our vehicle is the very latest model 2018 Euro6 that maximises fuel efficiency and cleaner running for the environment.
What are your plans for the future? E.g. 'In order to make continual fleet improvements we will be (introducing alternatively fuelled vehicles, purchasing Euro VI vehicles, revising the way we monitor driver fitness and health, procuring low entry / high visibility vehicles, bringing additional OCs onboard etc… as this will help our company to…).
Concluding paragraph. What does becoming Gold accredited mean for your company/to you? Sum up the benefits gained from FORS and the goals you want to achieve going forward.