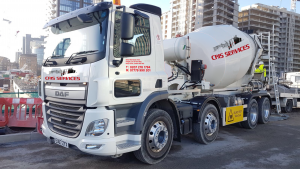 S1 –
Cris Services UK Ltd (CSUL) is a haulage company based in London, N1C 4AU. We transport and distribute wet cement-mix within the M25-London orbital area. My name is Chris Ndibe, I am the FORS Practitioner and fuel champion. During January to December 2018, CSUL achieved great results by improving its vehicle miles per gallon (MPG) usage by 10%.
S2 –
In 2014, CSUL was introduced to FORS via a contractual requirement / agreement. Being FORS accredited is our top priority. Through FORS, we have achieved best practice processes and secured lucrative contracts.
S3 –
CSUL failed the first bronze audit – we needed much more evidential information. We were able to make amends and became successful by the second audit.
S4 –
Once Bronze accredited, (Hanson UK) our main customer encouraged us to make progress to the Silver status. This required maintaining up-to-date management, operational, driver and vehicle records.
"Due to FORS accreditation, we are seen as showing commitment to high standards which is worth emulating", Cris Calina, MD.

Chris Ndibe – "Thanks to FORS, we would have been long-gone without accreditation"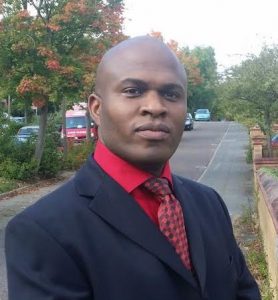 CSUL has benefitted from FORS accreditation in several ways; we have increasingly networked with other FORS members (sharing resources), we enjoy lower labour turnover, increased staff morale and lower driver infringements. We focus on eLearning and practical workshops offered by FORS. Practical workshops make it possible for CSUL employees to liaise with other firms' employees.
Chris Ndibe, FORS Practitioner – "Thanks to FORS, we bid for new business and have won contracts in London south/west".
MPG

Incidents per 100,000 Kms

CO2

NOx

PM10

Number of PCNs
Proportion of fleet that uses alternative fuels
Jan–Dec 2016
2.92
9
252.26
522.04
9.53
12
0%
Jan–Dec 2017
3.20
12
266.62
551.78

10.

07

14
0%
Jan–Dec 2018
3.22
4
289.40
612.48
11.18
11
0%
Percentage improvement
10.3%
55.6%
-14.7%
-17.3%
-17.3%
21.4%
0%
Driver health and fitness review – CSUL utilises the FORS D6 Health and eyesight toolbox talk material to communicate the essence of taking charge of self -fitness and -health while at work. We make available Healthcare surveys / questionnaires to drivers for annual assessment purposes. We support drivers based on medical advice received. We encourage drivers to have routine medical check-ups to secure their safety and that of the public.
Recruitment of drivers – CSUL is registered, for 2018-2019 period, with the Education Business Partnership Group scheme in Barnet College. We train students who aspire to become young drivers. We currently have two young student-drivers who are training to become professional drivers.
Noise assessment – Driver training has enabled our drivers understand the importance of reduced engine-idling, harsh acceleration and braking and smooth gear-change management. We utilise the latest hybrid euro VI engines with start-stop technology with white noise equipment utilised while reversing.
Modal shift and alternative vehicles – CSUL trialled an electric-powered Heavy Goods Vehicle for research and feasibility purposes, with the intension to purchase more in the near future. Unfortunately, there were no cost savings due to the nature of the products we delivered.
Never the less, we utilise other Euro VI engine vehicles which are equipped to utilise sustainable fuels that ensure lower carbon footprints. These fuels enable long service intervals of up to 200,000 kilometres.
S7 –
Our future plans include further research and feasibility studies which include driver, vehicle and fuel management. We will continue to look into alternatively fuelled vehicles, and driver utilisation. These plans would ensure that CSUL remains a prosperous going concern.
S8 –
We positively promote FORS by presenting the FORS logo on our letter-heads, out-going email messages as well as body-markers on all our vehicles. Our Bronze to Gold audit certificates are displayed on our notice board in full view of staff members and visitors. We have drawn-down contracts with suppliers for drivers and other supplies.
S9 –
It means a lot to Cris Services UK Ltd to maintain its Gold standard status: –
Our clients continue to appreciate our efforts in maintaining high levels of compliance.
It serves as confirmation that our transport management systems are up-to-date and usable for key performance indicators.
We continue to reduce our costs, reduce risks and increase savings.
We stay greener by seeking better ways to improve fuel usage and recycling methods.
We positively promote the FORS ideology, leading by example.
Our records look good to stakeholders (Corporate Social Responsibility).
It sums-up the benefits gained from FORS and the goals attained going forward.
S10 – N/A
S11 – FORS members' feedback questionnaire: – The feedback is attached below.
https://www.snapsurveys.com/wh/siam/surveylanding/surveyfinish.asp?sid=746D70686474707267313535343731343333342E3933&pid=02cdb3e1bad74db5a59dec1bd1d134e9
*Please note: All published FORS Gold case studies have been submitted by the accredited company named above and transcribed verbatim