D T Powell is the owner of this family run business as a contracted haulier to Tarmac. I have four operating centres based in Tarmac quarries. This case study showcases my journey of maintaining FORS Gold.
The FORS scheme was introduced by Tarmac for all their contracted hauliers. The scheme has enabled me to effectively maintain best practice throughout the business.
Since first achieving FORS gold I have achieved successful bronze and silver audits.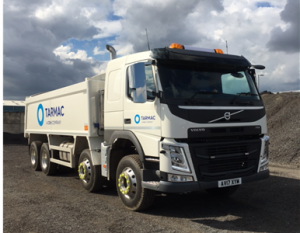 All drivers have attended the safe urban driving course and completed the FORS e learning cycle safety module. All FORS toolbox talks are held in cab folders.
'Through working for D T Powell I have been actively involved in attending a safe urban driving course and completing the FORS e learning modules.' – Richard (Driver)
I have purchased three brand new trucks this year to modernise the fleet and improve overall emission standards. This raises the number of vehicles on the fleet fitted with 360 degree recordable camera systems. Driver competence standards are maintained via safe urban driving course and FORS e learning modules.
'D T Powell is committed to raising road safety standards in particular vulnerable road users.' – Vicky (Transport Manager)
Maintaining my bronze, silver and gold accreditations have enabled me to continuously improve standards throughout the business.
| | | | |
| --- | --- | --- | --- |
| | MPG | Incidents per 100,000 Kms | Number of PCNs |
| Sep 16 – Aug 17 | 7.97 | 0 | 0 |
| Sep 17 – Aug 18 | 8.01 | 0 | 0 |
| Percentage improvement | 0.05% | Nil | Nil |
All of my drivers complete a health declaration which is reviewed every year. They also take part in an eye test every 6 months. It is also mandatory to attend Tarmac health and safety days.
I recruit new drivers by advertising on job sites. I also recruit new drivers through recommendations from my current drivers. Once recruited they are then accompanied by an existing driver of mine for a period of time to gain experience.
I have a noise risk assessment which all drivers have access to which enables them to put measures in place to reduce noise especially when working at night. Tarmac also produce their own noise assessments for each site.
As a contracted haulier to Tarmac our work is dictated by them but they are increasingly trying to utilise loading and unloading from boats and trains. I continue to monitor industry advances in alternatively fuelled vehicles but at present no suitable alternatives have been produced.
Continuing fleet improvements have been achieved by the purchase of three brand new trucks this year to upgrade the fleet to Euro VI. The majority of our fleet now also have on board telematics meaning we can monitor truck performance closely. We have also introduced a vehicle defect check app which enables drivers to submit to an online portal enabling me to monitor defects reported closer. Tarmac have also introduced an E-Pod system for ticketing in each vehicle.
Maintaining FORS Gold accreditation shows my commitment to continuing high standards in health and safety, efficiency and driver welfare and training.