Dafcon Haulage Ltd operate a fleet of tipper trucks and concrete mixers. We are based in Ruislip in northwest London. Our location gives us ease of access to A40, M40, M25 & M4 main arterial routes, in and around the Central/Northwest London area.
We first heard about FORS back in 2013. The framework provided for managing safety and performance as well as the training offered meant it was the obvious route to follow. By working to the standards we quickly progressed through Silver and were awarded Gold membership in 2015. Since then we've be working hard to maintain it.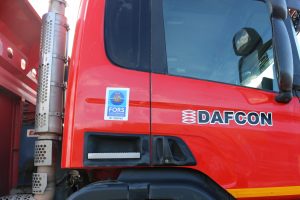 Thinking back to our first Bronze audit, it all seemed so daunting initially. However by breaking it down, working through section by section we were able to pass first time. Whilst we were meeting many of the standards already, the FORS framework really helped us to pull it all together.
The natural progression was to move on to Silver and eventually Gold. It was a great morale boost for all our staff. Other benefits included allowing us to bid for work which we would have been excluded from previously.
As a FORS member we made the most of the benefits on offer. We found the Practitioner workshops a great opportunity for sharing best practice and picking up handy tips. Everybody attending is open and honest about the practical issues facing our industry. By sharing our thoughts and ideas we can help improve both our own businesses and the image of the sector more generally.
'Achieving Gold was a great morale boost for all our staff.' – Audrey Brannigan, Director
All our staff and drivers have embraced the training on offer. In particular, the Safe Urban Driving course has been a real eye opener for many of our drivers. Swapping places with the cyclist really makes them aware of the issues faced daily by all road users. The E-learning training is also very useful. We carry it out across the year, so that drivers are constantly reminded of the FORS standards.
Performance data – The biggest improvement we've seen this year is in the number of incidents involving our vehicles – they're down by 35%. We put this down, in part, to our investment in driver training.
| | | |
| --- | --- | --- |
| | KMPL | Incidents per 100,000 Kms |
| Jul 2015-Jun 2016 | 2.06 | 2.29 |
| Jul 2017-Jun 2018 | 2.07 | 1.48 |
| Percentage improvement | 0.55% | 35% |
We also pay close attention to our environmental impact and are happy to report modest improvements in our KMPL and CO2 output.
Driver Health & Fitness – At Dafcon Haulage, we ask new drivers to complete a medical declaration and then review it annually. If there is a condition that we are unsure about, we will refer the driver to a GP to review. Mental health is currently one of the biggest areas of concern. We operate an open door policy to senior management to encourage drivers to talk openly about their issues and work with them to resolve them.
Recruiting new drivers – To encourage new drivers into the industry, we offer a full training plan. Drivers inexperienced in the operation of tippers are sent out with a buddy to shadow them until they are confident in working alone. We have also worked with our insurers to allow younger drivers into the business. Previously we only recruited drivers over the age of 25. Now we've taken on two drivers under 25 and have been very pleased with the results.
Looking to the future, we plan to continue investing in our fleet to ensure we operate the most efficient vehicles available. We currently have 6 new EURO VI tippers on order and hope to see an improvement in our emissions and fuel efficiency going forward. We also plan on investing in our drivers by providing on-going training. We've seen the benefits it brings and wish to make further improvements to our incident rate. And finally, we remain committed to FORS and will work hard to maintain our Gold status.
Visit our Twitter