Dhindsa Haulage is a haulage company which was first established in 2006. Dhindsa Haulage is a well-known sub-contractor for asphalt and aggregate suppliers Aggregate and Tarmac Industries. Since joining the FORS scheme, Dhindsa Haulage has made notable improvements in their fleets KMPL, having noted significantly lower fuel usage and emission output figures. Managing directors of Dhindsa Haulage, Dhanwant Singh Dhindse and Gurwant Singh Dhindse, explain how FORS has been beneficial to their company.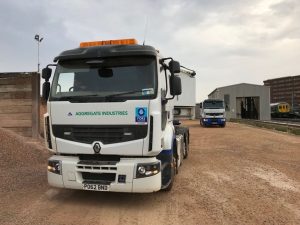 We first came across FORS online when researching for methods that we could implement to reduce our fleet's fuel usage and emission output levels. After discovering the FORS toolkits, guides and tools that are specifically written and designed to help with a fleet operators fuel efficiency, we decided to join the scheme. After achieving a bronze, silver and gold accreditation with FORS, we can confidently say that our fuel usage and emission output figures have improved significantly since working with FORS.
At Dhindsa Haulage, we were able to pass our initial bronze audit the first time round. As FORS were very clear and precise about what was required to pass the bronze audit, the steps taken were easy to carry out. The following silver and gold audits followed a similar suit, as we were provided with the necessary guidance which made us able to achieve the higher accreditations. Seeing the gradual improvements during the progression of each audit encouraged us to maintain the new procedures set for each audit.
Once we had achieved all accreditations with FORS, we continued to utilise the FORS e-learning resources. At Dhindsa Haulage, we recognised that implementing regular theoretical training into our driver's schedules contributed to the improved safety of our vehicles and driver's, along with maintaining the heightened safety standards created.
'The FORS e-learning resources proved to be very beneficial to our drivers as it made them more knowledgeable and road safe.' – Dhanwant Singh Dhindse, Director
Another aspect of the FORS scheme that we really took advantage of at Dhindsa Haulage was from the FORS toolkits. In particular, the FORS Collision Management toolkit which helped in organising and implementing policies, processes and procedures, to help aid the road risk aspect of HGV driving.
'The FORS Collision Management toolkit helped us to implement the appropriate procedures and practices to help prevent road collisions.' – Gurwant Singh Dhindse, Director
After reaping the benefits that came with becoming a bronze, silver and gold accredited freight company, we want to continue being FORS gold accredited to continue benefiting from the FORS scheme; one notable benefit being the massively improved fuel efficiency of our fleet.
In the ­­­­­last twelve months, our KMPL has decreased by 16%. This is mainly due to changes within our vehicle fleet. After having completing the LoCity course, we have started to see improvements within our KMPL this year. On the other hand, our incidents have reduced by 33.33%, thanks for the collision management toolkit
| | | | |
| --- | --- | --- | --- |
| | KMPL | Incidents | Number of PCNs |
| Jan 17 – Dec 17 | 2.70 | 3 | 0 |
| Jan 18 – Dec 18 | 2.26 | 2 | 3 |
| Percentage improvement | -16% | 33.33% | -300% |
At Dhindsa Haulage, we have a health questionnaire that drivers must complete prior to employment, to confirm/declare that they are fit to work as a HGV driver. During their employment, we ask that our drivers inform us of any changes made in their health to ensure optimum road safety. Any health issues will be referred to a GP for further consultation.
At Dhindsa Haulage, we have a two-week buddy plan in place which is used for recruits with no previous tipper driving experience. This two-week buddy plan provides the new recruit with a controlled environment to ease into their new job role, as they are being supported and accompanied by one of our more experienced drivers. Moreover, during this two week period, we the employers are able to assess the new recruit and determine whether they are suitable for the job role.
At Dhindsa Haulage, we have seen a significant decrease in our fleet's noise pollution levels, since we have implemented the FORS anti-idling technique. This technique encourages our drivers to switch off their engines when their vehicle is stationary for a long period of time. This technique reduces the vehicles noise pollution and decreases the vehicles fuel usage.
At Dhindsa Haulage, we pick up, transport and deliver our materials using 32 & 44 tonne tipper vehicles. We are aware of the rapid progress being made within the electronically powered vehicle industry, however there are currently no vehicles suited for our type of work.
At Dhindsa Haulage, we plan to continue developing on our drivers training to ensure that our drivers are working at their optimum level. In addition, we will also continue researching for alternative methods of transport that would be less detrimental to the environment.
To conclude, at Dhindsa Haulage, becoming FORS gold accredited once again would mean that we are successfully carrying out our work operations at the best and safest standard. The benefits attained from FORS have been pivotal to our company's success. We look forward to remaining a FORS gold accredited haulage business and displaying the FORS gold badge proudly to encourage fellow hauliers to follow suit!