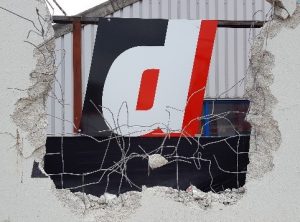 Section 1 – Introduction
Include a brief description of your company and what your company does. Introduce yourself, including job title and a one line summary of the case study.
Driessen Speciaaltransport is based in Horst, the Netherlands and we transport precast concrete walls, slabs, building elements, and anything that's too high, wide, long, heavy. Our company will be in existence for 80 years in 2022 and the 3rd generation Driessen now runs the company since 2003. Fred Driessen, owner, explains how Driessen Speciaaltransport has achieved significant improvements through FORS (including reductions in fuel use / reduced CO2 emissions, lowered NOx and Particulate Matter emissions, improved it's road safety record, decreased transport related fines and charges etc.)'
Our case study is called from concrete to Gold because we want to give our company, and the goods we transport, a higher standard and we want to become the first Dutch Gold Company.
Section 2 – How did you hear about FORS, what prompted the company to join and how long have you been a member?
We are af FORS member since 2014. One of our clients asked us if we could take care of the transportation of precast concrete to build stores, factories, jails etc. in the London area, because our trucks where suitable to do this kind of transportation. We realised that this was a good opportunity to put our company into the market of the UK and it would help us to achieve best practice and benefit us by managing, controlling and maintain the rules inside our company and take care of good education and health for our drivers. Also it's very important for us that we became aware of the fuel consumption, CO2 emissions and to take care of: SAFETY is NR 1.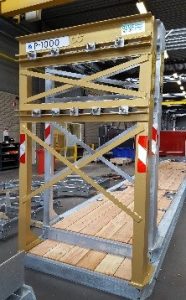 Section 3 – What was your experience of the initial FORS Bronze audit?
Our Company Driessen Speciaaltransport passed their initial Bronze audit first time around 9th of September 2013. This showed us how useful it was to gather a lot of information and maintain rules. It was a bit of an eye-opener that we had a good view of our company, trucks, drivers etc. From here we were encouraged to do the Silver audit in 2017. At the moment we expect that our clients are going to deliver construction materials which have to be transported under the FORS Gold level and because we want to meet their requirements we now want to audit for this.
 Section 4 – What was your main reason(s) for you progressing (either from Bronze to Silver and then Silver to Gold or straight from Bronze to Gold)?
As we already mentioned in Section 3 when we obtained Bronze we decided that we should progress to Silver because we would lift our company to a higher level and our customers asked us to transport under the Silver requirement. In particular we were glad to put cameras on the trucks, to teach our drivers and let them feel how pedestrians and cyclists feel when a large truck from our company passes them in a city like London. Also to get a much better view in fuel consumption, CO2 and NOx emissions, injuries, fines etc. After 3 years of driving under the Fors Silver level we think we are fully prepared to go for Gold!
Once accredited for Bronze, the first time in 2013, we made the most of the benefits in particular to get an overview from our costs, fuel use, fines, injuries in an simple good overlooking scheme. After the first 2 years we used a lot more of the FORS management tools that made it much easier to gather the information and to present it in the right way. (for example: the FORS Fleet Management System (FORS FMS)/ FORS Practitioner workshops/FORS Driver Licence Checking Service etc.) All these tools helped us to improve our company and we have implemented a lot of other disciplines and we see a lot of improvements in our management ant think we've saved quite some money. Also as an result of having FORS is that we have far fewer tacho violations because we show and sign these violations to our drivers every month.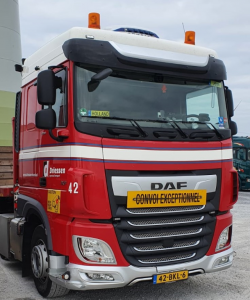 Our Transport Manager, Johny Berkvens, signed up to attend all of the FORS Practitioner workshops. (one to go on the 17th of June 2020)  These courses helped us to improve standards across the whole company. We have implemented  Toolbox talks, and these are great for both hosting toolbox talks, and when given out to drivers as a handbook. The posters available look also great as a visual aid and get a good place in our drivers room.
"The FORS Practitioner courses provided me with a lot of information I could/can need to take care of our fleet and keep the trucks, drivers and organisation in a good heath " these are the words from Johny Berkvens,  Transport Manager.

"I 'am very proud to see a part of  our vehicles with the FORS sticker on it, especially when I realise we are the only Dutch company with the Silver accreditation (hopefully Gold as well soon)  and because I  now we are a company which transport under the highest levels with high safety standards and  perfect vehicles and drivers. " Fred Driessen , Company Owner.
Section 6 – What improvements have you made?  See also Section 5 !!
Below you see the schedule from the 4 trucks which we use and drive for us in the UK:
KM;s

Incidents in total per year

som

CO2 kg

som

NOx milligram

som

PM10 milligram

Number of PCNs

Proportion of fleet that uses alternative fuels

This will come in future when we buy new trucks

2017
422065
1
354,6
88633650
168826
92
0%
2018
393038
1
326,5
82537980
157215
113
0%
2019
402401
1
334,3
84504210

160960

86
0%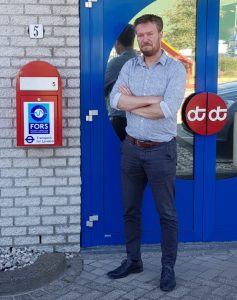 Driver health and fitness
Is a continuously  point of interest in our company. We provide in the Trucks a fridge and a microwave so our drivers can take fresh food with them from home and can make a nice healthy meal during the week. We also provided in all off our trucks in 2019 with an air-conditioning for summer and a heating for winter so our drivers stay in a better condition and can sleep and work in a good environment. We also promote the (CPC course ) 3 courses: physical stress, EHBO in traffic, fit on the road for the drivers which also count for CPC points. At almost all of our customer organisations the drivers can use the bathroom facilities for personal hygiene. At our own office we also have these facility and we provide fruit and vegetables.
Furthermore, everyone at the New Year's meeting in 2020 received a water bottle so that we can stimulate the drinking of water which is good for the health.
Our brache organisation STL also provide free courses online we call in Holland.

Our employees can here do a test how fit they are and on which points they have to take action : sports – healty food – lose weight ect. they can also get here a personal trainer!
Recruitment of drivers :
We invest a lot of time and mony in new drivers. We are in contact with the school of our branche organisation STL. Every year we have a student from 16 – 17 years old  ans train them as Truckdrivers and take care they get all their driverlicenses ans courses for CPC.  Because we do heavy transportation every year the sudents are in a row to obtain a place in our firm, we think our strategy of training is due to this.

One of these Guys is now driving with the largest combination of Trucks we have. There was an artikel off him and our company in the TON-magazine of oktober 2019. Also we are involved in schools for not-driver training but for technical and management trainingen in our neighbourhood.
Such as :
Internship as an economic manager in our company:

Internship in our technical and construction
Workshop at our company:

According to Noise assessments we are continuously try to keep suitable levels in the working environments as wel in the trucks themselves as in the workshop. In site the cabin we reduced the noise to use extra sealant/strips along the windows. The new combination off airco's and heathing is also less noisy then keeping open a window or the stand heater. Drivers tell us it is a very good improvement.
Most off our Vehicles park overnight at the factories from our customers and in 90 of 100 % off the cases these are in an industrial zone thus they case less noise disturbance and less traffic congestion. The Trucks which stay in Horst are also parking in our own company which is also in an industrial zone!  Drivers in our firm are not allowed to run the engine when waiting to load/unload that is one off the first rules in our drivers-manual.
Modal shift and alternative vehicles – Our work still requires large trucks with heavy equipment because we transport concrete panels. We also come from Holland and do transportations over a long distance. There fore there is currently no other more environmentally friendly vehicle suited for our mode of work and most of our  vehicles currently use the Euro  VI engine.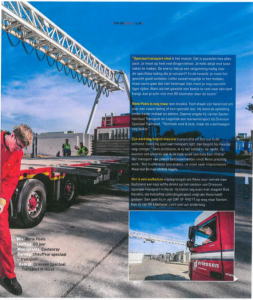 For some transports from Germany to England we could use intermodal transport using water and road to achieve alternative transport modes
For example see : https://www.youtube.com/watch?v=fFvcYW4zLEw 
Section 7– What are your plans for the future?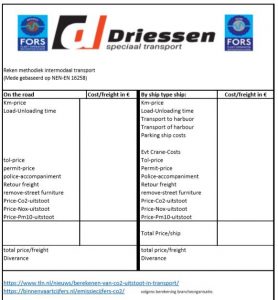 In future we are examining the possibilities for our company to introduce new vehicles maybe by using alternative fuel or electricity,  Most of our trucks are already Euro 6.  We know that we are responsible for our drivers so we give them time and opportunities to do some sports, eat healthy by bringing meals from home and put them into the microwave, provide a freezer, provide air-conditioning  and heater in the trucks, provide them with water bottles ect, as this all will help our company and our drivers to keep a good balance between work, private life and health.
Section 8– What evidence do you have of positively promoting FORS at requirement G7?
We have positively promoted FORS by our annual meeting on the 8th  of February, we all have the FORS-Silver Logo in our email traffic, we use linked-in and Facebook to promote our trucks, we have attended the FORS Practitioner workshops and let our drivers who drive in the UK attend all the online courses necessary. We put in all our communication by mail, post or presentations the FORS logo inside. Also when we are having a meeting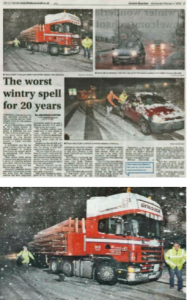 with schools, Agencies for employees, new employees, new customers we mention the FORS and all the things we do with it.
We even have been in a newspaper in the Uk with one off our trucks. Our driver went on Sunday to the church and after woods he was invited to have some tea with the priest from that church. Very impressive.
Section 9–What FORS Gold accredition means for your organisation/to you?
Fors Gold accreditation means a lot to our organisation, because we will be the only Dutch company who has this certificate and we can distinguish us from other companies. It implies that we are transporting under a high level and that the wellbeing of our drivers is very important to us, to keep our trucks in top condition and safe, and meet all the requirements of having a company in a right way. It makes us even more proud.
Section 10–Please provide your social media contact details so we can follow your organisation
https://www.linkedin.com/feed/update/urn%3Ali%3Aactivity%3A6673538142366121984/?actorCompanyId=17958394
https://www.linkedin.com/feed/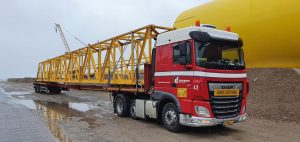 https://www.linkedin.com/in/driessen-fred-09b79112/
www.driessen-speciaaltransport-horst.nl
facebook.com/Driessen-Speciaaltransport-Horst
*Please note: All published FORS Gold case studies have been submitted by the accredited company named above and transcribed verbatim