Dyer & Butler is a multi-disciplined Civil Engineering contractor that specialise in carrying out safety critical works throughout the UK. We currently operate a vehicle fleet of around 280 vehicles that can attend to our operations at any time of the day or night.
Warren Rowe, Plant Manager, explains how FORS has benefitted Dyer & Butler since they first achieved Bronze accreditation.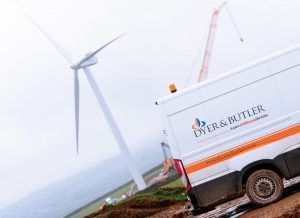 'We originally heard about FORS when a number of our key clients adopted the standard. On reviewing, it was clear that FORS accreditation would bring benefits to the safety and resilience of our vehicle fleet and a decision was quickly made to adopt the standard across all Dyer & Butler operations. As we have progressed through the accreditation levels, we have seen a steady increase in the number of operators within our supply chain who have adopted the FORS standard.
Having passed our latest Bronze re-audit in July, we pressed ahead with developing our vehicle defect check app and put our Vehicle Administration Supervisor through the FORS Practitioner workshops, which enabled further understanding of issues which reach much wider than the requirements that FORS set out.
Following our on-site audit for FORS Bronze, we submitted our evidence for re-approval at Silver in August. This showed us that we were continuing to operate our fleet to a higher level thanks to the strong foundation given by the Bronze accreditation.
"As the operation of a large fleet of vehicles is a key risk to our business, it has been encouraging to see how the adoption of the FORS standard has contributed to overall improvements in our fleet management arrangements and provided additional benefits to us in terms of controlling our financial, social and environmental risks and providing additional opportunities for further improvement." – Neil Edwards, Managing Director, Dyer & Butler
Since implementing FORS, Dyer & Butler have noticed a sustained improvement across all our vehicle fleet activities. The driver and "on cycle" training continues to inform and upskill our vehicle drivers to achieve a greater understanding of road risk and the needs of other road users. Having completed this practical training course myself, I can honestly say this gives you a real appreciation of how vulnerable other road users could feel.
'The management of road risk is a fundamental part of every organisation's safety culture and the adoption of the Fleet Operators Recognition Scheme (FORS) code of practice provides an excellent framework through which sustained improvements in fleet and vehicle safety performance can be made." – Steve Broom, Director of Safety, Sustainability & Training.
Working to FORS Gold requirements demonstrates that we take the safety and health of all road users seriously, and that we operate our vehicles to the highest standards. Following on to Silver and Gold after completing Bronze has demonstrated continuous improvement, and with the release of standard 5, the industry standard will continue to be pushed higher.
Fleet performance
| | | | |
| --- | --- | --- | --- |
| | Whole fleet MPG | Incidents per 100,000 Kms | Number of PCNs |
| Jan-Dec 2015 | 27.52 | 0.52 | 193 |
| Jan-Dec 2016 | 28.12 | 0.55 | 136 |
| Jan-Dec 2017 | 30.83 | 0.33 | 148 |
| Jan-Oct 2018* | 30.94 | 0.38 | 87 |
*10 months of figures available at time of writing
MPG – We have seen year on year improvement in whole-fleet MPG, with a 2.2% increase from our first year to year two, and a massive 9.6% increase from year 2 to year 3. Figures for this year so far indicate a further slight increase in fuel economy.
Incidents – Following a small rise in incidents per 100,000km (5.8%) between 2015 and 2016, we saw a substantial (40%) drop in the number of incidents per 10,000km in the following year, and a slight rise (15%) to date this year.
PCNs – The number of PCNs we received dropped by 29.5% from 2015 to 2016, rose by 8.8% in 2017, and these are on track to be significantly lower by the end of this year.
Driver health and fitness – All staff complete a baseline medical questionnaire before joining the company, and this is renewed at the end of every year. As part of our Mental Health Awareness Programme, we have a number of Mental Health First Aiders trained up and are in the process of moving the training sessions to other parts of the organisation in or to help ensure the long-term physical and mental health of our workforce and drivers.
Recruiting drivers – To aid our Plant lorry driver, there is a period of handover during which the new driver shadows the existing driver to learn the controls at the hands of an experienced operator, and they then carry out duties under their supervision until they are confident and competent doing so on their own.
Noise assessment – The majority of our fleet is used to travel to and from site, and the majority of our sites are not located in noise sensitive areas. In instances where close proximity to residential areas is unavoidable, our SHEQ team will carry out real-time noise assessments in order for necessary measures to be put in place to reduce impact to those residents.  All washing of vehicles takes place off-site, and not in noise sensitive areas.  We have a dedicated wash bay at our yard in Southampton that a number of our operatives operating in the central Southern region use on a regular basis.
Modal shift and alternative vehicles – We regularly assess the availability of alternatively fuelled vehicles for use on the fleet. So far we have been able to place 4 zero emissions vehicles within our aviation division.  We are looking to increase this number as infrastructure and availability of suitable vehicles allows.  Due to the environments and locations that we work in, we are not currently able to switch modes of transport without substantially disrupting our operational capacity.
For more information, please contact by email, visit via Twitter, or Facebook.