Economic Skips Limited are based in Deptford, South East London and are a waste management operation. Chris Guinnelly, Fleet Manager, explains how Economic Skips Ltd have increased fuel economy by 15% over the last 12 months, seen huge reductions in harmful emissions output, CO2 by 14%, NOx by 13% and PM by 14% through FORS.
We came across FORS when tendering for several projects in 2013. We realised it would help us to achieve best practice and benefit us by utilising the classroom and online training offered to help improve road safety for vulnerable road users.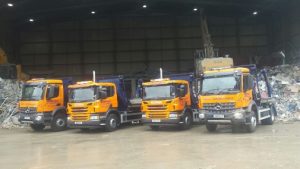 Economic Skips Limited passed their initial audit first time round as we introduced a completely new set of policies and procedures to get the maximum benefit from our operation.
Once we were Bronze accredited we focused on attaining the Silver accreditation and shortly after that we achieved the coveted Gold status to show our commitment to the scheme and the company has two FORS practitioner among it ranks.
"FORS has helped us to achieve goals we never thought possible." – Chris Guinnelly Fleet Manager
FORS has benefited the company in a multitude of ways, educating transport staff and drivers on vulnerable road user safety, lowering emissions and improving fuel economy.
"FORS has changed our business model for the better." – Michael Farrell Director
As Bronze was the first or bottom rung of the FORS ladder, that was not good enough for us. We wanted to prove we were better than that and set our sights on the Gold accreditation and looking forward to a fourth year at this high standard.
Quantify your improvements
Through fuel monitoring and driver education we have seen massive improvements in fuel economy. We have also seen a reduction of incidents and PCN's issued.
| | | | |
| --- | --- | --- | --- |
| | MPG | Incidents per 100,000 Kms | Number of PCNs |
| Jun 2016-May 2017 | 7.05 | 17 | 15 |
| Jun 2017-May 2018 | 8.11 | 14 | 11 |
| Percentage improvement | 15.03% | 17.64% | 26.66% |
*Annual improvement in MPG and Incidents per 100,000 Kms
We continuously monitor the health and fitness of our drivers who must complete a health declaration prior to employment and reviewed at least annually. We encourage our drivers to enjoy a healthy lifestyle and provide them with appropriate literature on how to achieve this.
We have registered with agencies that specialise in recruiting ex-members of the armed forces and have an in-house program to encourage other employees to consider a change of career and become a professional driver.
The Company introduced a policy for reducing noise in the workplace, drivers and operatives were briefed on how to comply with the requirement of this policy. We have time constraints at our base in Deptford and do not operate during unsociable hours. Some of the contracts that we service are in noise sensitive areas, they are governed by the terms and conditions set out in the planning permission approvals. We also ask the customer to advise us of any restrictions for deliveries or collections times, is the site in a noise sensitive area (hospitals, schools, religious centres or residential buildings). All this information is communicated to the drivers and we try to keep the same drivers on the same projects as they will understand the customers requirements.
We have looked into modal shift and alternative vehicles for our operation. However, our research with our vehicle suppliers indicates that nothing suitable for our requirements is currently available. We plan our deliveries and collections to minimise the empty running of vehicles, monitor fuel usage as seen above to increase driver MPG, reduce our fuel costs and the impact of harmful emissions on the environment. We also encourage all staff members to use alternative means of transport for their daily commute to and from work.
The only way forward is to constantly think of the safety of vulnerable road users, looking at new technologies to help improve this, think about minimising our impact on the environment, waiting for alternative powered vehicles to become available for our type of operation. Every year we only purchase new vehicles that meet the highest standards for reduced harmful emissions.
As mentioned in previous years, retaining the FORS Gold accreditation for a fourth year demonstrates our commitments to road safety, the haulage and waste management industry, our customers, vulnerable road users and the FORS accreditation scheme. We are very proud of our FORS Gold status and look forward to many more years at this level.
Visit our website