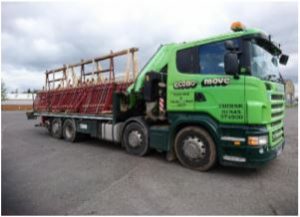 Economove are a small family run based in Thirsk, North Yorkshire. We work mainly in the steel industry and deliver to sites in London. We have a range of vehicles; vans, sprinters, 7.5-12 tonne lorries, 15-18 tonne lorries and hiabs. Office manager Jodie Evans is the author of this case study. Directors Debbie Barker and Nick Douglas have achieved significant improvements including a safer and more fuel-efficient fleet and reduced mileage, this is what the Economove case study will outline.
Economoves key customers work on some of the biggest projects in London, and it was through our customers we first heard about FORS. With an increase in London work, we realised that the haulage industry was rapidly changing, and we needed to move with those changes. Gaining a FORS accreditation not only helped us modernise the safety of the fleet but also allowed us to be part of the exciting London projects our customers were involved in.
Although our initial FORS Bronze audit was challenging, Economove passed first time. Completing the audit revealed how we could improve our processes and update our systems to maximise learning and efficiency. We realised embracing FORS could help us learn from best practice across the industry.
After becoming Bronze accredited Economove appreciated the need for sustainability and higher levels of safety in the road haulage industry so we began to work towards FORS Silver. The biggest challenge of adopting FORS was the culture change, and once this was achieved the transition to Silver was natural. Being awarded FORS Silver helped our business become even safer. We became aware of systems such as the Fleet Fuel Tracker and the PCN Tracker which replaced our outmoded method of recording data. This is where we really began to understand how FORS was changing and challenging the fleet industry, and how we could be part of the change. Working towards a Gold accreditation is perhaps the biggest shift for Economove with FORS, it has produced questions about the company we have not encountered as hauliers before. It is changing the way we are approaching the next 5 years as a company – especially as the majority of our transport is in London, an area which is constantly evolving.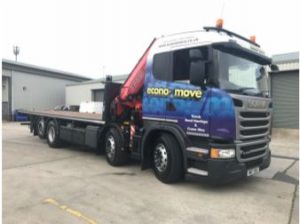 When Economove became a FORS accredited company we began to utilise the training courses that were available. Economove drivers attended the practitioner workshops that counted towards their CPC hours. We also started to use affiliates of FORS for our everyday processes such as changing the vehicle fuel cards to FORS partner Fuel Card Services, who produce the fuel data in an easy, comprehensible way that allows us to transfer the data into the performance management tool and undertake analysis to drive improvements.
Safe urban driver courses improved understanding and led to the purchase of front, rear and nearside cameras to improve safety of vulnerable road users. We have also fitted proximity sensors on the lorries to eliminate any blind spots. We have seen a vast improvement of driver awareness and behaviour when travelling alongside vulnerable road users. Our drivers have not had any accidents in the last 3 years, we believe that these changes to our fleet has impacted this greatly.
"I really gained an appreciation of the difficulties vulnerable road users face and how I could drive to help mitigate any risks. It was mainly an understanding that vulnerable road users, like everyone else on the road, can make mistakes and we as drivers have a responsibility to predict this" Sam Barker, Class 2 HGV Driver.
"We understand the value of data and analysis much more now. Although we are analysing increased volumes of data to help drive safety improvements, we are doing it in a more efficient way with mature processes so there is less admin strain on the company. It's great." Jodie Evans, Office Manager.
Economove has reduced the number of miles travelled by 17% in 2018 and reduced the fuel usage by 14%. Fuel used per mile has remained relatively static. Drivers receive pre-panned routes and loads are more frequently consolidated to help reduce mileage and improve safety. NOX (kg) and CO2 Outputs (tonnes) have both reduced by 2% in 2018, driven mainly by light vehicles. This has been achieved by reducing mileage through improved planning and replacing older vehicles with new fuel-efficient vehicles.
| | | | | |
| --- | --- | --- | --- | --- |
| | Fuel Used | Distance travelled | CO2 | NOx  |
| 2018 | 90,997 | 385,875 | 268.4 | 565.6 |
| 2017 | 105,618 | 465,212 | 274.6 | 578.8 |
| Percentage Improvement 2017 to 2018 | 14% | 17% | 2% | 2% |
Strategy for recruiting new drivers – previous recruitment of drivers has been through job application sites. We have a small but loyal team of drivers, two of which have been with us for over ten years. Therefore, we do not need to recruit very often. We have recognised it is difficult for young people to gain experience in the road haulage industry due to their lack of experience. We felt as a company which has been in operation for 31 years that we could offer young people some valuable experience so we applied to be part of an apprenticeship programme.
Noise Assessment – The Economove yard is located in a rural location on a farm, therefore we do not cause disturbance to the local community when washing vehicles etc. We very rarely deliver in evenings or during unsociable hours. When this may be the case, the customers we work with have their own risk assessments which we adhere too. Economove do have a 'noise at work' policy which detail the measures of loading and unloading and how to reduce our impact.
Looking to the future, Economove will strive to continue improving safety across the company. We will continue replacing older less efficient vehicles with newer Euro VI vehicles. Jodie will continue attending the FORS practitioner courses as a way of improving the knowledge of management. As a company we try to positively promote FORS wherever possible.. We promote our accreditation level by incorporating the FORS logo onto any promotional Economove communication, such as our website, business cards, emails, letterheads and the annual Economove Christmas cards!
Becoming Gold accredited will be a great achievement for Economove. We want to continue being the reliable, experienced, and professional hauliers that we have built a reputation on. Being a recognised FORS operator whose aims for the haulage industry are paralleled with our aims for Economove can only help carry us further.
*Please note: All published FORS Gold case studies have been submitted by the accredited company named above and transcribed verbatim