Euromix Concrete (a Subsidiary of Tarmac Trading Ltd) supplies high quality ready mixed concrete to the construction industry throughout London, Essex, Suffolk and Kent with central plants in London, Chelmsford, Thurrock and Ipswich.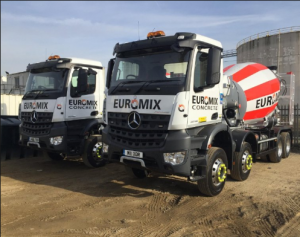 This case study provides an overview of our organisation, enhancements in our fleet and investment in our people, which as we strive towards FORS gold accreditation has provided a lasting benefit to our company.
We have fifty one truck mixers and four Tippers currently operating out of eight Readymix plants around London and rural Essex.
Our aim is a Zero Harm culture across Euromix and Tarmac as a whole, the health and safety of all whether it is an employee or member of the public is driving force for our business. We have introduced telematics, FTA Vision software, vehicle safety specific modifications and investment in training, which has helped us achieve improved driving standards and reduction in transport related fines. FORS is helping us achieve this by providing tools that challenge and focus our continual development.
Euromix as a subsidiary of Tarmac joined the FORS scheme in October 2013, it was clear that the scheme would help us achieve the best practice across our fleet. It became an ambition of the transport team to strive forward with the applications for Silver and Gold status as a beacon of excellence to the wider company and adhering to the requirements of FORS, has given focus to achieve the improvements across our fleet.
Our experience of the Bronze and Silver audits were a positive encouragement of our journey so far, we passed first-time round with a clear focus for processing on to the next stage.
As a FORS accredited company, we made the most of the benefits on offer providing training for our team including utilising a variety of FORS training modules and tool box talks. These included Safe Urban driving, Person Safety in and around vehicles, Cycle safety e learning, and defects checks. These have been positively received by our drivers, who have taken greater confidence and understanding from the training provided.
"The tools that FORS provide have been invaluable and have guided the toolbox talks to our drivers." – Tim Peters, Transport Supervisor, Euromix.
The FORS Workshops particularly the Safe urban driving and Cyclist safety, have been key in improving our driver's knowledge and awareness of the potential risks to vulnerable road uses. In having these frank discussions on how our business affects the wider community has resulted in implementing a program to fitting safety signs to the underrun bars on all vehicles, thus educating and highlighting risks to the wider community and vulnerable road users.
"Our driver training is now focused totally on FORS awareness from tool box talks on the website to D.C.P.C courses, Safe Urban Driving, Truck smart and E-Learning this way we know our drivers are getting the best delivered course." – Ken Harris, Transport Manager, Euromix.
| | | | |
| --- | --- | --- | --- |
| | MPG | Number of Incidents | Number of PCNs |
| Jan-Dec 2018 | 6.37 | 11 | 50 |
| Jan-Dec 2017 | 7.6 | 6 | 12 |
| Jan – Dec 2015 (Base Year) | 8.30 | 40 | 292 |
In an ever-challenging business environment in 2018 we have found ourselves travelling further to satisfy the requirements of our customers, which has led to an increase in our MPG. We are continually working to reduce our mileage by using the Tom Tom telematics products which are fitted on vehicles, this will be a focus for 2019. These are giving us the most direct route without using restricted roads. The nature of concrete means that it works an average 5 radial miles from the plant. Improving MPG through All Fuel used is captured Centrally and Mileages Uploaded monthly.
PCNs and Fines are recorded and investigated with details logged for any trend analysis going forward. There has been an increase on 2017, this is monitored closely by challenging driver behaviour, challenging the pcn themselves (13 overturned 2018) and liaising with customers for site locations where vehicles will incur a pcn and passed to Euromix commercial team to discuss with customers.Accident damage although has been reduced from the base year, there was a slight increase in 2018. Our management team have committed as a result of this to have an ongoing focus in 2019 on driver behaviour, there are now driving assessments planned 2 per driver per year.
Records are kept for any accidents, PCN and Traffic related fines, all moving traffic fines are paid for by the driver to encourage them to take responsibility while they are out on the road.
Driver health and fitness review – Euromix (Tarmac) employed drivers are internally classed as operating in a 'safety critical' role and therefore must undergo an annual assessment. This covers both a 'Fit for Work' (FFW) assessment and a 'Health Surveillance' (HS) assessment e.g. one year it is the FFW, the following will be a HS. Tarmac employs an external specialist, Optima Health to complete these checks on our behalf. An overview of the status of the checks for each driver is shared between the organisations and any issues are discussed with the individual at the time and the line manager where applicable.
In addition to the above other points of note are that our Drivers Handbook promotes the health and wellbeing of our drivers throughout plus a section that specifically refers to driver health.
Strategy for recruiting drivers – in 2018, we continue to work with Tom Davis Driver Hire to recruit agency drivers, those drivers that show exceptional professionalism are identified and offered an opportunity to work for Euromix full time. This has created a solution that sources and assesses high quality talent, whilst highlighting the opportunities in the business and creating awareness amongst job seekers keen to join the sustainable construction solutions industry.
The Transport team support the agency drivers to develop their driving skills to ensure they could drive a mixer with live loads both on the road and off-road as required to complete the delivery process. They were also trained on all aspects of the concrete delivery process as well as the specific product knowledge required.
Noise assessment – as a business we have key responsibility to ensure our working operations do not impact negatively on the wider community.
Each concrete plant has noise and dust surveys completed in line with BSI standards and as a transport team we have rolled out toolbox talks to educate the drivers on reducing noise pollution during driving, parking, loading or unloading, servicing or vehicle washing which is relevant to the vehicle type, load and sector.
Modal shift and alternative vehicles – due to the nature of Ready mix concrete it is not suitable to be delivered by alternative methods. We have introduced Telematics and recording cameras into our fleet, this has increased our ability to monitor fuel efficiency and driving standards. Also, we continuously review the age of our fleet and the emissions that they produce and identify potential areas for new vehicle to be procured.
To make continual fleet improvements, we have been investing in our Euro VI fleet, have completed a second chute refit to all our vehicles to reduce risk of injury to the operator, eliminating repeated mechanical and safety issues with anti-trap devices (finger guards). We also utilise the Enviroguard and washout system on our later vehicles to promote self-sufficient and water recycling operation reducing the possible impact upon the highway and the environment.
We should be receiving additions to our fleet of Mixers in January 2019. Seven new vehicles boasting proudly, state of the art safety equipment and environmentally friendly systems that boosts confidence within the business and reflects our commitment to reduce our carbon footprint. This will push out older vehicles allowing Euromix to maintain its reputation as a caring business and to compete with confidence for new and exciting contracts.
We have identified vehicle telematics as an avenue for further development – we are hoping to roll out a live streaming system which will enable us to monitor all company vehicles, driver behaviour, awareness training promoting even higher standards to protect our drivers and take responsibility for the public.
In June 2018, Euromix invested their talents led by the influence of Ken Harris (Transport manager), to create a prototype vehicle displaying and promoting advanced safety features. Coloured lights would invoke subliminal messages, a visual cascade of colour to denote a change in various areas around the vehicle. This would signify to the majority to be aware. A flashing audible warning system was included verbalising change in the direction of the vehicle in attempt to stimulate, educate and help to protect an unwitting mind.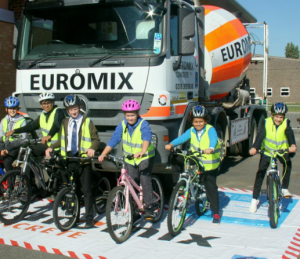 Three-hundred-and-sixty-degree camera systems were installed to aid the driver especially when turning left or reversing, displaying high risk areas to the driver and potential hazards.
All this technology was demonstrated as Euromix proudly presented the vehicle as part of a Bike-ability course in Essex, educating young minds on how they would conduct themselves around large vehicles.
Vulnerable road users had the opportunity to sit in the driving seat, to gain a very brief experience of what a professional driver would experience every day on the Highways.
The driver would spend time explaining the functions of a vehicle and the importance of proper conduct, sharing experiences, asking and receiving questions.
All valuable information was used to improve safety policy and procedure throughout the business offering a vital line of communication, advice and assistance to and from Tarmac continuing the plight of zero harm.
Training continues from driver well-being to anti-terrorism which installs confidence within a modern world. Vehicle security and driver safety is paramount therefor training courses are well received.
The benefits we have seen across our teams in terms of knowledge and empowerment has driven forward our standards. Receiving FORS gold accreditation would be a source of great pride as a transport team and demonstrates our ongoing commitment to excellence.
As we continue our journey, we face ever increasing challenges for our team to overcome, in an ever-changing environment.
Promoting a safe and healthy approach to integrating Large Goods Vehicles with the public will always be a concern within a busy society therefor we welcome the platform FORS has provided, and strive to excel within our trade responsibly, safely and as efficiently as possible.