Evenheights – We are a small family run haulage company, based in Enfield, North London, that specialises in lorry loaders within the rail & construction industries, our fleet consists of 3 articulated vehicles from 44 ton – 80 ton, and lorry loaders ranging from 36tm to 82tm and up to 26 meters reach, and 1 Transit van. Since signing up for FORS almost 6 years ago, we have noticed marginal improvements in MPG and emissions. It has also enabled us to tender for certain contracts.
How we found out about FORS –  In 2012 we were approached by the transport manager of Tubelines/TfL and asked if we were interested in joining the scheme, which we were. A year later it became a contractual obligation anyway.
Our experience – Our initial Bronze audit was a pleasant experience, to which we passed first time, with only a few minor observations.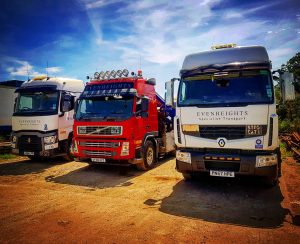 Progression – Once we were Bronze accredited we spent the next 18 months progressing to Silver then to Gold, which we also passed first time. Once we gained gold we made the most of the benefits such as keeping our contract with London Underground/TfL & the performance management tool kit. Jim, our company director also utilised the FORS practitioner workshops that were made available.
"Being apart of FORS has allowed us to maintain or existing contracts" Jim Wellington (Appointed person)
The benefits – A benefit of being apart of FORS is the courses available to companies and their drivers, such as the SUD (Safe Urban Driving), FORS practitioner and E-Learning courses. Another benefit is the FORS performance management tool kit, this has helped us quantify and benchmark our KPI's.
Why we progressed – once we reached FORS Silver, we didn't want to stop there, as a company we strive to better ourselves, and settling for Silver wasn't an option. When we got Gold, we were one of the smallest companies to gain the accreditation, which was a proud moment for myself and Evenheights. We aim to do every job to the best of our ability and by achieving gold it shows we can also run the company to the highest standards. Our future goal is to maintain our FORS standard and keep on saving. We are proud to be a member of the FORS scheme that continues to support its operators in moving forward and setting higher standards in the road transport industry. Gaining gold accreditation means we can take a step forward to achieving our status as a high-quality operator in a prime position to secure further contracts from reputable companies.
"Getting Gold adds to our professionalism that our company strives to achieve" Colin Wellington (Managing Director) 
Increased profits – Since being a part of FORS the cost effectiveness of our company has improved, and this year we are getting 0.3 MPG's more than last year out of our Lorries and almost another month out of our tyres. "FORS has helped us keep our costs down and our profits up"
| | | | |
| --- | --- | --- | --- |
| | MPG | Incidents per 100,000 Kms | Number of PCNs |
| Jan-Dec 2016 | 5.2 | 0 | 0 |
| Jan-Dec 2017 | 5.5 | 0 | 1 |
| Percentage improvement | 3% | N/A | |
Going forward we will ensure that we will embrace the benefits of FORS, we will continue to progress our knowledge and development in improving road safety standards and protecting the environment in the work we do.
Driver health and fitness review – Our drivers are under regular review with regards to health and fitness, Drugs testing and 6 monthly eye tests.
Strategy for recruiting drivers – we work alongside agencies and colleges to recruit new staff and use social media to advertise potential new jobs.
Noise assessment – We are always looking at ways to reduce noise pollution, and by updating our fleet, we have remained compliant.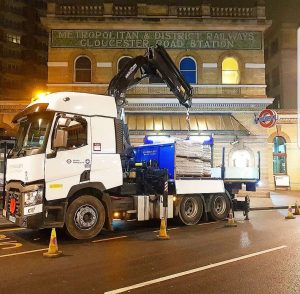 What's in store – We are currently updating our fleet to the latest EURO 6 vehicles, to meet current legislation, we have been looking at alternative fuels but currently there are no manufacturers that can build an electric/gas vehicle to meet our specific needs.
Evenheights: Facebook 
Evenheights: Instagram
Please note: All published FORS Gold case studies have been submitted by the accredited company named above and transcribed verbatim.