Fire Protection Ltd, based in Harlow in Essex, is part of the Hotchkiss group and is one of the UK's leading manufacturers and installers of fire-resistant ductwork. Colin Daniels, Logistics, Transport & Fleet Co-ordinator, became a FORS Practitioner in March 2018 and is responsible for all FORS 'Champion' roles. With the knowledge gained from the ten Practitioner workshops and involvement in the transport operation for over two years now the aim is to continue to improve and evolve our logistics operations, as they have been since the company first joined the FORS scheme six years ago. As a company we know how important it is to keep running costs down whilst managing a safe and efficient fleet.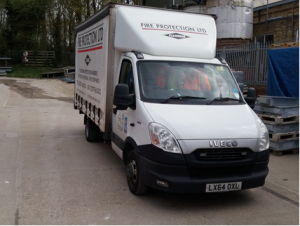 We were made aware of FORS when tendering for work across London and we looked at the requirements and benefits of joining the scheme. We recognised that it fitted perfectly with our ethos of improving safety and fuel efficiency and that it would benefit us by opening doors to new business.
We gained FORS Bronze at the first attempt in August 2013 and two members of the transport/delivery team subsequently attended the FORS workshops and became Practitioners. As a result of what they learned at the workshops they realised the importance of a structured approach to running our transport operation, albeit with a fleet of only one vehicle. Aspects not considered in the past were brought to the fore and every effort was made to better manage our vehicle, its driver and practices, using FORS as a guiding principle.
Having achieved Bronze, in March 2014 we achieved Silver and in April 2015 we gained Gold accreditation by improving on the systems we had already put in place. We use the online resources provided by FORS, particularly the Performance Management tool and Training dashboard. Long ago we sent our driver for CPC training along with FORS courses such as Safe Urban Driving, Cycle Safety and Van Smart. All involved in the transport/delivery operation undertake the mandatory training modules and additional training is undertaken to ensure continuing professional development. We have moved forward with other members of the Hotchkiss group and have encouraged our partner companies to come on board. Our two regular haulage contractors have achieved and maintain FORS Silver status and our third, found via the FORS website, was one of the earliest companies to become FORS accredited and has also progressed to the Gold level.
'We operate in a very competitive sector. Our FORS accreditation opens doors to new business opportunities and ensures our continued involvement in many major construction projects.' – Alan Kinnear, Director

'In August 2018 we obtained a Restricted Operator Licence in order to give us greater flexibility when delivering to our clients' sites. Following principles embodied by FORS we carefully specified and researched a new 7.5t vehicle ensuring it complies fully with expected performance, emission and safety standards. We eagerly await its delivery in May 2019.' – Martin Clarke, Manufacturing Manager
The safety of vulnerable road users and fuel efficiency are the areas we consider to be of paramount importance. Working with FORS, through their workshops, by referring to the FORS standard and using the many training resources and online tools, has proved invaluable and has helped to raise awareness within our transport operation. FORS has provided our driver and managers with better training through courses such as those mentioned above and toolbox talks have also helped our staff to focus and ensure our fleet operation is professional and competent.
FORS has also provided the structure within which we have introduced a driver's health and fitness check list, driving licence check from the DVLA and driver's working hours recording. In addition it has prompted us to introduce a strategy for recruiting drivers and transport staff and to appoint a FORS Practitioner to manage and monitor fuel consumption and road risk. In addition he fulfils all other FORS 'Champion' roles.
Fire Protection Ltd has an ongoing commitment to the improvement of vehicle safety and fuel efficiency. The former contributes significantly to road safety where cyclists, pedestrians and other vulnerable road users are in close proximity to vehicles.
Adherence to practices encouraged during FORS courses and training has enabled us to reduce our fleet CO2 emissions. Efficient driving and intelligent routing, along with an anti-idling policy contribute towards this. Our use of contract hauliers who have larger vehicles than ours means we are able to deliver more of our often very large volume ductwork in a single delivery meaning we do not have to make two or more journeys with our vehicle to achieve the same result.
Though not mandatory on a 3.5 tonne van we have fitted four blind-spot cameras to our vehicle giving the driver greater awareness of the environment around him and providing a useful tool for manoeuvring in delivery areas which are often very restricted.
| | | |
| --- | --- | --- |
|   | MPG | Incidents per 100,000 Kms |
| 2016 – 2017 | 22.05 | 0 |
| 2017 – 2018 | 19.86 | 0 |
| 2018 – 2019 | 20.19 | 0 |
| 2018 – 2019: Percentage difference from preceding year | 1.7% | 0% |
Annual summary of MPG and Incidents per 100,000 Kms
Achieving Gold has focussed our attention on particular aspects of fleet operation and as a company ready and willing to embrace new technology we have looked into the possibility of obtaining a hybrid vehicle. We have evaluated the offerings on the market and will ensure that when the time comes to replace our van we select a vehicle which meets our requirements, provides the desired reduction in emissions and increase in efficiency and for which the total cost of ownership is sustainable.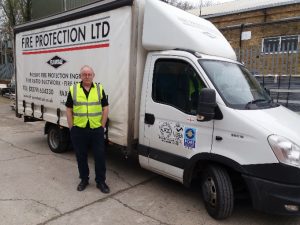 With the confidence we have gained from being part of FORS and running our transport operation in a professional and well-regulated manner, in order to increase our flexibility and to have more control over our deliveries, we obtained a Restricted Operator Licence in August 2018 and have specified, researched and ordered a new 7.5t DAF lorry taking into account emission and safety requirements, following the guidelines provided by FORS. We eagerly await its delivery in May 2019.
We are proud to be FORS Gold accredited and remain committed to the scheme as do our sub-contracted hauliers. We continue to monitor our relatively modest transport/delivery operation and look to make improvements wherever we can. This applies beyond our transport/delivery operation as principles and practices embodied in FORS can be extended to all areas of our business. In addition to FORS Gold accreditation we are also ISO 9001:2015 certified and have achieved the RoSPA Gold Award for 9 years running.
With FORS promoting more sustainable ways of operating not only our fleet but our business, we aim to reduce the impact our activities have on the environment and in particular we will encourage more staff to travel to work by public transport or by walking or cycling. Too many travel to and from work alone in cars, depleting resources, adding to emissions and contributing to serious congestion in our locality.