Firwood Timber & Plywood Co. Ltd are based in Burscough, Lancashire and specialise in the supply of Timber & Plywood to the formwork industry.  We are family owned and founded over 45 years ago.
Jane Johnson, (Managing Director) states how Firwood Timber has achieved another consecutive year on reductions in fuel (-11%) and maintained 0% of Incidents and PCNs through FORS. Below explains how FORS has helped us validate and build upon our existing good practice.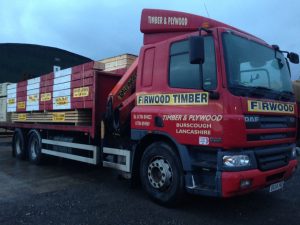 We first heard about FORS through transport publications, and as a direct result of our supply to the Crossrail Project. Having built a good working relationship with the Crossrail Project Team to meet their strict requirements, we realised we could benefit greatly from the FORS Scheme. We compared the scheme & Crossrail requirements, along Transport for London guidance notes with our current standards.  We identified, improved and implemented a number of standards across the company for best practice.  Recent consideration has gone into side cameras as a possibility to give our drivers the latest tools to continue to make deliveries in the most safe and efficient manner possible.
As technology and the FORS standard developed, we have added further vehicle safety items such as reversing cameras to our Rigid Vehicles, highlighting our commitment to reducing injuries caused by HGV's.
Our experience with the initial Bronze audit was extremely positive, and we were pleased to find that most Bronze requirements and systems were already in place within the business. The Bronze specification enabled us to improve upon our existing policies and procedures and our achievement permitted us to continue to deliver to our current customers throughout London.
We proudly achieved Silver status in April 2015, and incorporated FORS online driver training on a regular basis to maintain and refresh our drivers' knowledge. We also use FORS publications and toolbox talks for further knowledge this in turn implemented a system to periodically check the validity of drivers licences against the DVLA website.
Our FORS accredited drivers have completed their Safe Urban Driving course, a requirement for FORS Silver accreditation. We felt this was an extremely beneficial course for our drivers to undertake to further enhance their professional driver training. Quote from one of our Drivers below:
'It's been some time since I was riding a bicycle on the road! This course provides a practical element to give me a better perspective from a road cycle user and what we (HGV's) look like to them on the road.' – Paul Rigby – September 2018
A selection of our customers are members of the FORS Scheme. Therefore, sharing a common transport accreditation leads us to find that good transport practice becomes a priority, and leads to good communication and efficiency between all parties involved.
We decided to progress through the standards as it was clear that the good practices already established within the company could be formalised in order to gain a respected accreditation. FORS Bronze was already a requirement for delivery to many customers within the M25 area which was beginning to widen. The Silver accreditation was soon becoming a minimum requirement. By going one step further to achieve Gold, we strive to be one step ahead of our competitors when it comes to safety and service.
The Gold process started with comparing its standards against our current practice. Where required we 'reviewed, improved and implemented' and resulted in achieving our first  Gold accreditation in February 2016.  Success!
We aim to continue to improve existing policies and procedures, which have seen Driver infringements and PCN's stay at zero over a 2 year monitoring period, along with a low number of recordable incidents. Also our overall fuel usage is now -9%. We continue to monitor and investigate all infringements that may occur, and strive to maintain our excellent record within the industry.
| | | | |
| --- | --- | --- | --- |
| | Fuel Used | Incidents per 100,000 Kms | Number of PCNs |
| Jan-Dec 2017 | 50213 | 1 | 0 |
| Jan-Dec 2018 | 43279 | 0 | 0 |
| Percentage improvement | -11% | 0% – maintain | 0% – maintain |
Policies have been implemented to carefully monitor our Driver's Health and Well Being, having opening clear lines of communication between drivers and management. This minimising the risk of incident as a result of underlying health problems or diagnosis of a condition.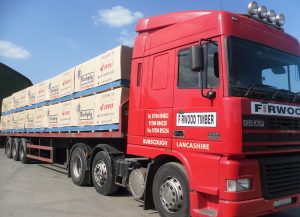 We work closely with our customers in regards to access plans and routes, to ensure our vehicles avoid residential areas wherever possible. We have also installed white noise reversing alarms, which are instantly locatable, heard only where it matters, and approved by the noise abatement society.
Firwood hope to continue achieving FORS standard.  We are continuing with reviewing improvements to our fleet technology as well as the potential of moving some of our consignment from road to an alternative method of transport.  When renewing our fleet Euro VI engines, along with alternatively fuelled HGV's, will have a stronger presence within the market and be high on our list of specification.
By achieving and maintaining the highest standard of FORS Gold, we will continue to remain at the forefront of our industry. Our valued customers will be assured they continue to receive nothing less than, the best industry practice when trading with our company.