FM Conway is one of the UK's leading infrastructure services companies, providing inspection, design, enhancement and maintenance services in transportation, the built environment and open spaces for both communities and businesses. Peter Parle-Transport Manager, demonstrates how FORS has driven improvements in fuel consumption, environmental impact and safety for the company fleet.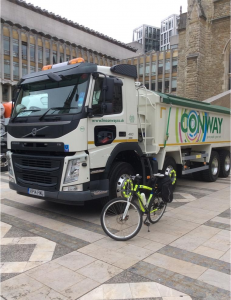 'We first became aware of FORS whilst undertaking several contracts for Transport for London and were introduced to the scheme through our close relations with TfL. The benefits of the scheme were obvious to us and we saw numerous enhancements it would bring to the company and our fleet. For example, access to vehicle license checking systems and reduced rates, cutting the administration for our own checks', explains Peter.
'We were already familiar with external assessments for our management systems,' says Peter, 'but were very pleasantly surprised at the levels of support and assistance provided through the FORS assessment.  Throughout, we felt the process was targeted at helping us to get it right, and working with us to identify improvements to our existing systems. The assistance and guidance provided enabled us to be one of the first companies to meet the Bronze Standard.'
Almost immediately, FORS delivered demonstrable results, The fuel efficiencies, reduction in CO2 emissions, safety enhancements, and access to training materials, were in addition to the marketability of our membership to potential clients.
'Measurable improvements, evidenced through the use of the simple online FORS benchmarking tool, encouraged us to build upon our successes and achievements, and we were delighted when, in 2009, we became one of the first batch of companies to achieve the Silver Standard.'
 'FORS provides a forum to develop and share best practice, through collaboration with other fleet operators and Transport for London' – Peter Parle – Transport Manager
'Safety was always, and remains, our key focus. We have now installed side-guards, nearside blind spot and reversing cameras, seven side-sensors, and audible 'vehicle turning left' warnings to every HGV in the fleet. We now specify these measures for every new truck we order.'
This year we were honoured to win the Dr Will Murray Award for Analysis and Action, in the prestigious Brake Fleet Safety Awards 2017, for the organisation that has implemented the most effective procedures for carrying out risk assessments, crash data analysis, and using the data to introduce tailored interventions.
This award was recognition for the implementation of the initiatives, processes, and actions that make up the company's ISO 39001 certified Road Traffic Safety Management system.
"You can't put a price on increased road safety: from a CSR viewpoint, it makes total sense. But it also makes financial sense: we've already saved enough to cover the cost of certification and of maintaining it for the next seven years." – Peter Parle
As a FORS Silver certificate holder, the company was working towards Gold, alongside developing the new systems for certification to ISO 39001. "FORS isn't a management system, but there is lots of overlap, so it made sense to target both at the same time."
We consider the training and expertise of our fleet drivers is the key diver of our fleet safety successes and it is evident that the more we train our people the better our performance.
| | | | | | |
| --- | --- | --- | --- | --- | --- |
| | Sep-13 | Sep-14 | Sep-15 | Sep-16 | Sep-17 |
| Online Training Modules Passed | 0 | 1 | 361 | 366 | 497 |
| Gold Status Drivers | 0 | 0 | 5 | 73 | 96 |
| Silver Status Drivers | 0 | 0 | 100 | 122 | 158 |
| Bronze Status Drivers | 0 | 0 | 180 | 195 | 254 |
| PCN fines cost | £8,638 | £8,235 | £3,110 | £2,295 | £1,400 |
| CPC Trained Managers | 4 | 6 | 7 | 8 | 9 |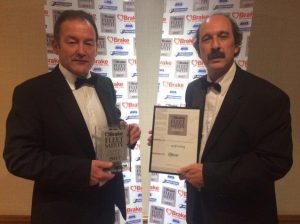 Safety remains the number one priority for FM Conway and it is represented on ISO Technical Committee 241, the body responsible for ISO39001, and additionally holds the Chair of BSI Committee RTS1, representing the UK position on Road Traffic Safety.
FORS Gold enables us to deliver safer fleet solutions whilst delivering the benefits of improved environmental and fuel performance and enhancing customer satisfaction. We will continue striving to be at the forefront of fleet safety performance.
Please note: All published FORS Gold case studies have been submitted by the accredited company named above and transcribed verbatim.