Garic Ltd are based in Bury, Greater Manchester and supply welfare and environmental accommodation and equipment to the construction industry. Our products are regarded as some of the most innovative and eco efficient on the market. Our Transport Manager and Emissions Champion explains how Garic have 'achieved reduced fuel emission, improved their road safety record and decreased transport related incidents through FORS'.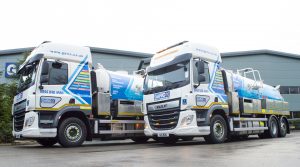 We came across FORS whilst working on a Crossrail project and joined in 2011.  We realised it would help us to achieve best practice and benefit us by complementing our drive to improve fuel efficiency whilst improving safety.
Garic passed their initial Bronze audit first time round, this showed us that we were already operating to a high standard as a company and encouraged us to go on to achieve our Silver accreditation.
Once we were Bronze accredited we decided that we should progress to Silver to demonstrate Garic's commitment to operate at the highest level. Progressing from Silver to Gold not only demonstrates Garic's commitment to road safety and the environment but it also shows our customers and the public that we are committed to continually operating at the highest level.
Once we were Bronze accredited we really made the most of the benefits on offer, in particular the practitioner workshops and the driver training and eLearning modules.
'I became a FORS practitioner by attending the 9 workshops, this was a great benefit as it helped me to apply my knowledge and enabled Garic to identify gaps within our current training programme.' – Trainer/Assessor
The Safe Urban Driving, Cycle Safety Smart Driving and Parking and Unloading training have been a practical way of both improving our drivers knowledge and learning from others, since attending these training courses we have seen improvements in the number of driver incidents.
'Attending the Safe Urban Driving really helped me to understand a cyclists perspective of the road and how dangerous it can be.' – HGV crane driver
The table below shows the performance data for our fleet which has increased from 46 vehicles in 2015, to 56 in 2016/17.
| | | | | |
| --- | --- | --- | --- | --- |
| | MPG | Incidents per 100,000 Kms | CO2 | NOx |
| Year 2015 | 7.6 | 3.1 | 1518.61 | 5511.44 |
| Year 2016 | 11.4 | 1.1 | 1913.22 | 6943.55 |
| Year 2017 | 19.6 | 1.1 | 1742.00 | 3500.26 |
| Percentage improvement | 71.9% | 0% | 9.8% | 98.4% |
We take the health of our employees seriously. Our drivers complete an Occupational Health Questionnaire and have a medical as part of their induction, then every 3 years a full health screening is carried out to ensure they are fit and healthy to drive.
Due to the complex nature of our business we like to encourage employees to develop their skills as drivers, one employee joined the company as a van driver but then expressed an interest in becoming an HGV Service driver. We helped him get his Cat C licence and put him through his ADR training. Another driver originally joined the company working in the stores department, he obtained his Cat C licence and is now an HGV Service driver.
One of the areas we are keen to continue to improve on, is noise impact on the environment. With the help of FORS we have been able to put together a training aid, 'Quiet Deliveries' to help drivers reduce noise impact whilst working on customer sites.
We carried out a cost benefit analysis on alternative fuels for use in the Garic fleet of vehicles which included HVO, Biodiesel, Biogas, Natural Gas, Biotheanol and Hybrid. IN our opinion we found biodiesel o be the most cost effective alternative fuel to diesel but conversion costs increase dramatically.
In order to make continual fleet improvements we are in the process of replacing the older Euro IV vehicles on our fleet with Euro VI vehicles which will have an impact on our fuel consumption.  All new HGV vehicles will have increased driver visibility with direct vision windows. The way our drivers behave when driving has an impact on fuel consumption so with the help of FORS we were able to provide training in all aspects of driving behaviour, including speed limit awareness and the correct use of gears whilst driving.  We have also implemented a new transport management system to help us monitor engine idling and fuel consumption.
We positively promote FORS via our website and Product brochure which is used by our Regional Area Managers to hand out to potential customers at shows or when visiting new customers. We also have an 'Introduction to Garic', a powerpoint presentation which is used by our Area Managers to illustrate our products and accreditation.  Customers are also able to download our Product brochure via the website.
By gaining FORS Gold accreditation we are demonstrating to customers and the general public that we are committed to working at the highest standard possible in all aspects of road safety whilst considering our impact on the environment.
Welcome visit our Twitter and LinkedIn