Gatwick Group who are now also part of the Swain Group have been providing Hiab hire, Construction Logistics, and Contract Lifting solutions to the Aviation, Rail and Construction industries since 1979. Working in partnership with Airport operators, Network Rail and other contractors, our solutions have safely maximised the short windows of opportunity available.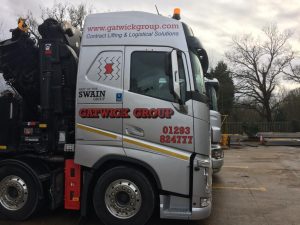 Derek Pickett, General Manager at Gatwick Group explains that having over 30 years of experience in the Haulage and Logistics industry, Gatwick Group is committed to a achieving the highest standard of Health, Safety and welfare for our customers, employees and all concerned with our operations. Our approach has led us to simultaneously achieve accreditation via the highly regarded Lloyds register Quality assurance scheme under the following scope: ISO 9001, ISO 14001, BS OHSAS 18001
In 2016 business increased substantially to the point where our financial yearly targets were met after 6 months. A capital spend program was put in place in 2017 to replace at least 2 vehicles every calendar year with emission reduction devices to ensure emissions are as low as possible. Working to FORS GOLD standards maintains awareness regarding the importance of low emissions which means we are constantly striving to achieve better within our company for fuel reductions. In the past 12 months we averaged 7.09 MPG across the whole fleet. The previous year we averaged 7.08 MPG which is a 0.14% improvement as most of our work is local.
Gatwick Group first heard about FORS in 2012 and the benefits of bronze were showcasing our commitment to clients, aiming to work smarter and safer. FORS was also becoming a contractual condition on many sites we were working on i.e. airports, rail and cross rail.
When Gatwick Group initially obtained Bronze, we found it exceeded expectations in terms of what it assessed us on. FORS dovetails our business principles and ethics. When we looked at the requirements and benefits of joining the scheme, we saw that they fit perfectly with our ethos of improving safety whilst complementing our drive to improve fuel efficiency and reduce our environmental impact.
Gatwick Group passed bronze first time round and this made us keen to go for Silver and finally Gold so we could showcase our continual commitment to achieving better within the transport sector by adhering to the FORS standards.
All our drivers have completed their Safe Urban Driving course. We have also invested heavily in vehicle safety systems cameras, nearside proximity sensors and audible alarms for all our vehicles. All our drivers have also completed the required FORS E-Learning modules. We have attended the FORS practitioner's workshops, SUD training and used the FORS helpline. We found that the perspectives gained added significantly to our VARSG process. The combined initiatives implemented within the Group were:
A presentation to all drivers explaining the need to reduce accidents, the actions planned and inviting their participation and comment. A second presentation is in the process of being delivered;
A change in wage structure to encourage a more honest approach to the reporting of vehicle accidents;
A detailed training scheme for drivers who have 2 or more at fault accidents;
A campaign to fit 3 or 4 camera systems to include a recording device to all new vehicle and problem driver vehicles, which was achieved successfully within the Swain Group
A detailed interview with the driver to include any camera evidence to understand the cause of the accident;
A softening of but more consistent approach regarding the disciplinary action that would be considered;
A scheme implemented to provide free eyesight tests and basic pair of glasses for all staff;
A detailed training scheme for drivers who have 2 or more fault accidents. Any new driver induction extended from 1 to 2 days to cover all the VARSG initiatives.
The fitting of Class VI mirrors across the fleet;
'FORS has helped us achieve compliance and safety' – Derek Pickett – General Manager

'Gatwick Group recognises the importance of investing in the latest equipment to provide technical capability, best safety in class and to minimise harmful emissions – Fundamental elements encouraged by the FORS standards' – Charlie Threapleton – Head of Operations for Special Projects
We have Managed to increase our MPG by 0.14% and reduced the amount of collisions we have had by 16.67% compared to the previous year.
| | | | | |
| --- | --- | --- | --- | --- |
| | MPG | Collisions | Number of PCNs | Number of Vehicles |
| Jan-Dec 2016 | 8.71 | 10 | 6 | 13 |
| Jan-Dec 2017 | 7.08 | 6 | 7 | 16 |
| Jan-Dec 2018 | 7.09 | 5 | 9 | 16 |
| Percentage improvement | 0.14% Improvement | 16.67% Reduction | 50% Increase | 0% |
We get all our drivers to complete a comprehensive Medical Declaration on an annual basis. Driver's health and wellbeing is considered and thought of at all times. A close and open relationship with them ensures that we are aware of any physical or mental change that may result in the requirement of prescription medication. Any change will be investigated to see if it's still safe for the driver to be driving for the company and may even result in us asking the driver to get a letter from his doctor informing us whether he/she is still able to drive for the company. The risk is then managed to ensure there is no risk to the driver or other road users.
The Swain Group has a multi-faceted approach and strategy to the recruitment, retention and the development of drivers and support staff across all operating centres and fully recognises the importance of having a skilled and motivated workforce. Each operating centre/depot operates within this strategy utilising Group assets to support where necessary and also undertaking local initiatives. Gatwick Group sits within this framework and as a principle unit within the Special Projects Division participates in a number of initiatives such as Internal Recruitment & Development – Internal staff resources are first port of call for consideration in respect of continuity planning and fulfilling vacancies. This is particularly relevant when filling office-based operational roles such as Transport Planners, Transport Managers, Route Planners and even senior General Manager roles. Within Gatwick Group, the Transport Planner roles are currently filled by individuals who were previously employed elsewhere within the Company. The Project Managers have all 'risen through the ranks' through time-served in the Company. One of the Transport Planners is on a 'fast-track' Graduate development programme and having already fulfilled a number of appointments is being mentored and developed as a future Project Manager in the Company Website – Vacancies across the Swain Group are advertised on a dedicated page within the website www.rswain.com/careers . Vacancies specific to Gatwick Group and also advertised on the Company website. Candidates can apply directly on line by utilising the downloadable Application.
Commercial Recruitment – Several nationwide third party recruitment agencies are utilised for general recruitment purposes, such as "Indeed" or professional Executive Recruitment agencies. The current General Manager was identified and recruited through this method.
We only have 1 operating centre and it's in a residential area, so we are very aware of the noise we make and the measures we have had to put in place to make sure we always keep our noise to an absolute minimum. On entering or exiting our yard we have a reduced speed limit, an electric gate (that is silent) and we always make sure that all our vehicles are loaded/ unloaded during normally working hours and never after 19:00. All vehicle servicing is done at the maintenance providers off site so there is no added noise and when our drivers clean the vehicles it is always done during normal working hours as well. We have cornered off our wash bay to keep the noise locally and confined. Most of our loading/ unloading is done off site as we go to a site collect a load and then go deliver it to where it needs to go.
Gatwick Group fleet contains assets from Euro 4 through Euro 6 emission standards. The importance of moving to Euro 6 class vehicles across the fleet as soon as possible is well understood and supported (bearing in mind the commercial considerations around the cost of investment). Ultra-Low compliant vehicles are compatible with our operational requirements and all future vehicles are specified to this standard (Euro 6). At the time of submission Gatwick Group has 3 x Euro 6 HGVs on the fleet (out of 12 x HGVs) and has already committed to a further 2 x Euro 6 HGVs which are due into service in Q2/19. Consideration has been given to investment in the LPG fuel technology HGVs, however at this stage it is felt that the infrastructure necessary to support the widespread use of these vehicles across the UK is not currently available and that further time is required to establish this before it is operationally viable to bring such units onto the fleet. Research has been carried out into this option, with visits made to test drive units at Volvo's Testing and Research facility in Sweden and although the vehicles themselves are impressive, the issue of insufficient supporting infrastructure in UK remains the sticking point at this time. Whilst the wider haulage and transport industry are actively engaged in serious field trials with electric vehicles, due to the heavy demands on our core fleet vehicles, electric power is simply not a technically viable option at this point. The use of electric powered LCVs is becoming a more viable option in the industry now and will be a serious consideration in future fleet renewal reviews.
All new vehicles purchased are specified to achieve the star rating needed to achieve the Direct Vision Standards, including the cab doors being fitted with glass panels in the lower section to facilitate the view of cyclists or pedestrians alongside. Irrespective of this, all HGVs are equipped to meet the Safe System requirements, which are designed to reduce the risks posed to vulnerable road users, such as: Class V and VI mirrors, CCTV system, Sensor system, Audible vehicle manoeuvring warning, External pictorial stickers and markers, Sideguards, Driver training specific to vulnerable road users
We have positively promoted FORS by sending out letters to all our clients and suppliers informing them that we currently hold a FORS Gold Accreditation and that we would strongly recommend they join FORS if they haven't already as we believe it is a fundamental scheme that saves lives of all vulnerable road users. We show case all our case studies on our website including FORS and the fact that we are Currently FORS Gold Accredited, we also have the FORS Logo on all our email signatures and company letter heads. One of our client's websites even have links to our website and a copy of our Case study promoting FORS.
Gaining FORS Gold Accreditation reflects how dedicated we are as a company to improving road safety and the safety of all vulnerable road users in London as well as nationally. While this is a significant achievement, we will continue to work with FORS – moving forward to further improve the standard in order to give the haulage industry a safe and environmentally stronger image.
Visit our Gatewick  Website and Twitter as well the Swain Group Website and Twitter