Geo. Siddall Transport Ltd was acquired by our parent company BJ Waters in the 1960's, we are a 4th generation, well-established family-run business, our priority is to offer competitive prices for an unequalled level of haulage service. We are based in Matlock, Derbyshire and have developed tailored handling solutions for transporting excavation equipment, marble granite and packed aggregates.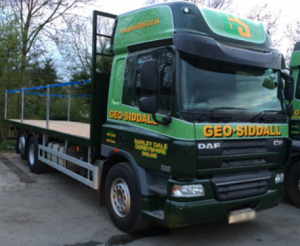 My name is Dominic Hook and I'm the Fleet Transport Co-ordinator for Geo. Siddall Transport and I believe our success in relation to legal compliance; transport related safety and effective employee engagement has been achieved by meeting the FORS Bronze and Silver standards. The benefits and increased efficiencies we have experienced will be complimented further by acquiring the Gold accreditation.
Through effective management and controls, Geo. Siddall Transport has achieved reductions in fuel use with increased MPG and reduced CO2, NOx and Particulate Matter emissions, we have seen improvements in road safety and decreased transport related fines and charges.
We were initially introduced to FORS through the RHA, this prompted further investigation into the accreditation and the benefits it would bring to the business. The decision to go for the initial accreditation was in recognition of the increased operational safety and compliance aspects and emerging best practice but it soon became apparent that it was a unique selling point for gaining customer contracts.
Our first Bronze audit was in 2013, which we passed first time around. We found this was a great learning curve for the company, this was a recognised achievement and from here we were encouraged proceed to better ourselves with a view of achieving Silver.
Once we had achieved FORS bronze, our focus was to maintain the requirements of the standard and ensure 'FORS' was fully adopted into the culture of our business at all levels. We also went on to make the most of the benefits on offer, in-particular utilising the performance management platform, driver CPC training and FORS practitioner training.
'Since achieving our first Bronze accreditation we have significantly reduced our fuel usage and accident claim rate while positively influencing our average mpg. This benefits the company, our employees and other road users.' – Mr John Waters, Director – Geo Siddall Transport Ltd
There are various ways our company has seen benefits from FORS, I have gained the FORS Practitioner qualification, increasing my knowledge to better understand and manage the business in line with the FORS standards. The training required by FORS Bronze and Silver has increased our drivers operational and road safety knowledge which has contributed to increasing efficiencies and reducing infractions. The communication of our FORS policies and procedures has increased our employee engagement in the business with everyone understanding what needs to be achieved and working towards the same goal.
'I look forward to seeing further improvements by acquiring and championing the FORS Gold accreditation.' – Mr John Waters, Director – Geo. Siddall Transport Ltd
Once we were Bronze and had experienced the operational and commercial benefits at that level of accreditation, we could see that progressing to Silver, with further vehicle safety measures, closely monitoring vehicle emissions and events and enhanced driver training, would improve our business further. Achieving and maintaining the Silver accreditation has also provided business growth by tendering and winning new contracts that we would not have achieved without our Silver status. As FORS is now fully integrated into the culture and the custom and practice of Geo Siddall Transport, our desire is to champion FORS within our industry by achieving the FORS Gold accreditation.
| | | | |
| --- | --- | --- | --- |
| | MPG | Incidents per 100,000 Kms | Number of PCNs |
| Jan-Dec 2017 | 12.56mpg | 4 | 1 |
| Jan-Dec 2018 | 14.50mpg | 4 | 0 |
| Percentage improvement | 15.44% | 0% | 100% |
*Annual improvement in MPG, Incidents per 100,000 Kms and Number of PCN's
Monitoring driver health and fitness, ensures we minimise the risk of incidents as a result of underlying health problems or diagnosis of a condition. All drivers are issued with a comprehensive health questionnaire to complete at the commencement of employment and annually to ensure they are fit and healthy to drive. We also require all drivers to advise the company is they develop any health issues that could affect their driving ability.
Geo. Siddall Transport policy of training drivers from our existing staff has increased staff retention through progression opportunities and demonstrates our commitment to encourage new drivers into the industry.
Following the completion of the noise assessments, we have fitted broad band reverse audible warnings to all vehicles, restricted the time of day that maintenance is carried out on vehicles at our operating centre and minimised the vehicle movement out of hours.
We have investigated Modal Shift and alternative powered vehicles but at this time there isn't an alternative that has the weight capacity and range that we need. We will monitor the developments made in this area.
'In order to make continual fleet improvements we will increasing the percentage of Euro VI vehicles in operation; our fleet is currently 60% Euro VI and we have a vehicle replacement program with 2 x 44t Euro VI, 4 x 7.5t Euro VI and 2x 26t Euro VI vehicles to be delivered in the coming year. This will move us towards being 100% Euro VI compliant, providing reduced emissions and increased noise suppression.
Achieving the Gold accreditation will fully demonstrate to our customers, governing bodies and our wider industry that we are a very professional business, striving to be the best. The commercial and operational benefits will continue to be built upon and we will continue to demonstrate best practice in legal compliance, road safety, the environment, vehicle and operating efficiencies and employee engagement. I will gain a personal sense of achievement by Geo. Siddall Transport Ltd being awarded the Gold accreditation and has contributed to my personal development.
Visit our website and Facebook