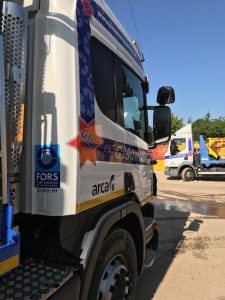 My name is James Williams, I am in my second year as FORS Compliance Manager at GJ Bowmer Waste in Brentwood Essex. Specialists in Asbestos Disposal and are one of the few companies operating in this area so we have been proudly displaying our compliance through our FORS accreditations.
Back in 2013 we had our first Bronze audit; this was something we had planned for but were still shocked at the depth the auditor investigated. It is obvious why it should be this way, but we had no idea what to expect and no one to ask. This prompted us follow the FORS standard in everything we did from then on.We have been a member of FORS Since 2013, our main client suggested we progress through Silver to Gold and to be honest we have not looked back since.
Since we gained our Bronze, utilising the funded training for our drivers and our office team we started seeing the benefits of being FORS Accredited. I decided to gain FORS Practitioner status and our Transport Manager is over half way through his own development. Combine this with the Safe Urban Driving, eLearning and the Compliance Tools on offer we quickly realised the benefit of any subcontractor of ours being FORS Accredited.
James Williams FORS Compliance Manager "we quickly realised the benefit of any subcontractor of ours being FORS Accredited"
During the past years of trading under the banner of FORS we have noticed that being FORS Accredited has supported the company in increasing its productivity, allowed us to invest in compliance, educate our staff and has increased our turnover by over 15% over the last year's results.
James Williams FORS Compliance Manager "being FORS Accredited has supported the company in increasing its productivity"
We are now in the enviable position of being accident free, reducing our PCNs by 50% and continuing to make improvements across our fuel/emission figures during 2018 continuing through 2019.
| | | | | | | | |
| --- | --- | --- | --- | --- | --- | --- | --- |
| | MPG | Incidents per 100,000 Kms | CO2 | NOx | PM10 | Number of PCNs | Proportion of fleet that uses alternative fuels |
| Year 2016 | 7.212 | 3.11 | 699.95 | 1475.06 | 26.92 | 0 | 0% |
| Year 2017 | 7.896 | 1.68 | 637.81 | 1253.72 | 22.87 | 6 | 0% |
| Year 2018 | 8.299 | 0.00 | 630.58 | 1169.21 | 22.19 | 3 | 6.6% |
| Percentage improvement | 4.86% | 168% | 1.14% | 6.75% | 2.98% | 50% | 6.6% |
Our drivers have all benefited from the programme we put in place to communicate the benefits of healthy living; we have seen a massive reduction in fatigue amongst all staff.
We are really lucky to have minimal staff turnover here at Bowmer Waste, we will always try to recruit from within, but our induction process is second to none.
All staff have been supplied with the Decibel 10 App in order to be our ears on the road so to speak, they will all carry out random risk assessments of jobs from the floor providing us detailed information.
We now have a hybrid van on our fleet, but in order to make a real difference we are continuing our relentless approach to reducing emissions by enhancing drivers knowledge.
Our aim for the next 12 months is to continue to invest in our staff, concentrate on the efficiency of the fleet and aim to utilise the technology we have recently installed to monitor our assets. We have a Hybrid Van which will hopefully will not be the last as we continue our approach to emission compliance.
We will continue to ensure that any contractor we use is operating at Bronze as a minimum, continue to promote road safety through local youth sports team sponsorships. Also, we will continue our promotion of FORS on all stationary and emails going out to clients.
To conclude, FORS has offered us the tools to reach our long-term goals, we have been able to implement strategies based on knowledge not gut feeling. We've had an amazing year and as we continue to gain more new contracts we will always keep sight of the bigger picture.
*Please note: All published FORS Gold case studies have been submitted by the accredited company named above and transcribed verbatim