Glynns skips has been trading for over 30 years in the skip hire business from our site based in North West London. Manager Jason Glynn explains how gaining FORS accreditation from Bronze, silver and onto Gold has supported the transport operation to maintain high safety standards, reduce emissions output of our fleet and helping the company to constantly develop and evolve.
we first heard of FORS 5 years ago from potential client contracts, we passed our Bronze audit first time around and quickly made preparations to gain silver accreditation in 2013 and onto Gold in 2015 which has given us the tools to work to the high standards expected within the industry.
Our next steps in gaining accreditation was to utitlise the training FORS has on offer such as the Safe Urban driving workshops where drivers gain all round knowledge of vulnerable road users and the e-learning modules where there is extensive information and helpful tips with safe driving and fuel efficient driving which I feel has helped contributed to our improved mpg.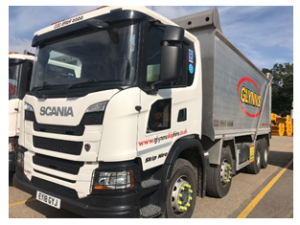 "helpful information through FORS e-learning has helped improve efficiency of the business."
 I would say the best thing about being an accredited member is the high standards that are being set encouraging us a business to move forward and evolve. We have the latest safety equipment added to our fleet including a 4 way camera systems to minimise driver blind spots which has significantly reduced near misses and collisions with other road users and street furniture when carrying out deliveries.
"FORS are setting standards in the industry promoting the use of added vehicle safety equipment that is helping to reduce collisions between HGVs and other road users."
Due to an upgraded euro 6 fleet and drivers now adopting fuel efficient driving standards, we have improved our fuel efficiency by 8 % which we aim to improve year on year. Our incident rate is down 20% through driver training and modern on-board safety systems fitted to our fleet. We have also seen a reduction in PCN fines.
MPG

Incidents

Number of PCNs

May-2016-

April-2017

9.8
5
6

May-2017-

June-2018

10.5
4

4

Percentage improvement
8%
20%

33%
We are monitoring and reviewing the health and fitness of our drivers using medical declaration forms which are issued on employment and reviewed annually thereafter. In addition, we will continue to encourage drivers to eat healthy, participate in regular fitness activities with organised sports activities and literature that we distribute to drivers that gives information on a healthy lifestyle.
Our drivers largely come from recommendation, but we are currently reviewing ways to encourage new drivers into the industry via local schools and colleges and adding a recruitment section to the website.
Although our operating centre is not in a noise sensitive area, some of the various site we deliver to can be, so we carry out toolbox talks to make drivers aware of keeping noise to an absolute minimum. Also, we are always careful in planning our deliveries to minimise disruption in the local area.
We are always looking at how technology is moving forward to meet the needs of the industry however there is not yet any alternatively fuel vehicles suitable to meet our requirements, however we have continued to invest in the latest cleaner and more fuel-efficient euro 6 vehicles that have proved a significant improvement in reducing our fuel usage and reducing harmful emissions.
We will continue to develop and evolve looking for ways to constantly improve safety standards and reduce the emissions output of the fleet by investing in the latest technology on the market.
Our comments remain much the same for the previous year and we remain proud Gold members of a scheme that supports its operators to meet the high standards expected within the industry. The business has seen significant improvements with fuel efficiency and driving standards helped along with a combination of FORS driver training and added safety features on our fleet. We will keep looking for ways to improve and develop with the ongoing assistance of FORS matching all our ambitions along the way.
You can find us on facebook by searching Glynns Skips and for more information about our business visit our website