West Coast Haulage Limited was established 20 years ago with just a small fleet of six eight-wheel tippers. With hard work, determination and excellent customer services, the company has achieved a substantial, modern fleet of state-of-the art eight Wheel Tippers. The company is based at purpose built premises at Hengoed, South Wales and is primarily a muck shifting and motorway refurbishment operator. Over the course of the past twenty years, the company's distinctive livery has become a familiar sight on the roads of the UK, especially at major road building projects such as the A465 in South Wales. Managing Director; David Sexton, son of West Coast Haulage Limited co-founder; Pat Sexton, explains how the FORS standard has assisted the company by encouraging a positive culture of compliance, change and efficiency.
There have been demonstrable reductions in carbon, NOX and particulate outputs, using the FORS standard to assist the company in its procurement processes the company embarked upon a radical fleet renewal scheme to facilitate this. FORS has enabled the company to reduce fuel consumption by over 10% in some cases. There has been a further reduction in collision frequency, particularly in urban environments thanks largely to the FORS SUD, Work Related Road Risk and Staying Legal DCPC courses, the company has also seen the elimination of PCN's issued largely as a result of improved driver training and emphasis.
We heard about the FORS standard from industry peers and then set about aligning our processes and procedures with the FORS standard and then starting our FORS journey.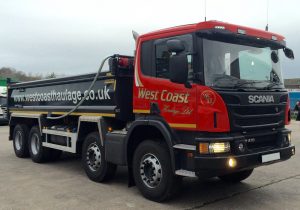 The company passed its initial bronze assessment first time round, the measures required were already in place and with additional FORS guidance we were able to build and develop and simplify these systems and make them more fit for purpose and reinforce an existing culture of safety, efficiency and compliance by promoting best practice.
As soon as we were bronze accredited we then took advantage of the FORS toolkits, training and other resources including PCN management and SUD training for all drivers and staff.
David Sexton, Managing Director explains; 'Going for the Gold accreditation shows our dedication to improving the operation of our fleet and operation as a whole. We will continue to review our policies and revise procedures in order to continue improving our annual MPG, reduce our carbon and emissions footprint as well as continuingly striving for the safety of all road users'
One of the most significant changes that the company has experienced is a cultural change in attitudes to vulnerable road users as a result of drivers and staff attending workshops, toolbox talks and safe urban driving courses. This has given rise to a smoother driving style which has resulted in a correlating improvement in fleet performance.
David Sexton; Managing Director states; 'When tendering on major contracts, our FORS accreditation shows our customers that we have the same goals as them. This gives them the assurances and peace of mind that we have the capabilities to get the job done but also ensure that we have the best possible procedures and training in place to be environmentally friendly and ensure the safety for all road and site users'.
The primary driver for the company wishing to progress through the FORS standard is to set it apart as an exemplar operator and offer a firm foundation from which to build with the Bronze standard and use the Silver and ultimately the Gold standard as clear structures from which to work.
The company primarily works on site at major road building projects away from other vehicles and parking restrictions as such the risk of conflict with other vehicles and PCN's is very low.
| | | | |
| --- | --- | --- | --- |
| | MPG | Incidents per 100,000 Kms | Number of PCNs |
| Jan-Dec 2015 | 7.97 | 0.0003 | 0 |
| Jan-Dec 2016 | 8.12 | 0.0002 | 0 |
| Percentage improvement | 0.64% | 0.00000006 | 0 |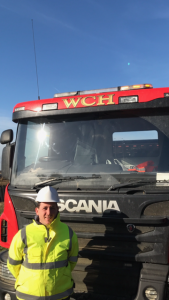 The company carries out regular Safety Critical Medicals with drivers in order to identify any underlying medical issues which could jeopardise road safety and as a vehicle to promote health and wellbeing. If a driver is found to have a safety critical medical condition then they are referred to their GP and prevented from working until the condition is under control.
We engage in a wide range of local projects to promote the sector and the industry at large ranging from attending local events, schools and colleges to job fairs with the clear aim of appealing to a broader demographic.
We have undertaken noise assessments at our Hengoed operating centre and noise levels were found to be well within permissible limits, in addition the operating centre is away from domestic dwellings. All our vehicles are the latest state of the art Scania tippers which are fitted with noise abatement equipment.
Given the nature of our operations, modal shift would be impractical on the whole, we do however assess different modes with clients at each site to determine practicality.
We are undertaking a programme of fleet renewal and we are actively considering vulnerable road user safety in our vehicle specification by adding technologies such as 360-degree cameras, side scan and nearside proximity warning systems. We are also currently assessing the suitability of low entry cabs with a view to improving vulnerable road user safety and reducing the risk of falls from height. We have recently taken delivery of a further batch of state of the art Scania tippers. Our aim is to encourage others to take advantage of the benefits that FORS can bring not only to suppliers to the muck shifting and road refurbishment industry but to all road users.
At West Coast Haulage, we have had the ambition of the company achieving the FORS Gold standard as recognition of the hard work by team members in working towards a common goal by implementing systems and procedures and consistently work towards raising the bar even higher.
Please note: All published FORS Gold case studies have been submitted by the accredited company named above and transcribed verbatim