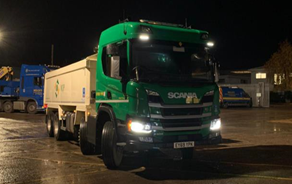 Akkaal Transport Ltd is a sub-contractor for MPQ Industries, which was first established in 2017. Akkaal Transport Ltd's main activity is transporting asphalt and aggregate materials to customers through the means of efficient and safe practices. Since joining the FORS scheme, the company has further improved on the overall efficiency of their procedures with the help and guidance of the FORS team. Tarwinder Singh, the director of Akkaal Transport Ltd explains how FORS has been beneficial to their company.
We first discovered FORS whilst travelling to one of our delivery locations. We saw that vehicles similar to ours had FORS badges stuck to them, and so we decided to do some further research on the matter. During our research, we discovered what the FORS Scheme was about and how having an accreditation with FORS would benefit us. This prompted us to join the scheme and start working towards a Bronze accreditation
Akkaal Transport Ltd passed their initial Bronze audit first time round with ease due to the clear direction and advice provided by FORS in order to achieve a Bronze accreditation. By implementing the procedures needed to acquire a Bronze accreditation with FORS, this showed us how straightforward it was to operate a more efficient and organised business. From here we were encouraged to start working towards a Silver accreditation with FORS to see how we could further improve ourselves.
Once we were Bronze we decided that we should progress to Silver on the basis of the evidence improvement we had made implementing the Bronze procedures in our business. One aspect of the FORS scheme we made a lot of use of was the FORS toolkits. In particular, the Congestion toolkit which has helped us reduce our overall time spent in traffic, therefore helping us lower our fuel usage and emission output levels.
Once we became both bronze and silver accredited, we have continued to make use of the benefits which FORS has to offer. One benefit in particular, being the FORS e-learning option on the FORS website. Having our drivers and managers complete the relevant e- learning modules has improved the overall driving efficiency and managing performance within the business.
'The FORS toolkits have been very informative and easy to relay onto our drivers,' – Tarwinder Singh

'Having the FORS e-learning option has made driver training more accessible and regular which has improved our drivers driving standard overall.' – Tarwinder Singh.
Performance data – Since becoming a member of FORS within the last two years our fuel consumption KMPL has increased by 2.84%. Please note this year we have added two extra vehicles within our fleet, hence why there has been an increase in the number of CO2, Nox and PM.
| | | | | | | | |
| --- | --- | --- | --- | --- | --- | --- | --- |
| | KMPL | Incidents per 100,000 kms | CO2 | NOx | PM10 | Number of PCNs | Proportion of fleet that uses alternative fuels |
| Year 17-18 | 2.47 | 0 | 86.9 | 183.1 | 3.3 | 0 | % |
| Year 18-19 | 2.54 | 0 | 147.1 | 310.3 | 5.7 | 0 | 0% |
| Percentage improvement | 2.84% | 0% | 69% | 69% | 72% | 0% | 0% |
At Akkaal Transport Ltd, we have drivers complete a health questionnaire prior to official employment to ensure that they are fit for work. If there are any medical concerns, we will refer the driver to a GP for further consultation. Moreover, we require drivers to keep us updated on any health changes, and also ask that drivers take part in regular eye checks.
When recruiting at Akkaal Transport Ltd, we do not discriminate against drivers with no previous tipper driver experience. As we offer a two week training plan prior to official employment, this allows new drivers to the field to adjust to their new work environment safely and under supervision. This process also allows us the recruiters to determine whether the trainee is suitable for the job role.
After reading up on the FORS Anti-Idling toolkit, by implementing the anti-idling techniques, we have reduced our overall noise pollution levels and emission output by teaching our drivers to switch off their engine when idle in traffic. Moreover, the FORS Quiet Equipment Guide has successfully informed us of what equipment we can use to reduce our vehicles noise pollution.
Currently, the most environmentally beneficial vehicle suitable for our mode of work is a tipper truck with a Euro Six engine built in which is known for producing low amounts of NOx. However, we are aware of the developments being made in the electrically powered vehicle industry and will continue to stay updated to see when a suitable electric vehicle will be available for our mode of work.
In order to make continual fleet improvements, as mentioned previously we will continue our search for alternative vehicles which are more environmentally friendly and appropriate for our mode of work. We will also continue working on our driver and manager training by regularly completing the relevant FORS e-learning modules and approved courses.
We actively promote FORS by displaying the FORS logo on our vehicles and on our company letterheads. Furthermore, we actively promote FORS to fellow hauliers and inform them of how the FORS practices have benefited us as a business and fleet.
To conclude, by having Akkaal Transport Ltd become FORS Gold accredited, it would show our contractors and customers that we are operating at our most efficient and safe level when delivering a service. Moreover, it would also reassure our drivers that their improved working standard has not gone unnoticed which will encourage them to continue working at a gold level standard.
*Please note: All published FORS Gold case studies have been submitted by the accredited company named above and transcribed verbatim