ALCO Plant Hire Ltd are based in Kent and have been supplying low loaders and heavy haulage throughout the UK for over 45 years. Our location in the centre of the county is ideal for the Home Counties and Central London. Our fleet of low loaders range from rigid plant bodied 32 tonne trucks through to 44 tonne articulated vehicles and special types of heavy haulage up to 200 tonnes. Neil Yates, Managing Director, explains how ALCO Plant Hire have achieved huge reductions in fuel use, CO2, NOx and particulate matter emissions through FORS.
"We came across FORS as a contractual requirement to deliver plant and equipment for multiple customers on the London Underground project known as Crossrail and the latest project Tideway".
"In April 2014, we completed our initial Bronze audit, with minor changes that helped towards the running of the company and assisted towards the tender with companies to which we supply transport, who require the FORS membership.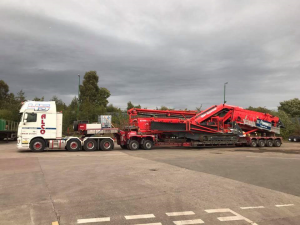 Once we received the Bronze FORS membership we implemented the use of the Driver Licence checking system which proved a useful system. In addition, we took advantage of the fuel telematics system for the results of MPG, fuel usage, NOx, Particulate matter and the CO2 data from the fleet of vehicles we run, which has also helped us implement changes that we needed to enforce"
John Darvell, Quality manager has taken the step towards becoming a FORS practitioner for the company. This will improve the knowledge and training available to the company and improve business
FORS workshops have been a practical way of both improving our knowledge and learning from others… we have implemented driving licence checking, recording camera systems, anti-idle policy's and seen improvements in fuel costs and reduced insurance premiums
Neil Yates – Managing Director wished to progress from bronze through silver and onto gold which we achieved gold in 2016. This was to help secure additional contracts and business which may require the highest standards of FORS. Continued gold standards ensures our customers are getting the best service available.
| | | | |
| --- | --- | --- | --- |
| | MPG | Incidents per 100,000 Kms | Number of PCNs |
| April 2014-March 2015 | 7.498 | 4.88 | 15 |
| April 2015-March 2016 | 7.855 | 3.76 | 9 |
| April 2016–March 2017 | 7.985 | 3.11 | 6 |
| Percentage improvement | 6.49% | 36.27% | 60% |
*Annual improvement in MPG and Incidents per 100,000 Kms
Driver health and fitness review – All drivers must declare any medical conditions that may affect their ability to drive, this is to minimise the risk of incidents as a result of underlying health problems
Strategy for recruiting drivers – recruitment for new drivers is usually from a recommendation from existing drivers or from applications in person. We have not needed to use recruitment agencies for new staff.
Noise assessment – our fleet is all the latest suitable vehicles available at the moment and our drivers keep loading and unloading noise to a minimum.
Modal shift and alternative vehicles – we have considered alternative powered vehicles, however, there are none suitable for our industry at the moment, our business is moving machines from one road location to another which are moved via specialist low loaders, therefore, modal shift is not possible either.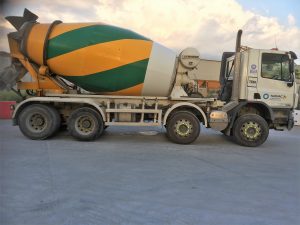 Our improvements since becoming a Silver member is a replacement program of vehicles to Euro 6 emissions standard. Except for only two vehicles all our fleet is already Euro 6 compliant and additional replacement vehicles are due in September 2017.
Becoming FORS Gold means to us that we have achieved a standard that is the highest possible. This gives our customer base reassurance they will receive the highest level of service
Social media and websites are currently under construction.
Please note: All published FORS Gold case studies have been submitted by the accredited company named above and transcribed verbatim