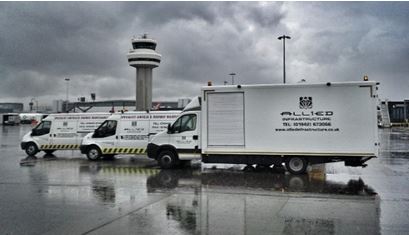 Allied Infrastructure Management Ltd based in Leigh Greater Manchester operates on all of the UK and Ireland's civil and military airfields undertaking all aspects of airside and landside airport infrastructure maintenance, as well as a number of Highways England and highway maintenance contracts, regularly providing specialist maintenance and support services to main contractors. We have a highly experienced management team and a directly employed experienced and multi-skilled workforce.
In 2016 it became a requirement for Allied to become FORS Bronze Accredited by London City & Heathrow Airports to allow the company to continue to take vehicles  airside  for  works  and  material  deliveries.
Daniel Jones (Transport Manager) was responsible for bringing the mixed fleet of 61 vehicles and drivers to within the scope of FORS Bronze. Allied had to ensure the FORS Bronze accreditation was attained within eight months to be able to continue their contracted services.
By incorporating the FORS standard into many of the company's policies and procedures and the use of the supplied FORS toolkits and training materials Allied have achieved a reduction in fuel use, CO2 emissions, lowered NOx and particulate matter emissions improved their road safety record and decreased transport-related fines and charges.
We became aware of FORS through the requirement at Heathrow and London City Airport. We realised it would help us to achieve best practice and would benefit the Company by reducing fuel consumption, improving road safety and enhancing standards across the Company.
Allied passed their Bronze audit first time around due to the Company already having in place comprehensive environmental and safety policies. With Silver, the requirements of the standard changed part way through the audit process, so a second assessment was required. We took advantage of all supplied toolbox talks to ensure that all of our drivers fully understand what is required of them and how their actions can affect the Company. The audit process was straightforward.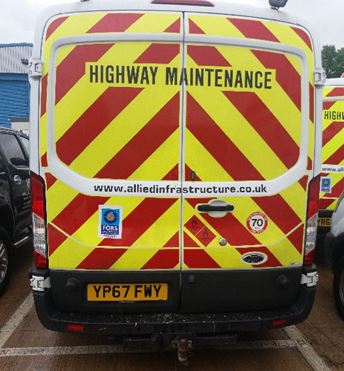 On attaining Bronze accreditation, Allied utilised the benefits on offer, in particular, the practitioner workshops, toolbox talks, Safe Urban Driving (SUD) courses and E-learning from the FORS website. We also have regular managerial meetings to discuss our fuel usage, and in 2018, we changed Fuel Card provider to a FORS aligned company so that we could make more savings (Fuel Card Services).
"There was pride throughout the Company as the FORS Stickers were put upon the vehicles in November 2016. We are wearing our hard earned FORS badges with pride." – Paul Hancock, Operations Director.
All our vehicles over 3.5 ton are fitted with an audible turn left alarm, Class IV, V, VI Mirrors, flashing beacons on the roof of the cabs and cycle safety stickers. All our drivers have completed the Safer Urban Driving course; we used the FORS network of training providers and safety equipment providers to save money. All of our drivers have also completed the FORS E-Learning modules.
"We understand how to meet our Driving at Work requirements and have put into place the policies, procedures and risk assessments necessary to meet the FORS Bronze Standard V3.3." – Daniel Jones, Transport Manager, November 2016.
As a Company, we operate all over the UK, but many of our contracts are based in the London area, i.e. Heathrow Airport, Gatwick Airport etc. We have found that many clients are now requesting that we have at least the FORS Bronze standard and now some clients are asking for us to have FORS Gold standard. Once we had achieved Bronze accreditation, we decided to aim for Silver accreditation as we felt we were already doing everything that was required for the progression. On attaining the Silver standard, we have decided for best practice to seek Gold accreditation as we know going forwards some of our Clients will require it from us.
Section 7 – Quantify your improvements
MPG LGV
Incidents per
Number of PCNs

July    2017     to

June 2018

26
5
70

July    2018     to

June 2019

24
5
56
Percentage improvement
-6%
0%
39%
Driver health and fitness review – All Company's drivers/operatives undergo driving medical surveillance and a safety-critical medical As part of this process, all drivers/operatives complete a comprehensive drivers health questionnaire every three years even though the FORS Standard recommends this every five years. It is a requirement and referenced in the Employee Handbook, which also forms part of our contracts of employment that it is employee's responsibility to inform the company immediately if they develop any medical conditions or are prescribed any medication that might affect their ability to drive. Once the employee has informed the company, we refer the matter to our Occupational Health provider to ascertain whether there are likely to be any side effects from the medication and what precautions or driving restrictions need to put in place. Before restrictions are lifted a further medical review/guidance would be carried out and a letter obtained by the employee's consultant/doctor confirming fitness for work and driving. Following this, there may be the need for further medical review.
Strategy for recruiting drivers – As we as a company and do not deal with freight and are a specialist contractor providing maintenance services. However, when advertising we state we are FORS accredited and that employees are required to comply with FORS standards in the course of their duties.
The Allied Infrastructure headquarters are based on an industrial estate surrounded by fields, and we operate on Airports or private construction We enforce a "no idle policy" where possible, and we have a policy of no horn use after 11 pm.
We have considered the viability of using electric powered vans and the benefits associated with them; however, currently, we feel that there is not enough support on the road network for the required charging for electric vehicles and the maintenance support required in the event of a breakdown. The availability and cost of these vehicles have also been a negative All of our vehicles that are over 3.5 tones are specialist custom-built vehicles, and we are unable to replace these with Electric or Hybrid options.
Section 8 – What are your plans for the future?
By incorporating the FORS standard into many of our company policies and procedures, we have now achieved reductions in fuel use, improved our road safety record, decreased transport-related fines and charges. We are more focused on driver behaviour and by continually monitoring and training our drivers will enable the company to operate in a safe and environmentally efficient way.
We regularly communicate with our staff on driving-related issues and matters by producing safety alerts and updates in a visual as well as a descriptive format. As a Company, we are looking adopting an internal training programme through our parent company on Safer Attitudes in Driving which will commence in 2019.
Section 9 – Concluding Paragraph
Achieving FORS Bronze, Silver and Gold Accreditation shows how dedicated we are as a Company to improving road safety and the safety of all vulnerable road users in the London area as well as nationally. We will continuously use what FORS has taught us to help reduce our carbon footprint and make our drivers safer on the roads for themselves and other users.
Section 10 – Daniel Jones www.linkedin.com/in/daniel-jones-955bb35b
*Please note: All published FORS Gold case studies have been submitted by the accredited company named above and transcribed verbatim