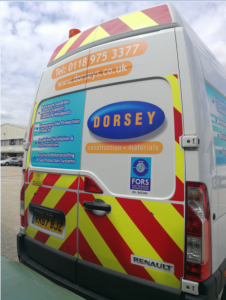 Section 1 – Introduction
Dorsey Construction Materials Ltd is an award winning, specialist construction materials supplier based in Reading.  We have been established for over 30 years, supplying for many of the leading housebuilders and brickwork contractors including all of the top 10 UK housebuilders.
Our experience has focused our business on meeting the specific and most important needs of our customers.  Our delivery service has been the backbone of our success and Howard Bird, the MD looks to demonstrate how adopting the FORS standard at the heart of our operations has resulted in a wide range of improvements throughout the whole business.
'we have gained a wealth of experience and knowledge by implementing the FORS standard and use it to ensure our customer's expectations are met,' explains Tony Davies our Transport Manager.
Section 2 – How did you hear about FORS, what prompted the company to join and how long have you been a member?
We first came across FORS in 2013, when we were asked to supply a major development for Berkeley Homes but were required to have the bronze accreditation.  We had never heard of it before so this was a little bit of a shock and we did not want to lose one of our biggest customers.  Upon reviewing the requirements, it was clear that by adhering to it we could significantly raise our standard and the transport department could become a much more professional, safe and well managed area of the business.  Since then it has formed the basis of our transport policy, allowing us to measure improvement in all aspects of our transport operations.
We have continued our journey and achieved silver and now want to continue to demonstrate that we are a forward thinking and reputable company.
Section 3 – What was your experience of the initial FORS Bronze audit?
Our first bronze audit was a somewhat daunting experience.  We had worked very hard to create all the documentation required and worked with the staff throughout the previous year to ensure we could fully evidence our compliance.  We had some points that required attention but with some guidance from FORS, we were able to address the weaker areas and were very proud to subsequently be awarded the accreditation.
Section 4 – What was your main reason(s) for you progressing (either from Bronze to Silver and then Silver to Gold or straight from Bronze to Gold)?
As a company we are always looking at how we can improve.  From day one, there was no doubt that we would want to progress to gold.  It's just what we do as a business.
When we passed our initial bronze assessment first time around, we were also given a few little pointers on best practice going forward. We decided to proceed to silver as we already had everything in place that was needed.
We take compliance and safety very seriously so passing the Bronze audit swiftly gave us the confidence to proceed through to the Silver Accreditation. Keen to distinguish ourselves from our competition, we immediately began work to achieve this goal and wanted to achieve Gold too. FORS provides us with the training and tools that have continued to impact on our business improving our policies and procedures.
'FORS has helped us achieve compliance and safety' – Tony Davies Transport Manager
Section 5 – Explain how you have made use of the benefits FORS provides? Quantify savings where possible
The initial FORS Bronze assessment was very thorough and encouraged us to use the benefits on offer through FORS.  In particular, the website has many great benefits, CPC training/Practitioner workshops etc.  Tony Davies, our Transport Manager is working towards achieving FORS Practitioner status which is great for his professional development and gives some structure to his career development.
The performance management toolkit really helped us set our targets for reducing our carbon footprint and improving our MPG. FORS has also helped us get much more organised both in terms of having really clear and well communicated policies and documentation as well has how we collate and file all our transport related information.
 'We operate in a very competitive sector.   Having the FORS accreditation opens doors to new business opportunities and ensures our continued involvement in many major construction projects.' – Howard Bird, Managing Director
We use the FORS training materials and toolkits to the full, with all drivers undergoing regular training and toolbox talks.  The training provided has seen improved driver reporting of damage to our vehicles. FORS continues to provide us with tools that enable us to continuously progress our Transport Management System and focus on performance monitoring and best practice.   All our drivers have also completed multiple FORS E-Learning modules.
 'The company has made significant changes to its operation with a focus on safety and the environment. This has been achieved using the FORS management tools and training aids.' Tony Davies, Transport Manager
Section 6 – What improvements have you made?
FORS has also provided the structure within which we have introduced a driver's health and fitness check list, driving licence check from the DVLA and driver's working hours recording. In addition, it has prompted us to introduce a strategy for recruiting drivers and transport staff and to appoint a FORS Practitioner to manage and monitor fuel consumption and road risk.
By incorporating the FORS standard into many of the company's policies and procedures and the use of the FORS toolkits and training materials we have achieved a reduction in fuel use, CO2 emissions, lowered NOx even though we have increased the size or our fleet.  We have improved our road safety record and decreased transport-related fines and charges.
Our Progression data Table shows how much we have improved through last 24 month, even though between April 2017 and March 2018 we were going from 8 to 11 vans we still had less incidents, charges and fuel use comparing to year after running with 11 vans all the way through.  By incorporating FORS standard, training our drivers and giving more awareness to our whole transport department, we are saving on Fuel and helping to lower our emissions.
| | | | | | |
| --- | --- | --- | --- | --- | --- |
| | Fuel Usage |  CO2 |  NOx | Incidents in traffic | Penalty Charges |
| Aug 2017 – July 2018 | 62,989 | 137.91 | 84.94 | 5 | 5 |
| Aug 2018 – July 2019 | 54,103 | 118.45 | 86.52 | 3 | 2 |
| Percentage improvement | 14% | 14% | 0 | 66% | 60% |
Recruitment of drivers – Our drivers are largely recommended to us, as are we to them, however we have reviewed other options in recruiting new drivers into the industry via local schools, colleges and we are currently looking into a new website which will incorporate a recruitment section encouraging new drivers to join the business.   When advertising to recruit new drivers, we state we are FORS accredited and that employees are required to comply with FORS standards in the course of their duties.
Driver health and fitness review – We communicate our 'Driver Health and Safety Policy' to all drivers to ensure they are aware of any condition which may impair their driving. We have implemented a 'Driver Health Questionnaire' which we ask drivers to complete every six months. We also carry out driver eye sight checks every three months.  We do toolbox talks about how to keep safe and also about diseases that are considered hazardous when driving.  It is a requirement and referenced in the Employee Handbook, which also forms part of our contracts of employment that it is employee's responsibility to inform the company immediately if they develop any medical conditions or are prescribed any medication that might affect their ability to drive. Once the employee has informed the company, we refer the matter to our Occupational Health provider to ascertain whether there are likely to be any side effects from the medication and what precautions or driving restrictions need to put in place. Before restrictions are lifted a further medical review/guidance would be carried out and a letter obtained by the employee's consultant/doctor confirming fitness for work and driving. Following this, there may be the need for further medical review.
Noise Assessment – Operating from a busy industrial estate, noise pollution is not problematic in the area. We understand our responsibilities to the wider community and educate our drivers in how they can reduce noise.  By following FORS rules and using anti-idling toolkit we have made a significant decrease in noise pollution within our company. Furthermore, by implementing the technique learned from the anti-idling toolkit, we are saving on fuel expenses due to improve efficiency.
Section 7 – What are your plans for the future?
We are always reviewing new and alternative fuel technology however, currently there is currently nothing suitable to meet our needs.
We will take advantage of the FORS LoCity driver training module to improve our sustainability. We are confident with the combination of high-quality vehicles and well-trained drivers, our company's reputation for safety in all aspects of our business will be enhanced.
FORS promoting more sustainable ways of operating not only our fleet but our business, we aim to reduce the impact our activities have on the environment and in particular we will encourage more staff to travel to work by public transport or by walking or cycling.
Section 8 – What evidence do you have of positively promoting FORS at requirement G7?
Having now attained both the Bronze and Silver accreditation, being able to display the FORS Logo on our vehicles, as part of our signature under our emails and website identifies us to the public and potential clients as a company that takes its responsibility in health and safety very seriously and denotes where we are in the market place with regard to our health and safety standards.
FORS continues to be a driving force within our business. we have better auditing on our fuel usage and Collison data.
Section 9 –What FORS Gold accreditation means for your organisation/to you?
As a business we are always seeking to be the best version of ourselves we can possibly be.  This is something we work on everyday internally but having our achievements recognised by respected organisations is a terrific way for us to have this work formally acknowledged.   This creates a wonderful sense of pride and achievement for our staff and drives further improvement.
Last year we won "Best Independent Merchant " at the BMF awards and the buzz this created was incredible.   The gold accreditation will be a similar great achievement to celebrate with our staff and with our clients. It is a tangible demonstration to all who see our fleet in action that we care about our people, the public who are impacted by our operations and the quality of the local environment in which we deliver our services. It will also be a huge moral boost and recognition for our drivers, especially that their hard work and training has reaped a Gold accreditation.
Section 10 – (Optional) Please provide your social media contact details so we can follow your organisation
http://linkedin.com/company/dorsey-construction-materials-ltd
*Please note: All published FORS Gold case studies have been submitted by the accredited company named above and transcribed verbatim