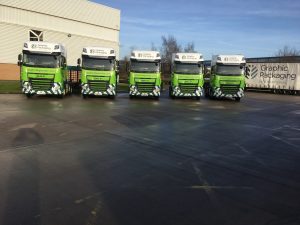 Section 1 – Introduction
Graphic Packaging International Ltd is an award winning, Global FMCG manufacturer with 12 converting sites across Europe, serving three business areas: Beverage, Convenience and Consumer Products and is the Carton Industry leaders in Packaging, Design and Innovation.
Our focus is meeting our customer needs of timed loads by operating our fleet to solely carry Graphic Packaging goods around the country, from our two depots at Bardon in Leicestershire, and Gateshead in the North East.
Section 2 – How did you hear about FORS, what prompted the company to join and how long have you been a member?
We first became aware of FORS at the Commercial Vehicle show in 2015, the more we looked into it, the more we could see where it could benefit us as a company, by allowing us to measure any improvements and monitor the whole transport operation going forward in General.
Section 3 – What was your experience of the initial FORS Bronze audit?
Our initial Bronze audit was a stressful time making sure all the relevant evidence was documented. There were points that needed addressing, but with guidance from FORS we managed to gain our Bronze accreditation.
Section 4 – What was your main reason(s) for you progressing (either from Bronze to Silver and then Silver to Gold or straight from Bronze to Gold)?
As a company it just seemed a natural progression as we keep striving to better ourselves. All the vehicle had the relevant equipment fitted, and the data we had accumulated meant  that it would have been a shame not to try and improve on what we had already achieved.
After the intensity of the initial FORS Bronze audit we realised that the benefits offered by FORS could have a positive impact for us in certain areas. Toolbox talks, the website is very informative, and we have also had on site training in workshops 2,5,7 and 8 which we found very rewarding and useful, as a department it has helped us with our carbon footprint reduction target and the training out of our own policies now has more structure.
The FORS Gold standard is where we want to be as an organisation, it has installed pride in our drivers and relates to our customers and the public that we want to take our role as a transport operator to the next level. Ian Widdowson Group Warehouse and Distribution Manager.

The whole idea in attempting to attain FORS Gold is to rigorously test and improve not only our policies and procedures but our overall operation in general. Wayne Murby Group Compliance Manager.
Section 6 – What improvements have you made?
These shall include:
Performance data – Use data provided for FORS requirements S2 and G2. See example below for table (data can be presented in different table format if you prefer)
MPG

Incidents per 100,000 Kms

CO2

NOx

PM10

Number of PCNs
Proportion of fleet that uses alternative fuels

May 2016-

May2017

9.76
4.1
1990.74
4074.87
74.35
3
0

May 2017-

May 2018

9.45
3.57
2173.00
4580.21
81.78
2
0

May 2018-

May 2019

10.74
1.5
1677.78
4504.78
67.41
2
0
Percentage improvement
13%
38%
29%
1.6%
21%
0
0
Driver health and fitness review – provide details of how your company is actively implementing appropriate measures in place to minimise the risk of incidents as a result of underlying health problems or diagnosis of a condition
The company regularly has Occupational therapists come to site.
The company also offers free eyesight tests in the form of Specsavers vouchers.
We also keep our drivers weekly average to 42 hours per week.
Recruitment of drivers – provide information about your strategy to engage in industry initiatives to encourage new drivers into the industry and how your strategy has helped
At Graphic Packaging we have a very solid basis of loyal drivers which means we rarely have to recruit, however, we have, in the past, and is something that we will continue to champion is our warehouse to wheels scheme. This offers members of our warehouse staff to take their HGV at the company's expense and to be trained and then mentored by one of our experienced drivers.
When we do need to recruit from outside it is mostly by word of mouth, when interviews are conducted it is stated that we are a FORS accredited company and that employees are required to comply with FORS standards at all times in the course of their duties.
Noise assessment – elaborate on measures taken to reduce noise pollution during driving, parking, loading or unloading, servicing or vehicle washing which is relevant to the vehicle type, load and sector
All of our vehicles whether loading or unloading have to have the keys removed from the ignition, the vehicles also cut out after 4 minutes ticking over to reduce noise and pollution. Reversing bleepers are reduced in volume when the vehicles have there lights on to reduce noise pollution in hours of darkness. All vehicles are serviced off site
Modal shift and alternative vehicles – how have you attempted to move part or all of your consignment from road to an alternative transport mode or used electric or alternatively-fuelled/powered vehicles within your fleet
It is not really an option for us to explore alternative transport modes as we are delivering from factory to factory goods which are part of the food supply chain, however we continue to adopt a greener fleet and are constantly looking for new initiatives to improve further.
Section 7 – What are your plans for the future?
We are always looking to improve our operation and our fleet efficiency, our fleet is all Euro 6 we continue to update the vehicles,  50% of the fleet has been replaced in the last 12 months with the rest planned to be replaced in the next 18 months, this is having an extremely positive impact on our mpg and emissions. Which has been recognised with a gold award (certificate attached) from Masternaut who track our vehicle emissions. The next aim is to gain the DVSA accreditation for Gained Recognition.
 Section 8 – What evidence do you have of positively promoting FORS at requirement G7?
Having gained Bronze and Silver we display the signage on all our vehicles and trailers. The certificates are displayed in all our reception areas. The FORS logo appears on our group management reports which can be seen in G7 along with the letter headed paper.
Section 9 –What FORS Gold accredition means for your organisation/to you?
FORS Gold would mean an immense sense of pride to the business, the company is an award winning company and thrives on its successes. To be able to display the Gold award on the vehicles would show that we are committed to our values and continue to better ourselves.
Section 10 – (Optional) Please provide your social media contact details so we can follow your organisation
Graphic packaging (@ Graphicpkg-EUR)/ Twitter
Section 11 – FORS members' feedback questionnaire
Please could you take the time to complete a short questionnaire and provide feedback about FORS. Please note all answers you provide will be strictly confidential and will only be used by FORS to help us to improve the scheme. To access the survey, please click the link here: https://www.snapsurveys.com/wh/s.asp?k=153908006313
*Please note: All published FORS Gold case studies have been submitted by the accredited company named above and transcribed verbatim