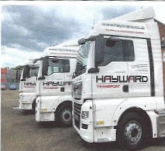 Based in Walsall, J Hayward and Sons of Walsall Ltd is a family run business that has grown from years of combined experience operating in the general haulage and container sectors. Compliance Manager, Neil Radford explains how the company has made significant steps in improving fleet efficiency and through the continued support of FORS, making way to improving road safety standards.
"I was first made aware of the FORS scheme through companies that had already gained accreditation and was informed of the support FORS offered. We knew the company would benefit from being part of the scheme.
We passed our first bronze audit in 2011 which set a benchmark. The auditor was helpful and offered support, advice and guidance that assisted us towards further accreditation.
Having gained Bronze, we set to making use of the tools FORS has to offer, especially the online management tools which have been a success in adjusting and improving transport management systems in order to meet further FORS accreditation. The e-learning and classroom-based training courses are excellent, especially Safe Urban Driving (SUD), and LoCity. Having become an in house FORS Professional Training Provider, we now save each time we deliver a course.
"Implementing FORS systems via staff training and management tools has supported the business as an efficient and safe operator." Sean Hayward, Managing Director.

"FORS are setting standards in the industry with additional useful training that helps us to maintain high safety standards". Neil Radford, Compliance Manager.
With a mixed fleet and varying operations make a standard kpl difficult to calculate. However, through a number of initiatives, such as upgrading vehicles, identifying specific work, using data taken from telematics, having ones to ones with drivers on driving standards and behaviour and providing remedial training, the programme has improved fuel efficiency year on year by 2.43%. The next focus is on Road Traffic Collisions (RTC) and with the support of training and vehicle safety equipment we are targeting a 50% reduction by this time in 2020.
| | | | | | | |
| --- | --- | --- | --- | --- | --- | --- |
| | KPL | Incidents per 100,000 Kms | CO2 | NOx | Number of PCNs | Proportion of fleet that uses alternative fuels |
| Nov 17 – Oct 19 | 2.88 | 1.47 |  6214.59 |  7675.39 |  10 | 0 |
| Nov 18 – Oct 19 | 2.95 | 1.48 |  4954.76 |  5978.78 | 7 | 0 |
| Percentage improvement | 2.43% | 0.68% |  20.27% |  22.10% | 30% |  0 |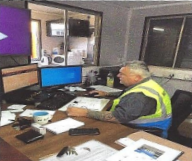 We monitor and review the health and fitness of our drivers using an external examiner and then by completing an in-house medical declaration form which is revisited every 6 months. A cycle shed has been constructed in Walsall encouraging drivers to cycle to work to improve fitness levels and reduce vehicle use. Drivers are able to use the bikes purchased for SUD training to see if cycling is a viable form of transport for them.
Our drivers largely come from recommendations, but we are currently reviewing ways to encourage new drivers into the industry via schools and colleges, and in particular through Defence Relationship Management, we are looking to sign up to the Armed Forces Covenant and are in the process of adding a recruitment section to the company website.
As a result of progression, we have looked at and recorded the noise we make and where there is potential to reduce it. Apart from purchasing the latest vehicles, the equipment we use doesn't offer much opportunity, so we have focused on the driver. We have issued a Noise Code of Conduct that informs the driver what and what not they must adhere to when on site.
Looking to the future, we look at technology and how it is moving forward, however, as yet the move to alternatively fuelled vehicles is a step away for us. We continue to invest in the latest cleaner and more fuel-efficient euro 6 vehicles that have seen an improvement in reducing our fuel usage and reducing harmful emissions.
We now positively promote FORS by speaking to the suppliers we use, where we can, we only use ones that are FORS accredited or have make a commitment to be FORS compliant. All our vehicles have FORS livery on them.
"J Hayward and Sons of Walsall Limited is proud to be a member of the FORS scheme that continues to support its operators to maintain the high standards that are expected in the industry. Gaining Gold accreditation will further build on the reputation of the company as a high-quality operator". Sean Hayward, Managing Director.
You can find us at: http://jhayward.co.uk
*Please note: All published FORS Gold case studies have been submitted by the accredited company named above and transcribed verbatim