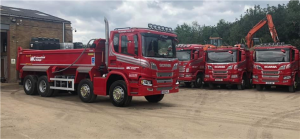 Established in 2011 by myself, Michael O'Donnell, MC International Haulage Ltd, based in Ashford Middlesex, is a fast growing supplier of Road Plainings, Aggregates, Top Soil, Recycled Materials and Muck Away services to the construction industry. In remaining committed to supplying our clients with an efficient, economic and environmentally aware service we aim to do so whilst maintaining an equal, friendly and safe working environment for our staff.
MC International Haulage Ltd heard about the FORS standard following discussions with clients and industry contacts. The company whilst confident with their systems in place then set about aligning its policies and procedures with the FORS standard. By keeping compliant with the FORS standard the safety aspect of our operations has greatly increased. With the future in mind we were then comfortable in our ability to demonstrate that we could manage and maintain yet at the same time allow the company to evolve and grow in stature.
The initial bronze audit was passed at the first attempt although I have to admit it was a quite daunting experience having someone audit our operational procedures. The measures required were developed and with additional FORS guidance MC International Haulage Ltd was able to enhance systems in place and develop strategies for the future and reinforce an existing culture of compliance and safety.
Once we were Bronze we decided that we should progress to Silver because we wanted to further improve safety, efficiency and our company profile. We first became Silver accredited in March 2016 and now feel the time is right to further improve our company profile by achieving FORS Gold, which will demonstrate our capability of operating to the highest standards of safety, efficiency and environmental awareness.
MC International Haulage Ltd has taken a pragmatic approach to its fleet renewal programme which has resulted in a tangible reduction in emission outputs. Using the FORS standard to assist the company in its procurement processes the company embarked upon a gradual fleet renewal scheme to facilitate this. I believe that in acknowledging the FORS standard it has enabled the company to reduce fuel consumption by considerable margins. There has also been a reduction in collision and the amount of PCN's issued, thanks to the utilisation of the vast array of road risk related toolkits, driver training, Practitioner Workshops and eLearning modules made available by FORS.
Director, Michael O'Donnell – "Adhering to the FORS Standard has seen operational improvements across the many factors of our operation in turn raising our company profile".

TM Assistant, Gemma Gill – "The utilisation of the vast array of toolbox talks, toolkits and training that FORS have made available has definitely raised driver standards".
MC International Haulage Ltd fleet size has risen by 150% over the last four years whereby we currently operate a whole fleet of, more efficient, Euro VI vehicles which now return far more favourable efficiency figures as demonstrated in the table below.
| | | | | | | | |
| --- | --- | --- | --- | --- | --- | --- | --- |
| | MPG | Incidents per 100,000 Kms | CO2 | NOx | PM10 | Number of PCNs | Proportion of fleet that uses alternative fuels |
| 2017 | 6.95 | 0.69 | 311.53 | 644.71 | 11.76 | 2 | 0% |
| 2018 | 7.03 | 0.60 | 516.13 | 544.01 | 9.52 | 3 | 0% |
| 2019 | 7.63 | 0.16 | 597.91 | 679.46 | 11.96 | 1 | 0% |
| Percentage improvement | 9.8% | 76.8% | 23.3% | 42.1% | 49.6% | 67% | 0% |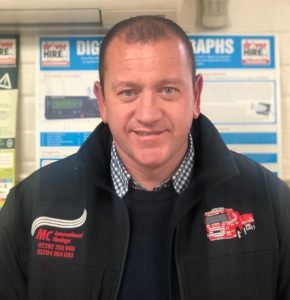 All drivers are regularly checked for their health and fitness. Upon starting employment all drivers sign a medical declaration form and complete an eyesight check at induction, which helps to determine or identify any ongoing health, fitness or eyesight issues. This is followed up periodically or after any reported incident or near miss report. Any driver returning from sick leave is asked to sign another medical declaration confirming that their health circumstances have not changed. It is also stated in the drivers handbook that if they start taking medication prescribed by their GP, or over the counter drugs, the company has to be informed at the earliest opportunity.
As part of our long term recruitment strategy MC International Haulage Ltd have attended local events, schools, colleges and job fairs with the aim of appealing to a broader demographic. Having said that the recruitment of drivers has not been a problem in recent times with applicants approaching us having heard of a possible vacancy through either, word of mouth within the industry or, a response to one of our various advertisements on social media.
Our operating centre is situated in the middle of industrial estate by choice. Consequently our operation has little or no adverse environmental effects on local communities. Nevertheless noise assessments are regularly carried out at our operating centre so that noise levels are maintained to an acceptable level and do not impact other businesses located within the industrial estate. All drivers are issued with ear protection as part of their PPE and vehicles are fitted with the latest noise abatement equipment.
Due to the nature of our operations in servicing various construction and infrastructure projects modal shift is presently impractical. We do however assess different modes with clients at each site to determine practicality or possible alternatives on a case by case basis.
MC International Haulage Ltd's current policy on vehicle renewal sees vehicle efficiency and the awareness of vulnerable road users very much to the forefront of our specification process. Newest additions to the fleet have the added safety feature of a window in the lower half of the near side door giving the driver as much help as possible regards eliminating the blind spot.
MC International Haulage Ltd actively encourages customers, suppliers and other companies from within the industry to take advantage of the benefits that FORS can bring, by advertising the brand in a variety of ways. As well as sending FORS promotional letters our website, letterheads, email signatures and vehicles all display the FORS logo.
It is imperative that we maintain our momentum raising the bar higher year on year at MC International Haulage Ltd, by maintaining, exceeding and promoting the FORS Standard with a common collective goal across all aspects of our operation. We would be delighted to achieve Gold accreditation and look forward to continuing our FORS association for many more years.
Website: https://mcinternationalhaulage.com/
*Please note: All published FORS Gold case studies have been submitted by the accredited company named above and transcribed verbatim