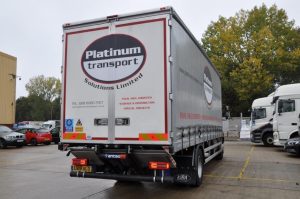 1 – Platinum Transport Solutions was founded in 2001 to offer fast and dedicated same-day transport and logistical solutions to companies throughout the UK. In the early days our fleet was modest, but we soon encountered a huge increase in demand for our services. We believe that this was a result of our honest and extremely reliable approach, our ability to put the customer at ease, and the simple fact that we are very good at what we do! I am Joe Tait Managing Director of Platinum Transport Solutions Ltd.
2 – Platinum first became aware of FORS when one of our clients asked if we were FORS Accredited.  We quickly realised that the FORS ethos resonated with us and our commitment to a safer industry and we took steps to become an accredited company.
3 – The lead up to our first Bronze audit was concerning as we didn't know what to expect, but there was no need to be worried.  The auditor was courteous, fair and very knowledgeable and put us at ease. The report gave us pointers on where we could improve and gave us encouragement showing us how far we had come.
4 – When we were confident with the requirements of Bronze, we felt that we were ready to prove that we were fit for Silver.  Achieving FORS Silver gave all our staff a massive boost especially being a small company. This year, we are aiming to maintain our high standards and more, with re-accreditation to Gold Standard.
5 – As soon as we became Bronze accredited, we started to use the Performance Management Toolkit.  This really helped to spot trends in fuel consumption within our fleet and sparked thoughts of how we could reduce our impact to the environment.
"There was no need to be worried, the auditor was courteous, fair and very knowledgeable and put us at ease" Joe Tait – Managing Director.
Access to the FORS Toolbox Talks have been invaluable!  The talks have formed the backbone of our continuous development programme and we have seen a real improvement in driver engagement.  Our drivers feel valued because we are investing in their safety and improving standards across the board. It's a Win Win situation for all.
"Our drivers feel valued because we are investing in their safety and improving standards across the board" Joe Tait – Managing Director
6 – Our first year figures showed an initial 3-month period, with a large percentage increase covering the calculated 12 months.  We expect to see accurate figures on our next submission. The increase in PCNs is not wholly unexpected due to the location of some of our new clients.
MPG
Incidents per 100,000 Kms
Number of PCNs
Jun-Aug 2018
6.62
0.00176
3
Year 1
8.41
0.00063
4
Year 2
12.45
0.00000316
7
Percentage improvement

Yr 1: 27.03%

Yr 2: 48.04%

Yr 1: 64.20% reduction

Yr 2: 50.00% reduction

33% increase

75% increase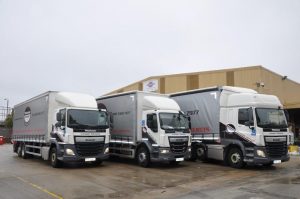 *Annual improvement in MPG and Incidents per 100,000 Kms
We have put in place bi-annual Health & Medical declarations that include regular 6 monthly eyesight checks and we conduct random, drugs and alcohol testing. This has enabled us to actively support any driver who requires it. All drivers completed a 7 hour Driver CPC module on Driver Wellbeing in September 2019.
It is the policy of Platinum Transport to actively recruit new drivers from industry apprentice schemes wherever possible. We will employ people that show the right aptitude and keenness for the work that we conduct during the application/interview stage of the recruitment process and in turn will train drivers to meet the company's high standards of professionalism.
A RoSPA qualified (Gold standard) Driver Trainer/Compliance Manager has been brought into the business to improve driving standards, recruitment, induction, training and compliance.
Our vehicle operation is based in an industrial area with no disruption to any local residents. Company operations are mainly conducted within normal working hours, with all out of hour services controlled (e.g motorway trunking to industrial hubs or non-residential areas). We operate a fleet of Euro 6 vehicles with noise suppressed engines and ancillaries and have in place a Noise around vehicles Risk assessment controlling the potential of hearing damage.
We provide same day, next day and a scheduled delivery service covering both specialised and general haulage services. As we rely on our customers asking us to deliver to various locations across the whole country, we never know where we are going until they need us. Therefore, we can't afford to try and move anything via barge or train as we collect and deliver anywhere in the country. So, using road transport is the most cost-effective way of moving our clients' goods.
This mode also gives our clients best value for money.
Our Euro 6 compliant vehicles in the fleet have risen from 75% to 100%. We have looked at electric and bio-fuel alternatives, but the lack of infrastructure and initial costs associated indicates that this is not currently an option. Having recently reviewed these alternatives, we have found that the cost and lack of infrastructure is still proving to be prohibitive.
7 – The introduction of our Driver Trainer to the operation should see us continue to improve our fuel economy. This should also allow us to show a substantial reduction in unnecessary idling time. With continued driver training and education, we are aiming keep our Parking fines and Charges to an absolute minimum.
We will continuously use what FORS has taught us to help reduce our carbon footprint and make the roads so safer for everyone that uses them.
Our future planning includes additional Euro 6 vehicles being added to the fleet (1st Quarter 2020), on the road driver training to further promote SAFED, investigating the introduction of occupational health checks on all staff and further preparation for DVS.
Preparations are already underway for the new Direct Vision Standards due in 2020
8 – We continue to promote the FORS Standards via Linkedin, Twitter and our website.
https://platinumtransport.co.uk/                      https://twitter.com/platinumtransol https://www.linkedin.com/company/platinum-transport-solutions-ltd/about/
9 – Maintaining our FORS Gold Accreditation will show that we are dedicated to improving road safety, reducing our impact to the environment and protecting the safety of all vulnerable road users. It allows us a company to set a benchmark to operate safely, efficiently and be an employer of choice.
10 – https://twitter.com/platinumtransol
11 – FORS members' feedback questionnaire completed and submitted 04/01/20
*Please note: All published FORS Gold case studies have been submitted by the accredited company named above and transcribed verbatim