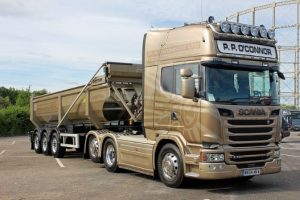 Section 1 – Introduction
P.P. O'Connor, based in Trafford Park, Manchester, specialise in civil engineering, bulk earthworks, remediation, complex demolition and deconstruction, sustainable disposal and aggregate supply along with minor construction works.  Their mixed fleet of rigid vehicles fitted with tipper bodies, sweepers and semi-trailers are used to service their construction and demolition works.  Sally Littler, HSEQ Coordinator, reviews the Golden Road case study originally submitted in 2017 and highlights the significant improvements through FORS and the impacts made with relocating the business from Irlam to Trafford Park.
Section 2 – How did you hear about FORS, what prompted the company to join and how long have you been a member?
P. O'Connor were first awarded the FORS Bronze membership in 2015 which followed with the Silver in 2016 and the Gold in 2017. The company continues to focus on improvements to their fleet, road safety and the environment and are proud to be holders of the Gold accreditation. They continue to meet contractual obligations and to working with the FORS standards as a guide in best practice.
Section 3 – What was your experience of the initial FORS Bronze audit?
P. O'Connor passed their last Bronze audit in 2018 where it was suggested that a few minor actions be taken with regards to adding details to their Defect Check List. This was actioned and closed out in the timeframe permitted.
Preparations are currently in place for the next audit due in March 2020 with current practices and procedures working well for the business and in line with FORS Standard V5.
Section 4 – What was your main reason(s) for you progressing (either from Bronze to Silver and then Silver to Gold or straight from Bronze to Gold)?
FORS have enabled the business to appoint their first FORS Practitioner, Portia Reece, who has completed all her training workshops in 2019 to qualify.
Portia, FORS Practitioner, states "being a FORS Practitioner and Champion means I am able to offer my Transport Team guidance on the FORS standards and help promote FORS through our bid process to meet client requirements". 
In October 2019, the business relocated its premises and daily operations to Trafford Park in Manchester.  This has enabled them to increase their on-site maintenance facilities; install environmentally friendly washing facilities with an underground attenuation tank supplying water; install new fuel and Adblue pumps and be more accessible for staff to utilise the Manchester public transport systems.
With the new premises being more centralised to current working contracts, the initial statistics show that fleet mileage is being reduced and this will continue to be reviewed, along with fuel consumption and CO2 etc., over the next 12 months.
Section 6 – What improvements have you made?
| | | | | | | | |
| --- | --- | --- | --- | --- | --- | --- | --- |
| Performance data | MPG | Incidents per 100,000 Kms | CO2 | NOx | PM10 | Number of PCNs | Proportion of fleet that uses alternative fuels |
| 2016 | 7.3 | 0.28 | 3914.00 | 8166.0 | 149.0 | 9 | 0% |
| 2019 | 7.6 | 0.73 | 2993.80 | 3387.8 | 59.64 | 7 | 0% |
| Percentage improvement | 4.1% | 160.7% | -23.5% | -58.5% | -60% | -22.2% | 0% |
Driver health and fitness continues to be reviewed and promoted. With the latest statistics of HGV drivers being 20% more likely to take their own life than the average UK population, we are actively promoting our Employee Support Service and Mates In Mind.  Over the next 12 months we aim to have our own trained Mental Health First Aider.
In their strategy for the recruitment of drivers, P. P. O'Connor featured in an RHA article and on the BBC News to promote the opportunities for young drivers.
As soon as she turned 18, Lauren went about getting her class two HGV licence. This dedication to driving was kick started by her dad.
"My dad's a machine driver, so he got me into it from day one really. I just like machines, so I thought I'd have a go at it.  I'm just grateful for the chance they've given me. I'm dedicated to them, whatever they want me to do, I'll do it, because they've given me a chance". Lauren.
Looking back, Lauren feels a great amount of gratitude towards P.P. O'Connor for taking a chance on her after she got her HGV licence. For her, it's helped to promote a sense of dedication to the firm.
Ryan passed his class one in October 2018. Now driving an articulated lorry, he finds himself moving around materials in tipper trailers, ejector trailers and skip trailers.  Like Lauren, driving runs in Ryan's family.  As a child, he joined his dad on trips across the United Kingdom. Following in his father's footsteps, Ryan knew he wanted to be out on the road.
"It's not for everyone to be sat behind a desk, you know you could earn good money doing that. I just wanted to be out". Ryan.

"For P.P O'Connor to take the time and interest in employing younger people, I see that as leading from the front, it's refreshing."  Rachel Binns, RHA Area Manager for the Northwest.
P. O'Connor have participated in local school career days to actively promote driving roles and the available routes into HGV driving. They have also producing careers advice leaflets.
Noise assessments continue to be carried out to ensure P. P. O'Connor maintain suitable levels in their working environments. New assessments have been carried out at the new premises in Trafford Park and will be reviewed on a quarterly basis.  Levels recorded at the first assessments were shown to be an improvement on the previous location.
Vehicles are parked up overnight at the Trafford Park premises, a location now in an industrial area rather than a residential area (Irlam), thus causing less noise disturbance, less idling and less traffic congestion.
Drivers no longer rev engines and switch off when waiting to load/unload.
Modal shift and alternative vehicles – As the mode of work still requires P. P. O'Connor to transport aggregate materials, their vehicles must have a PTO system and an insulated body. Currently there is no other more environmentally friendly vehicle suited for their mode of work and all vehicles currently use the Euro VI engine.
Section 7 – What are your plans for the future?
P. O'Connor aim to continuously use the FORS materials, training and advice to assist them in lowering their carbon footprint and making the roads safer for all road users and pedestrians.
They will also continue to update their fleet to ensure they maintain the best standards possible.
Section 8 – What evidence do you have of positively promoting FORS at requirement G7?
P. O'Connor purchased a subsidiary company last year and are proud to have helped them achieve their first FORS Bronze accreditation. They will continue to support them with working towards their Silver accreditation this year.
FORS has been actively promoted on P. P. O'Connor vehicles, website, email signatures, Twitter and on advertising literature.
Section 9 –What FORS Gold accredition means for your organisation/to you?
FORS Gold accreditation confirms to our customers and clients that they can offer health, safety, environmental and quality at a premium level, of which they continue to be proud of.
Section 10 – (Optional) Please provide your social media contact details so we can follow your organisation
Web:   www.ppoconnor.co.uk
Twitter: PP_OConnor
Section 11 – FORS members' feedback questionnaire
Please could you take the time to complete a short questionnaire and provide feedback about FORS. Please note all answers you provide will be strictly confidential and will only be used by FORS to help us to improve the scheme. To access the survey, please click the link here: https://www.snapsurveys.com/wh/s.asp?k=153908006313
*Please note: All published FORS Gold case studies have been submitted by the accredited company named above and transcribed verbatim