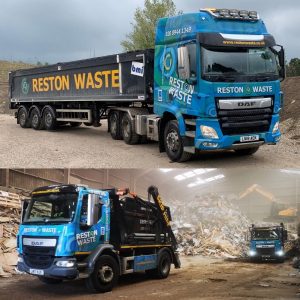 Reston Waste Management Limited (RWML) is a family run business established in 2001. An expanding fleet of now 34 vehicles with a range between 7 ½ tonne to 10 tonne rubbish clearance vehicles, skips lorries, 8wheel RoRos and articulated lorries. With our operating centre in Wimbledon SW19, we have found ourselves being able to undertake work within the London M25.
We came across FORS back in 2014 when tendering for some new contracts in Central London. After looking into the requirements and benefits of joining the scheme it was not a hard decision to make to look to join. It was clear to see it fitted perfectly with our company's core beliefs on both safety and environmental impacts.
We take compliance and safety very seriously, we achieved both our bronze and silver accreditation first time round. FORS has helped us to achieve best practice with the training both online and workshops available to improve our policies and procedures.
All of our drivers complete the safe urban driving workshop and complete e-learning modules. We have found the FORS toolbox talks extremely helpful in delivering additional training. Not only has it helped with driver training we have also used is to monitor and in turn decrease our transport related fines, lowered our fuel usage and emissions
Initially we were content with being Bronze but had already identified that some of the requirements for FORS Silver were in place, especially vehicle safety equipment and Safe Urban Driver Training. We decided to make preparations to go for silver as it became evident that the industry was requesting FORS Silver as the benchmark. The company gained FORS Silver in March 2017.
Once accredited, we really made the most of the benefits on offer. RWML appointed myself, Harriett Bloomfield-Reston to take charge of our company's accreditation and I'm currently working towards becoming FORS Practitioner. This has enabled me to focus on and gain a better understanding of the measures required to ensure continued compliance with FORS. Being in the waste industry the majority of our fleet are heavy good vehicles and knowing that hgv's are far too often involved in collisions involving VRU. The FORS workshops and eLearning modules are an excellent and practical way to increase our drivers' awareness of the vulnerability of other road users. A prime example of this being the SUD workshop available through FORS. As a company we have ensured all of our drivers, not just those driving HGV's, are put onto the safe urban driving workshop.
'Health and safety of my drivers and the public is of the upmost importance to not only Reston Waste but to myself as the director of the company. Obtaining and maintaining fors accreditation puts my mind at ease that we are as a company complying with best practice outlined throughout FORS.' Sharon Reston, Company Director.

"Being the companies Transport manager and working towards becoming a FORS practitioner the additional driver training FORS has enabled me to provide my drivers is invaluable" Harriett Bloomfield-Reston – TM:
| | | | | | | | |
| --- | --- | --- | --- | --- | --- | --- | --- |
| | MPG | Incidents per 100,000 Kms | CO2 | NOx | PM10 | Number of PCNs | Number of Vehicles |
| 2017-2018 | 6.43 | 2.21 | 615.61 | 990.53 | 14.82 | 4 | 24 |
| 2018-2019 | 6.77 | 1.71 | 1322.31 | 2239.62 | 33.51 | 6 | 37 |
| Percentage difference (to 1 dec place) | 5.3% | -22.6% | 114.8% | 126.1% | 126.1% | 50% | 54.2% |
We monitor all driver's health by issuing an annual health questionnaire, we also conduct and keep records of eyesight checks at 6-month intervals on all members of staff that could potentially drive any company vehicle on the public highway.
At present we have an advert running online with Indeed.co.uk. We have recently developed a recruitment policy which outlines our commitment to employing both qualified and unqualified drivers who we will train into the role of a HGV driver. All of our drivers understand how noise pollution can impact on members of the public and the work force. This has been achieved by updating our policies, procedures and conducting noise assessments and also adding noise suppression equipment to our vehicles and also the chains.
We've looked at alternatively fuelled vehicles but due to our operation, the marketplace isn't ready yet, but we will keep up to date and make sure we are best placed for when suitable vehicles are available.
Here at RWML we look to renew our vehicles every three years, due to this our whole fleet is already ULEZ compliant and has been for some time. By continuing to renew our fleet every three years we are ensuring our vehicles have the latest emission technology subsequently reducing our carbon footprint. The ultimate aim is to be able to grow our fleet. The combination of a high-quality fleet and ensuring we take full advantage of the FORS workshops and e-learning modules available enabling us to have well-trained drivers will help sustain our first call reputation.
Reston waste actively positively promote FORS through social media updates on our company Facebook, Instagram and twitter page. All emails and letter heads have our FORS silver logo on along with our id number. All of our vehicles have at least two of our FORS logos on. We have also teamed up with local publicity and promotions ltd to be part of a community fire prevention + safety educational posters which went to all school, hospitals and library's in our local area included on this poster is our FORS logo.
Achieving Gold would give all at Reston Waste Management Limited a real sense of accomplishment. It would demonstrate to our customers that we are at the gold standard and will help prove just how serious we take fleet operations. Achieving gold will also give us leverage when tendering for new sites in and around the capital.
*Please note: All published FORS Gold case studies have been submitted by the accredited company named above and transcribed verbatim