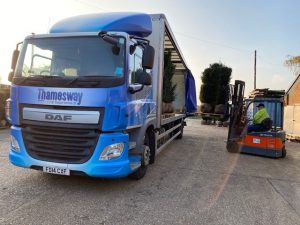 Thamesway Transport Services Ltd was formed in 2010. The operating centre is at Manor farm, shellbank, lane, green street green, Dartford. The company runs a mixed fleet of lorries and vans. We provided a consolidated load service as well as a bespoke specialist delivery service for our valued customers. The office is run by a dedicated team of professional personnel who support the transport team
With the company expansion more and more customers were requiring deliveries to construction sites. These construction sites were requesting FORS accreditation. We became Bronze accredited in the summer of 2013.
FORS introduced a new way of looking at the business with the initial Bronze on compliance, policy and procedures. The initial bronze audit was challenging but a worthwhile experience. We have grown as FORS has grown over the years to see the benefits of clear policy, procedure and training. The company benefits through the development of our drivers and staff
The progression to silver helped the company focus on the safe and efficient running of our fleet. Fuel management, blind spot minimisation and road risk. We opted to have additional in-cab cameras for the larger fleet. Being a FORS member has provided a selling point when promoting our business. Thamesway transport has chosen to progress to Gold to help the business develop a strategy for alternative fuelled vehicles. Helping us with our fleet replacement policy focusing on reducing our environmental impact through the reduction of emissions.
We have used the resources provided by FORS to develop our staff. This has provided additional efficiencies with the team being involved in the health of the business. The toolbox talks available have given excellent guidance to the drivers, providing them with a greater understanding of their roles and responsibilities.
Ian Dent, Managing Director, says: `The company has made significant changes to its operation with a focus on safety and the environment. This has been achieved using the FORS management tools and training aids.'

Peter Smith, Operations Director, says: `With the continued investment in driver training and better fuel monitoring. We have control of this important environmental and business element. Which keeps us heading towards peak performance.'
We found the FORS standard confirmed a way of working that promotes safety and efficiency. We could see the benefits of monitoring our business and developing our drivers. We have been FORS members for several years and have used this time to develop our understanding of our business using the FORS progression route and have applied for the Gold accreditation. We are using the standard to improve the working environment in combating unnecessary noise and the reduction in emissions.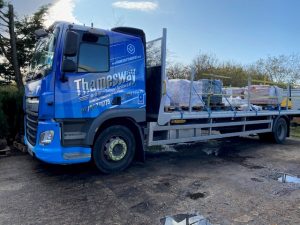 Since we achieved Silver earlier in the year we have been focused on the improvement of our performance. This has led to changes in the fleet. We are not able to run a comparison on the Silver data against the Gold data as the Silver was for three months. We have also been in a transition period of changing the fleet. This has seen a reduction in the van fleet and an increase in the HGV fleet. Two of the changes have happened in the last six months. The number of reported Traffic incidents damage only have increased slightly since our baseline quarter of one to an average of 1.75 per quarter in the 12-month period. However, three of the incidents claimed by the third party were never pursued by the third party.
We had 9 PCN recorded in the three-month submission and have had 18 PCN's in the 12 months submission. While this is an increase from our baseline submission total, overall it is a significant reduction. The baseline submission had 9 recorded incidents in a quarter. Some of this is due to the increased workload and new locations in the London area. The current 18 equates to a 50% reduction per quarter with an average of 4.5 PCN's per quarter. However, there is still room for improvement.
| | | | | | | | |
| --- | --- | --- | --- | --- | --- | --- | --- |
| | KML | Incidents per 100,000 Kms | CO2 | NOx | PM10 | Number of PCNs | Proportion of fleet that uses alternative fuels |
| Year 1 Vans | 11.26 | 0 | 14.7425 | 80.6347 | 1.3597 | 8 | 0% |
| Year 1 HGV | 5.65 | 1 | 15.1431 | 60.4131 | 0.9042 | 1 | 0% |
| Year 2 Vans | 8.79 | 2 | 59.2746 | 32.1136 | 0.3834 | 9 | 0% |
| Year 2 HGV | 4.19 | 3 | 74.5026 | 220.4834 | 3.2998 | 9 | 0% |
| Percentage improvement | 0% | 0% | 0% | 0% | 0% | 0% | 0% |
We see driver health as an integral part of our drive towards peak performance and the ongoing monitoring of drivers has helped to identify conditions that can be addressed at the earliest opportunity. This supports the drivers in being proactive towards their own health.
We view our business as a family with everyone working together. We have a clear strategy for recruitment of new drivers. This includes a referral scheme, advertising on a recruitment website and our own. We advertise at the operating centre to reach out to drivers visiting the centre and passers-by. We are always looking for ways to encourage new drivers into our industry and try to forge connections with local development companies and colleges.
The Company strives to ensure that an environment is maintained by minimising the adverse impact of noise. We are currently working towards our Silver renewal and will be reviewing the noise level generated by the fleet and associated work activities.
Thamesway Transport Services Ltd have reviewed our fleet operation for Sustainable operations. We are always looking for ways to improve the efficiency of our transport operation. Our primary role is within the construction industry and this makes it very difficult to move loads via any other means other than road. We have investigated the market with the Locity vehicle finder to see if there are any suitable alternative fuelled vehicles. The alternative fuel market is evolving, and we will continue to investigate opportunities that will help us develop a lower emission fleet.
Looking to the future, our aim is to maintain the FORS standard and continue to promote best practice. We will use the FORS updates and tools to investigate alternative fuelled vehicles and low entry vehicles to improve direct vision and to promote the safety of vulnerable road users. We plan to achieve and maintain Gold which will demonstrate our commitment to the health and wellbeing of our staff and provide a strong commitment to reducing our environmental impact while producing a sustainable service to our customers.
Thamesway Transport Services Ltd promote FORS in many ways. We have created a brochure to promote the business and our FORS membership. Our emails have our FORS ID on the footer so that, when we communicate with business, they can see that we are FORS accredited and our vehicles have the FORS Silver identity logo. To further promote FORS we have communicated with our suppliers and contacted Kent police to see if we can support Exchanging places or any of their vulnerable road user promotions.
FORS Gold will identify us as a company that is dedicated to improving road safety for vulnerable road users and drivers. We will continue to use the FORS toolkits to help reduce our carbon footprint. Gaining Gold accreditation will strengthen the reputation of the business helping us to improve the ever-evolving operation.
You can find out more about us on our website
www.thameswaytransport.co.uk
*Please note: All published FORS Gold case studies have been submitted by the accredited company named above and transcribed verbatim