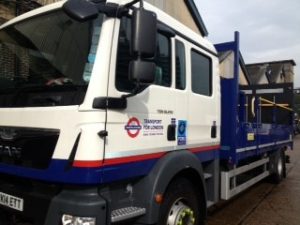 Introduction – Tube Lines is a London-based wholly owned subsidiary of TFL responsible for, maintaining, renewing and upgrading the London underground Network; with a substantial fleet of 933 vehicles, and a Haulage fleet of 30 LGV's. Kevin King Haulage and Compliance Manager explain's how FORS has spearheaded the implementation of initiatives to help improve the efficiency of operations within the company. Improvement in fuel utilisation and safety mechanisms on the vehicles are most evident through the FORS process. We want to lead from the front, acting as an example to all other London companies that FORS Gold is achievable.
We are based in Acton, West London supporting the TFL umbrella by supplying vehicles to deliver/collect train parts, lost property/mail and waste collections across London Underground. Twenty six vans have been added to the department's accreditation, this has changed the mileage report but we have not seen a drastic increase in fines or accidents. We manage the FORS process and by using the FORS documentation have introduced a strategy on all thirty trucks ensuring they meet the WRRR requirements; these include ten dustcarts, eight have low level entry cabs. They have bi folding doors and the other new vehicles have glass windows fitted to the nearside to enhance the drivers all round vision. They all have four way cameras with recording systems; turn left devices and side run bars. All have the latest tracking devices which are used for route planning by the transport planners. The 26 vans are fitted with tracking devices and forward facing cameras. After achieving Gold status last year we have continued to review all the requirements, this means analysing the data on fuel, fines and accidents, continually training the staff and reviewing best practice. By monitoring and investigating all these areas on a regular basis we were able to ensure our standards have stayed at the high level that is required to achieve gold.
Over the past year we have continued to train our drivers, completing the required e-learning programmes through FORS. Drivers have complete cycling e learning, the compulsory standard CPC courses; the Safe Urban Driving course, Van smart and various E learning including cycling, van smart and security and counter terrorism which has refreshed their awareness of cyclists on the road and vehicle security whilst continuing to do their other mandatory training. All the staff are assessed by a trained competent person which has seen an improvement in their skills, knowledge and awareness, the result of this has seen a reduction in fuel consumption, accidents and fines.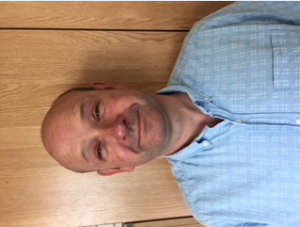 We have continued to review Penalty Charge Notice's and any Night Lorry infringements. All the routes are planned, providing them with valid information about restricted parking however, if a fine is received; the individual at fault has to pay. The enforcement of this has led to an increased awareness from the drivers. We also have a more proficient recording system since achieving silver and gold awards which has allowed us to monitor and take action; it allows us to filter out recurrent events, offenders and hotspots, whilst making drivers take more responsibility for their actions. The overall emissions foot print cannot be compared to last year due to the reduction of LGV's and introduction of the vans however the vans are euro 6 and 3 are hydrogen/electric powered which will affect the NOx and particulates.
The new challenge for this year has been the introduction of the low emission standard for the congestion charge area and ensuring our trucks do not go through this zone, to achieve this we have hired three euro 6 trucks and sold five old noncompliant ones.
Section2 – Tube Lines was a founder member in the original working group that put together the FORS accreditation programme in 2008 and was awarded Bronze status.
We have renewed our Gold status five times and have used this to help monitor our policies and standards using the FORS criteria as a guide.
Section 3 – We passed the bronze audit first time, this showed us how important it is to keep accurate records, keep policies up to speed and continually review practices. This also encourages us to put in place a training package for our staff to meet the changing demands of the transport industry.
Section 4 – The main reason for the department to achieve Gold is to lead from the front, improve driver's awareness of driving in and around London and show other departments and companies it's possible to achieve this.
The second reason as part of our accreditation it was realised that not only the drivers but the office team should be trained, by attending the courses offered and attending the working groups and completing the e learning it has enhanced their transport knowledge.
Section 5 – One key benefit which has helped improve the company has been the introduction of four way cameras with recording on the LGV's and forward facing one in the vans, this has helped the drivers and the company when investigating accidents and incidents, the footage has helped with a crash for cash claim and improved our insurance process.
Phillippe Perez LGV driving assessors states – When I carry out assessments, these new tools have helped the driver's vision, observations, helping them to observe other Vulnerable road users. I also go through the e learning and make sure the drivers complete the cycling, anti-terrorism and one other e learning course to ensure compliance and awareness.
I explain to the drivers how the mirrors, passenger side glass door and cameras can help him and that there is CCTV system to aid him and the company when involved in incidents accidents or any false accusations.
Natalie Grant  – Haulage and compliance administrator – Having been on the training to gain my FORS practitioners qualification and one day operators training it has given me a better understanding of transport requirements and legislation.
Section 6 –
| | | | | | | | |
| --- | --- | --- | --- | --- | --- | --- | --- |
| | Kilometres | Incidents per 100,000 Kms | Number of PCNs | CO2 | Nox | PM | Alternative vehicles |
| Aug – July 2017 | 368437 | 39 | 35 | 732.2 | 1543.26 | 28.16 | 0 |
| Aug – July 2018 | 501165 | 45 | 35 | 604.06 | 1296.95 | 28.5 | 0 |
| Aug – July 2019 | 914935 | 46 | 65 | 662.21 | 1341.16 | 36.03 | 3 |
| Percentage improvement | 45.22% | 2.17% | 46.15% | 8.78% | 3.29% | 20.89% | 94.60% |
 Quantify your improvements
The annual mileage has increased due to having the 26 vans being included for a full year, however the number of incidents and PCN's have reduce, this show the training and staff awareness has helped in this reduction.
This is a positive indication showing that the staff are more aware of the requirements around London.
Driver health and fitness review – Tube Lines carry out medicals for all new starters, periodic staff assessments and fitness to work with our own Occupational health department to ensure drivers are fit, eye sight tests are carried out every six months as part of FORS. We have a strong drug and alcohol policy and staff are tested on an adhoc basis.
Strategy for recruiting drivers – Tube Lines strategy is to promote within the department and train van drivers to LGV drivers positions, we have a plan to train two to three per year which has been achieved again this year.
Noise assessment – Tube Lines have a strong noise policy and review this and remind staff through tool box talks, vehicles are fitted with night heaters to stop idling at night, secondary batteries are fitted to allow operation of the tail lifts without the engine running for loading and unloading and anti-idling devices are fitted on some vehicles which means the engine will cut off after ten minutes. All vehicles are washed at our depot where we have contained drainage.
Modal shift and alternative vehicles – We have a full time employee reviewing environmental options and impacts to the business this includes alternative fuels, we have introduced six Hydrogen vans, three are used by the Haulage department. The Waste is removed from within the underground this is brought out by rail and then moved by road to dedicated tipping sites.
Section 7 – Tube Lines future plan is to continue to replace the fleet with the latest available technology, where possible purchase of low level cabs, we will be looking at alternative fuelled vehicles that are in the market place and introducing bio diesel which will help with the CO2, NOx and particulate matter. We will make sure any new companies we deal with are FORS accredited and all new contracts across the business have a requirement to be silver accredited.
Section 8 – Evidence for promoting FORS – There is a requirement in the company vehicle policy for all areas of the business to be operating at the FORS silver standard. We are currently working with four areas of the business assisting them to become FORS accredited.  Our policy states –
As provider of public transport services, Transport for London promotes the use of public and active transport e.g. walking, cycling by its employees, wherever possible, when they are travelling to and from work and whilst at work in the course of Transport for London's day-to-day business.
However, there are some aspects of Transport for London work where the use of road vehicles is necessary, and in these circumstances, the company policy is to provide appropriate vehicles to approved drivers. Company vehicles are provided strictly for business use only. This document sets out that policy in detail.
This Vehicle Strategy provides the framework through which Transport for London will ensure the following objectives are supported:
Compliance with all health and safety obligations for employees and the public
Delivery of the Mayor's Transport Strategy, Mayor's Climate Change and Energy Strategy and Mayor's Air Quality Strategy
Cost Control & Fleet Reduction with associated cost benefits
Provide leadership in 'best practice' vehicle procurement policy.
Fully compliant with the Silver Fleet Operator Recognition Scheme (FORS) standard and TfL's Work Related Road Risk (WRRR) requirements.
Section 9 – Tube Lines already have Gold accreditation the goal will be to maintain that and continue to develop the staff, the policies and processes, reviewing these to meet the developing accreditation and business needs.
Section 10 – I am on Linkedin.
Section 11 – FORS member feedback questionnaire. Please can you take the time to complete a short questionnaire and provide feedback on FORS. Please note all answers you provide will be strictly confidential and will be used to help us to improve FORS.
*Please note: All published FORS Gold case studies have been submitted by the accredited company named above and transcribed verbatim