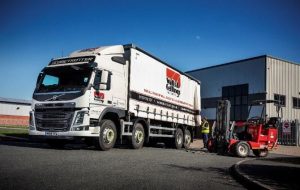 Walls & Ceilings International Limited established in 1981, provide a specialist distribution service to the building and construction industry.
With a wide range of products held in stock within our 25,000 sq. ft. Head office facility in Warwickshire, we can supply the smallest to the largest of projects.
We offer a nationwide delivery service to domestic or commercial addresses with our unique off load facility, which supported by our own private fleet of commercial vehicles, give us full logistical control from the point of manufacture through to delivery to site.
With our experience and knowledge, we offer support and advice to overcome the day-to-day challenges our customers meet during their installations. We pride ourselves on being the experts in our field enabling us to supply a vast range of products for most project environments.
Quality is at the core of our business and dealing with leading manufacturers, who have state of the art facilities and are innovators to the industry, we can assist with valued engineering for your individual projects.
Julian Workman, Director says that as a business "Walls & Ceilings" always adopt a professional approach to their business, especially in securing a safe working environment in which its employees, in particular those who operate the transport division of the business carry out their roles factoring in all of the risks included in road driving.
As a business, we first became aware of FORS when we were denied access to one of our new sites in London.
We quickly realised the benefits of working to FORS standards, which would also be an advantage to other parts of the business, from the health and safety of our employees to meeting our environmental targets.
As a leading distributor to the building and construction industry, we carry out deliveries nationwide with over 40% of our customer base having their deliveries directly into London.
We became FORS approved in 2016 after successfully passing our initial Bronze audit first time, which indicated that our current processes met the criteria required by the accreditation.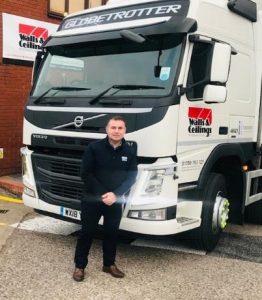 Once accredited, we really made the most of the benefits on offer, in particular FORS Fleet Management System (FORS FMS)/FORS Practitioner workshops/FORS Driver Licence Checking Service, FORS Vehicle Graphic Service, FORS Associates offers and discounts.
Being part of the FORS scheme has given us the drive to keep improving our processes and policies. We have taken advantage of the benefits on offer, in particular the performance management tools, driver CPC training, practitioner workshops and e learning.
Lee Birch, Logistics Manager described the workshops and e-learning as"beneficial, practical and rewarding".
We can confidently say as a business, that the FORS workshops have been a practical way of improving our knowledge and experience.
From the success we had experienced by being FORS Bronze accredited, we made the commercial decision of applying for FORS Silver. In August 2018, we achieved Silver accreditation, which has resulted in expanding our fleet of vehicles, increased workload and the employment of more staff.
New vehicles added to our fleet all come fitted with the required safety features needed to improve the safety of both the driver and vulnerable road users; an area FORS have made significant improvements in with training and awareness.
During 2018, we made it our aim to ensure 100% of our driving force attended three FORS driving trainer workshop courses, which we achieved and feel the company have benefited in a reduction in own-fault claims from 35% in 2017 to 22% in 2018. With more FORS driver training booked for 2019, we are aiming to reduce this by a further 15% in 2019.
As a company, we have focused more on vulnerable road users with 100% of our drivers attending the FORS Safe Urban Driver Training workshop, which has also help reduce the number of PCN's we have received reducing from 18% in 2017 to 9% in 2018.
With more training of our drivers, we feel as a company we have benefited with our staff feeling intrinsic within their roles and this has solely been from using the tools available through FORS.
We have updated our company induction process for new drivers by implementing the FORS Safe Urban Driver Training workshop and completion of the FORS e-learning programmes. As a company we are also ensuring our workforce are fit and healthy by the introduction of a company Health Scheme which allows our staff free health checks and other personal health benefits.
Our recruitment strategy has been adapted for drivers, as we now look to work with our own staff offering them the opportunity to receive training and investment into their progression to become a HGV driver.
Lee Watson, New Driver commented "I have worked for the company for two years as a transit van driver and just passed my Class 2 HGV licence thanks to the investment and opportunity given to me from Walls & Ceilings".
Our business has a continued plan to invest into modernising our fleet of vehicles to ensure compliancy at all levels.
Working with the FORS scheme has developed our knowledge and changed our strategy for the purchase of new vehicles.
The Performance data provided by FORS allows us to make the right choices as we continue on our journey with FORS.
MPG
Incidents per 100,000 Kms
Number of PCNs
April 16 – Mar 17
6.53
6
10
April 17 – Mar 18
5.75
4
6
April 18 – Mar 19
6.16
2
4
Percentage improvement 17/18 – 18/19

7.13%

Compared to previous 12 months

50%

Compared to previous 12 months

33.3%

Compared to previous 12 months
We get all of our drivers to complete a comprehensive Medical Declaration on an annual basis, even though the FORS Standard states once every 5 years. It is also mentioned in our company drives handbook that if they at any point in time start suffering from any medical condition start taking medication from either over the counter or GP prescribed. We will then investigate further to see if they are fit for work so they are not a risk to the company or road user.
We have one operating centre based in an industrial area and we use it for parking our Lorries. We only deliver between 7.30am and 5.00pm and do not deliver during unsociable hours so we are reducing our noise impact. Our Lorries in general only generate noise when idling during our daily vehicle pre-use inspections. All of our Lorries have white noise reversing alarms fitted. Walls & Ceilings International Limited do have a 'noise at work policy, which detail the measures of loading and unloading and how to deuce our impact.
Our vehicles carry building products to/from construction sites across the UK. Our customers rely on us to deliver to various construction sites, we never know where we are going until they ask us. Therefore, the use of barge or train would not be practical so using as lorry is the most effective way of moving our goods to the customer.
We are currently improving our fleet and have over the last 12 months purchased four EURO VI vehicles, which means 85% of our fleet are now EURO VI vehicles. The remaining four vehicles will be replaced over the next 18 months.
We have looked at electric vehicles and because of the weights, we carry and the terrain we do, no manufacturer have produced an alternative fuelled vehicle for our purpose.
We will continue using what FORS has taught us to improve our MPG and reduce any wasted idling we might have.'
We promote FORS by sending all our client, suppliers and sub-contractors letters telling them they have to be FORS accredited if they want to be working with us. We promote FORS on our email signatures, Company letterhead, website and our vehicles too. We believe in FORS and know if all companies joined FORS it would improve the Transport industry and most importantly reduce all accidents/incidents with vulnerable road users across the whole country. In addition, we have positively promoted FORS by producing several press releases this year in gaining FORS Gold Accreditation shows how dedicated we are as a company to improving road safety and the safety of all vulnerable road users in London as well as nationally. We will continuously use what FORS has taught us to help reduce our carbon footprint and make the roads so safer for everyone that uses them. We have also managed to make a significant saving by reducing our fuel usage and improving our MPG
Our latest additions to the fleet are all Volvo Euro VI, which is forming part of our strategy of sustainable development and helping with the modal transfer of our consignments, which is helping to lower our NOx and CO² emission output and reduce our negative impacts on sensitive ecological areas.
By 2021, our complete fleet will be Volvo Euro VI or Volvo FE vehicles, which will help improve our equipment management and optimisation.
Using these type of vehicles will reduce our noise pollution during driving, parking, loading and unloading as the models used have both front and rear steer and a hybrid option for inner city work.
Achieving FORS Gold will demonstrate that Walls & Ceilings International Limited are committed to keep improving and reviewing their policies and processes to enable continuous improvement which in turn will make our competitors take notice and help improve the standards within our industry. It will also help us to achieve our company vision.
"Delivering excellence in building products"
Website: https://www.walls-and-ceilings.co.uk/
Twitter: https://twitter.com/WAClimited/
Facebook: https://www.facebook.com/wallsandceilingsltd/
LinkedIn: https://www.linkedin.com/company/19763112/admin/
*Please note: All published FORS Gold case studies have been submitted by the accredited company named above and transcribed verbatim