Golden Star Transport Ltd was first established in 2015 and is known for transporting asphalt and aggregate materials for Tarmac industries. Golden Star Transport Ltd initially joined the FORS scheme for their fuel management tools. Since joining they have seen a great improvement in their fleets overall fuel usage and emission output. Managing director of Golden Star Transport Ltd, Surinder Pathria, explains how FORS has been beneficial to their company.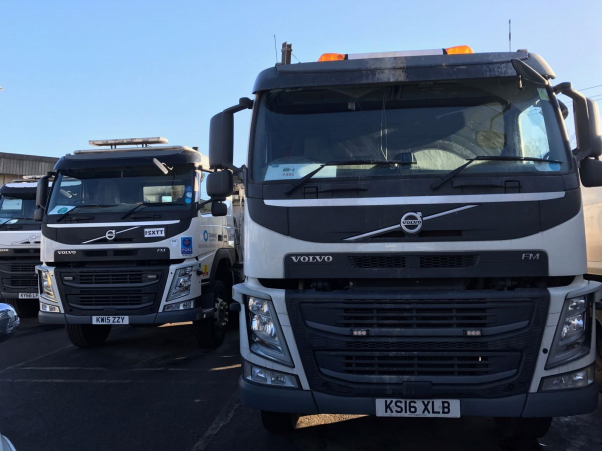 We first stumbled upon the FORS scheme when tendering for work in London. After hearing about FORS, we conducted further research on the scheme to see how they have benefited companies similar to ours. We saw that they greatly improved haulage business' improve on fuel consumption and emission output. We then decided to join FORS and work towards each accreditation. After achieving all three accreditations with FORS, we have been performing at our most efficient standard since establishing in 2015.
When we first worked towards our initial gold accreditation, we had no apprehensions that the process would be difficult. This is due to us previously having a smooth and easy experience when aiming for the bronze and silver accreditations. As FORS provides us with clear instructions and the necessary guidance to achieve each accreditation, we were encouraged to work towards all three which we successfully achieved with ease.
Once we achieved all of our FORS accreditations, we decided it would be best to keep utilising FORS' resources and toolkits. By doing this we would be consistently working at a gold accredited standard, which would make renewing our gold accreditation again easier, as our standard of work would still be at a gold accredited level. One toolkit we continued to make use of was the performance management toolkit, which helped us keep track of all the data recorded from our vehicles. This helped us keep track of improvements made and showed us where we needed to make more improvements.
'The performance management toolkit is one of the most helpful resources FORS has on offer.' – Surinder Pathria
The e-learning resources available for our drivers have also helped them become more engaged in the business. The modules on FORS have helped our drivers expand their knowledge and safety skills on the road. By having our drivers complete the appropriate modules, we have managed to improve on fuel efficiency and increase road safety within the fleet.
'Our drivers are now much more aware of vulnerable road users due to them completing the FORS cycle safety e-learning module.' – Surinder Pathria
Our reason for wanting to remain a FORS gold accredited business is due to the noticeable improvements seen whilst working at gold accredited standard. Having the gold accreditation as evidence of our hard work increases our credibility, and assures our current clients that we are working using the best practices.
In the ­­­­­last twelve months, we have increased our KMPL by 1.15% thanks to FORS.
| | | | |
| --- | --- | --- | --- |
| | KMPL | Incidents per 100,000 Kms | Number of PCNs |
| March 16 – Feb 17 | 2.59 | 0 | 0 |
| March 17 – Feb 18 | 2.62 | 0 | 0 |
| Percentage improvement | 1.15% | 0% | 0% |
At Golden Star Transport Ltd, we do whatever we can to reduce the chances of road risk. One of our ways of reducing road risk at Golden Star Transport Ltd is ensuring our drivers are fit to work prior to employment. We request new recruits to fill out a health questionnaire declaring that they are fit to work. If they declare any possible health issues that may affect their driving, we will then refer them to a GP for further consultation. Furthermore, we also request our drivers to carry out eye examinations every six months to ensure their eyesight is suitable for driving.
When recruiting for new drivers at Golden Star Transport Ltd, we like to advertise through online platforms such as Indeed. When recruiting, we offer new drivers with no previous tipper driver experience a paid two-week training plan. This plan is known as the buddy plan, and consists of a new driver being shadowed by one of our experienced drivers. The experienced driver will provide them with knowledge and guidance for a period of two-weeks. Once the two weeks are completed, the recruit will then be assessed to see if they can progress to independent driving. As being Tarmac franchise contractors, we are enrolled onto the driver apprentice programme funded by Tarmac.
The vehicles used to carry out our mode of work produce a lot of noise pollution. Since joining FORS, our noise pollution levels have decreased once implementing the anti-idling technique recommended by FORS. The anti-idling method informed our drivers that they should switch off their engines when they are idle for a long period of time. This technique then in turn helps us save on fuel.
The asphalt and aggregate materials we pick-up and transport at Golden Star Transport Ltd require a heated environment. This means our vehicles must have an insulated body to accommodate our materials. These materials must also be easily deposited and currently only a tipper vehicle is best suited for our mode of work. However, we plan to keep up to date with any improvements made in the vehicle industry and if any alternatively powdered vehicles are made available for the type of work we carry out.
At Golden Star Transport Ltd, our plans for the future is to continue improving by encouraging drivers to complete regular driving modules and courses. By encouraging our drivers to do this, it would ensure their road knowledge is up to date and therefore ensure all road safety procedures are being carried out properly. We also plan to continue working a gold accredited standard as we believe the practices necessary for a gold accreditation are the best practices to implement into a business like ours.
By having our gold accreditation renewed at Golden Star Transport Ltd, it would assure our current clients that we are still working at the best standard to carry out our work. Remaining gold accredited would also encourage our drivers, and show them that their efforts of working at such a high standard has not gone amiss and is being rewarded. Furthermore, we believe being gold accredited has helped us acquire more cliental and we wish to continue expanding our client base in the future.
Please note: All published FORS Gold case studies have been submitted by the accredited company named above and transcribed verbatim.