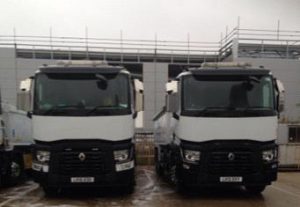 Graham Kelly is an established sub-contractor that specializes in the transportation of Asphalt and Aggregate for Tarmac at Charlton. Graham Kelly, is the director of the company and explains how FORS has been beneficial to Graham Kelly. Having implemented FORS procedures, our day-today operations have improved significantly.
We first heard about FORS whilst tendering for work in London and through Tarmac. When we looked at the benefits of joining FORS, we saw that these were the standards that we wished to adopt for graham Kelly. The information and tools provided by FORS have continually enabled us to produce documents and prepare effectively for the annual audits.
We take compliance and safety very seriously so we passed our Bronze assessment first time which gave us the confidence to proceed to the Silver Accreditation. Keen to distinguish ourselves from our competition we immediately began work to achieve this goal and wanted to achieve Gold too. FORS provides us with the training and tools that have continued to impact on our business improving our policies and procedures.
 "Safety is one of the core values at Graham Kelly" – Graham Kelly (Director)
The e-learning resources available to us have also helped our driver become more engaged in the business. The modules on FORS have helped our drivers expand their knowledge and safety skills on the road. By having our drivers complete the appropriate modules, we have managed to improve on fuel efficiency and increase road safety within the fleet.FORS e-learning will continue to be a practical way of improving our knowledge and learning from others, we continue with our awareness for Cycle Safety through the e-learning course and workshops.
"Becoming FORS gold accredited has helped us become a more conscientious haulage business" – Graham Kelly (Director)
Our reason for wanting to remain a FORS gold accredited business is due to the noticeable improvements seen whilst working at gold accredited standard. Having the gold accreditation as evidence of our hard work increases our credibility, and assures our current clients that we are working using the best practices.
| | | |
| --- | --- | --- |
| | KMPL | Fuel usage |
| Nov17-Jan18 | 2.14 | 16717 |
| Feb 18-April18 | 1.96 | 13890 |
| Percentage improvement | 8.4% | 16% |
* Quarterly improvement in KMPL
At Graham Kelly, we request that employees fill out a health questionnaire prior to official employment to ensure they are fit to work. In this questionnaire they must declare any health issues. If there are any health complications that may affect their driving, we will then refer them to a GP for further consultation. Furthermore, we also request that our employees carry out an eye examination every six months to ensure their eye sight is suitable for driving.
Graham Kelly drives one of the two vehicles himself if recruitment is required it is by recommendations from colleagues at Tarmac and now drivers who are not trained in our line of work are placed on a two week buddy plan with an experienced driver, to ensure all aspects of training are covered.
Since joining FORS, we have learned new techniques to ensure we are more aware of the impact our emissions could have on the environment. One technique that has proved most effective is the anti-idling method, making sure our drivers turn off their engines when their vehicle is idle in traffic or waiting at a delivery point.
Continuing with the FORS Gold standard at  Graham Kelly, our plans for the future is to continue improving by encouraging drivers to complete regular driving modules and courses. By encouraging our drivers to do this, it would ensure their road knowledge is up to date and therefore ensure all road safety procedures are being carried out properly. We will continue working at the FORS gold accredited standard as we believe the practices necessary for a gold accreditation are the best practices to implement into the business.
Our successful progression to FORS Gold last year has shown that our company is dedicated to continual improvements in our service to Tarmac and their customers. We will continue to monitor our fuel management and demonstrate our commitment to FORS.